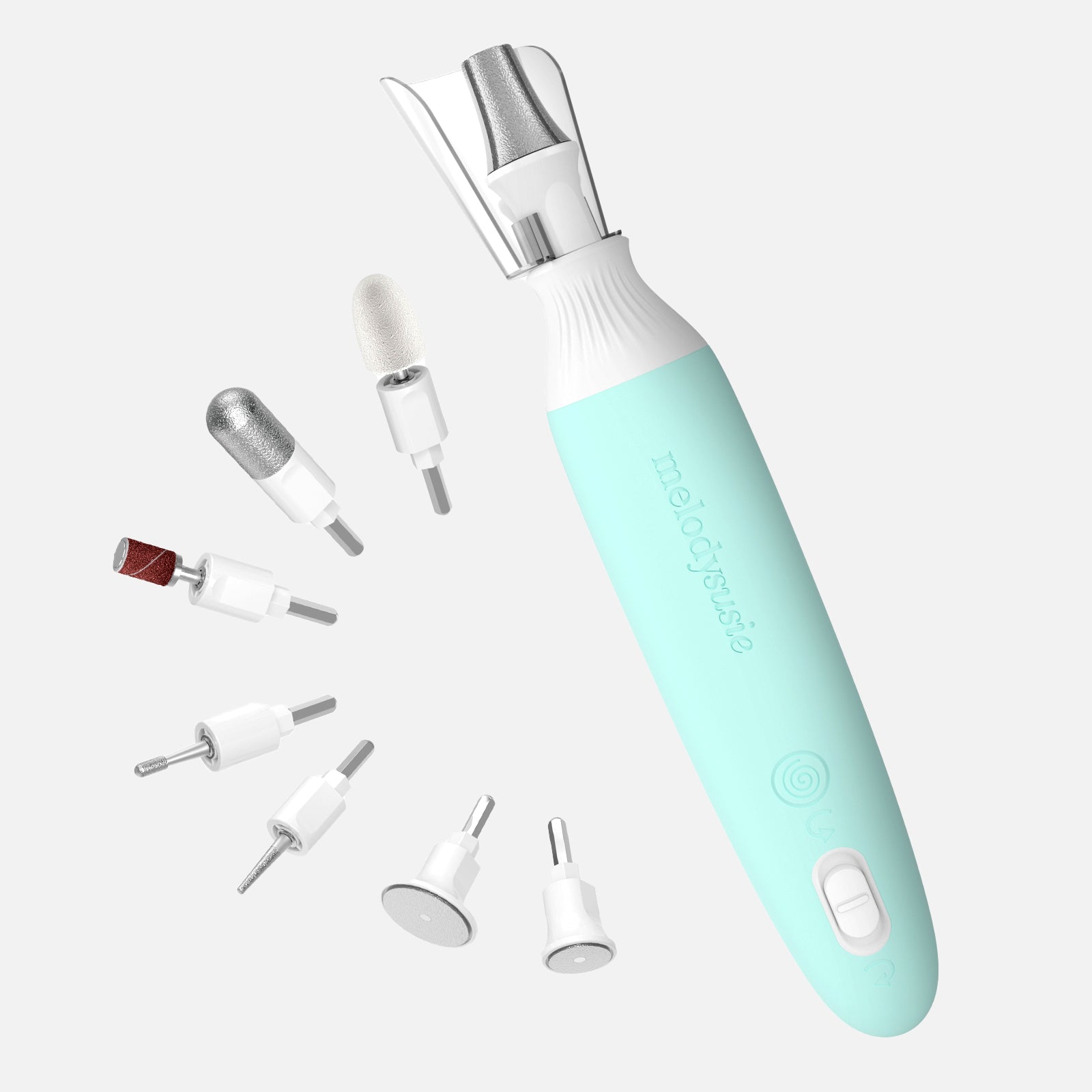 PS1-Manicure & Pedicure Nail Drill Kit
*Please Note: Due to the update of our brand logo, we will randomly send products in either the old or new packaging, but it will not affect the product quality. Thank you for your understanding during this transition.

Features

Special for Skincare - The 1st nail care drill combines excellent cutting force with safety, with 4 reduced-speed modes and the strongest power(

2022 latest gear motor

). Never stop rotating when working on thick nails and hard skin.
Never Felt Like This - Foodgrade silicone provides not only skin-friendly touch but also shockproof protection. Bring you an excellent comfortable feel.
So Convenient - Lasts around 5 hours after 2 hours fully charged. Rechargeable and cordless for freedom skincare - Everytime & Everywhere. 8 kinds of nail grinder bits & 50pcs sanding bands meet all your needs.
Best Care For Family - Easy to cope with cuticle removal and polishing, such as corn, callus, dead skin, and thick toenails. Even the elderly will find the nail care drill user-friendly, and suitable for family use.
Professional Quality - For the last 10 years, MelodySusie has been innovating nail drill technology breakthroughs. Our foot file is functional and versatile. Enjoy a salon pedicure experience at home with your family.

Why Choose Us

The 1st nail care drill combines excellent cutting force with safety, never stop rotating.

Silicone provides skin-friendly touch and brings an excellent comfortable feel.

Rechargeable & cordless for freedom skincare - Everytime & Everywhere.

Easy to cope with cuticle removal and polishing, such as corn · callus · dead skin · thick toenails.

What You Get

Nail Care Drill

Nail Grinder Bits 8Pcs + Dust Protector

Sanding Bands 50Pcs

Charging Cord(Adapter Not Included)

 

Using Tips

The product is designed for skin and nail care, not suitable for acrylic gel nails. 
The shaft diameter of the nail grinder bits in the set is Φ5/32", please note that it is not the Φ3/32" standard model of the nail drill bits.

Quickly changing rotation direction may trigger the battery overcurrent protection and stop working. It can return to normal after charging for 5 seconds.
Do not operate in wet or moist conditions. Only a dry cloth is allowed for cleaning.
Do not pull the power cord or let the device drop or by other impacts.
When the nail drill is rotating, please turn off the switch before replacing the nail drill bit.
Do not use the device when the connecting wires broke and do not touch the plug with a wet hand to prevent electric leakage and shock or fire.
The motor will inevitably generate heat, so please do not use the nail drill for too long each time.
When you feel that the nail drill is overheated, please stop using it immediately and wait for the heat to dissipate before using it again(no more than 20 minutes of continuous use each time is recommended).
MelodySusie recommends replacing your nail drill bits every 1-3 months to ensure cutting force. Children under 16 years of age should not use this device without parental consent and supervision.
Use code MSOFF15 to get 15% off on orders over $149.99 (gift boxes are not included)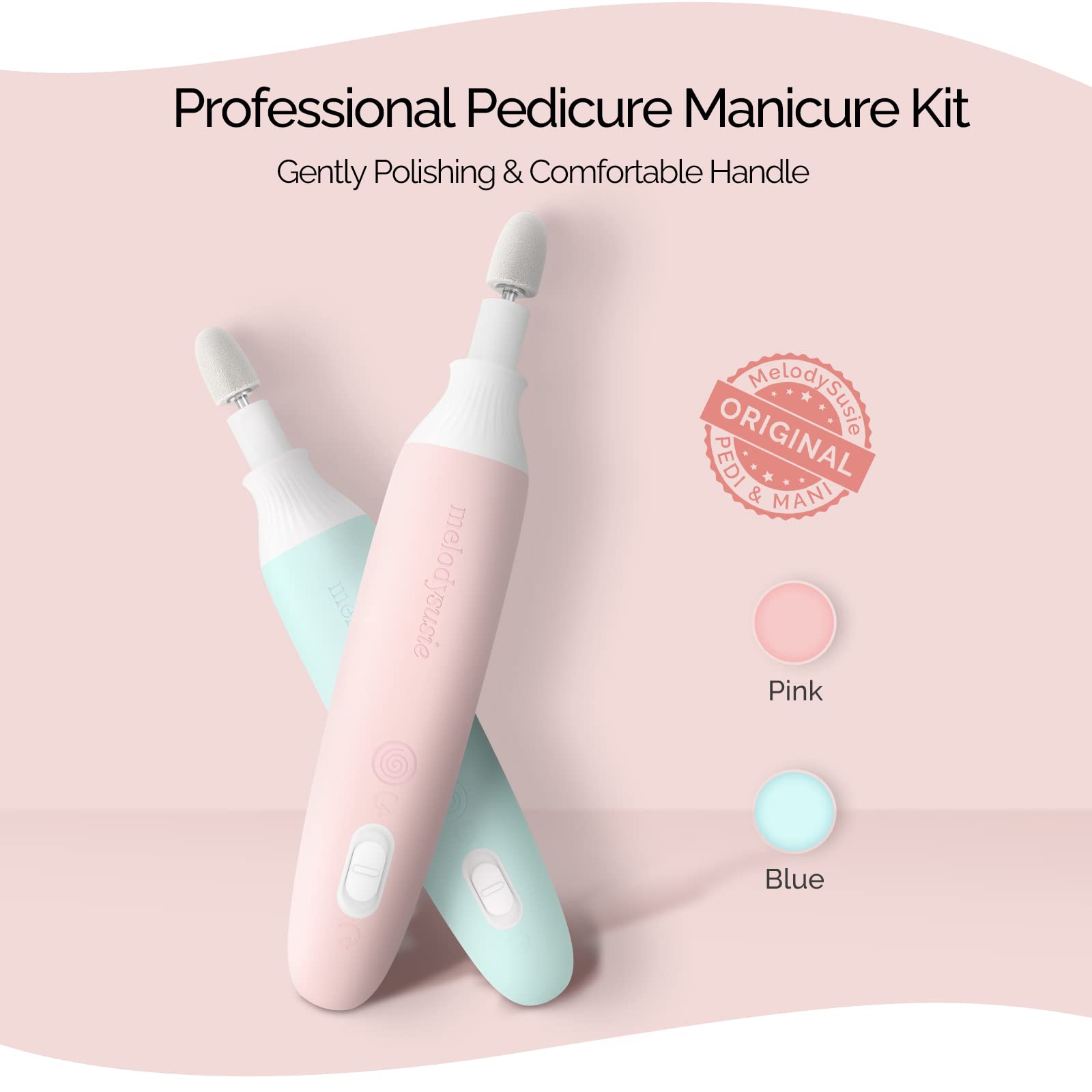 Pick Your Style
Available in two colors, pink and blue. With its proprietary nail drill bits and comfortable handle, the professional pedicure manicure kit gives you the salon-quality spa experience.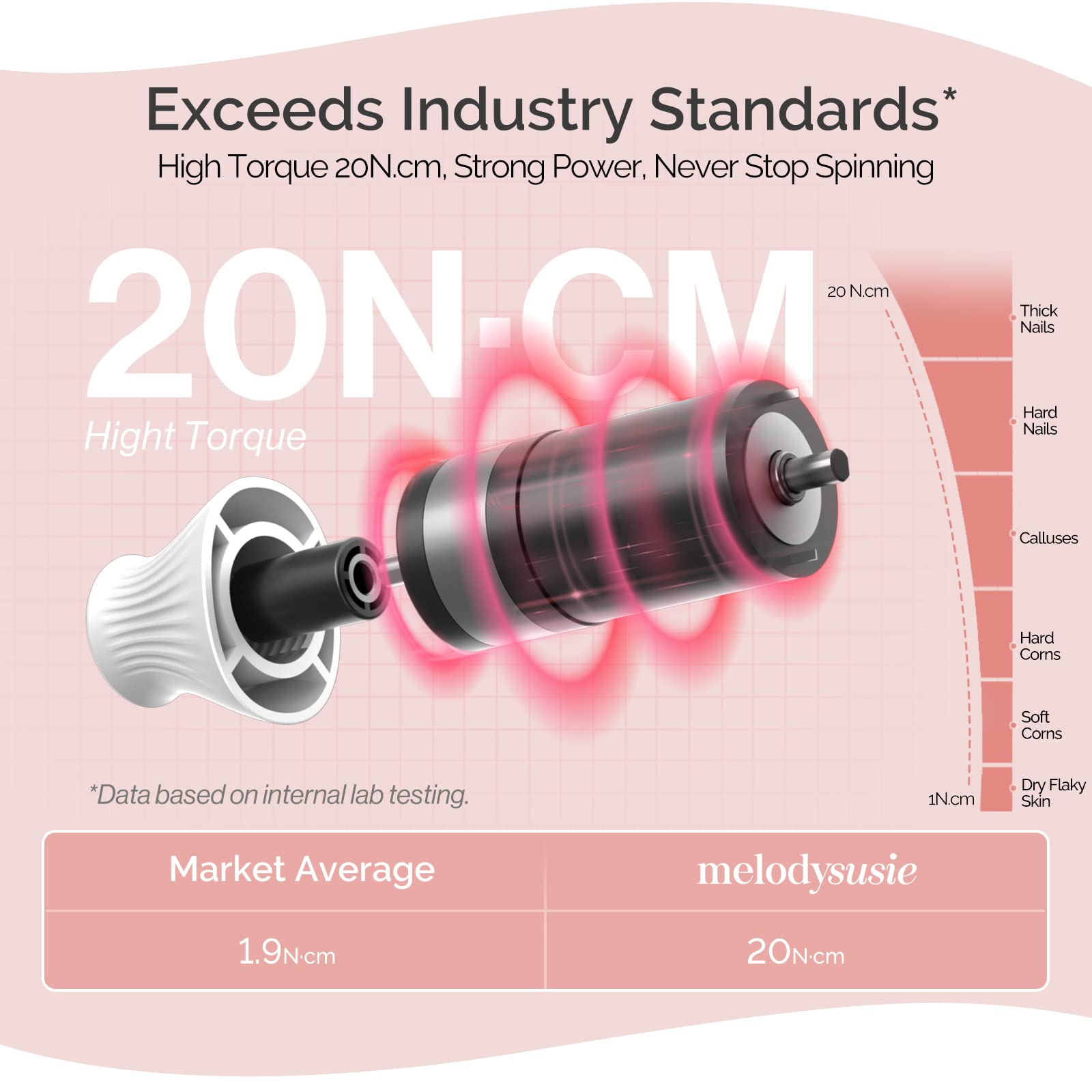 Top Quality Torque with Safety Design
Specially adjusted speed by the MelodySusie R&D team, this electric nail file comes with extra strong power and lower speed, protecting your skin from hurting even in long-time use.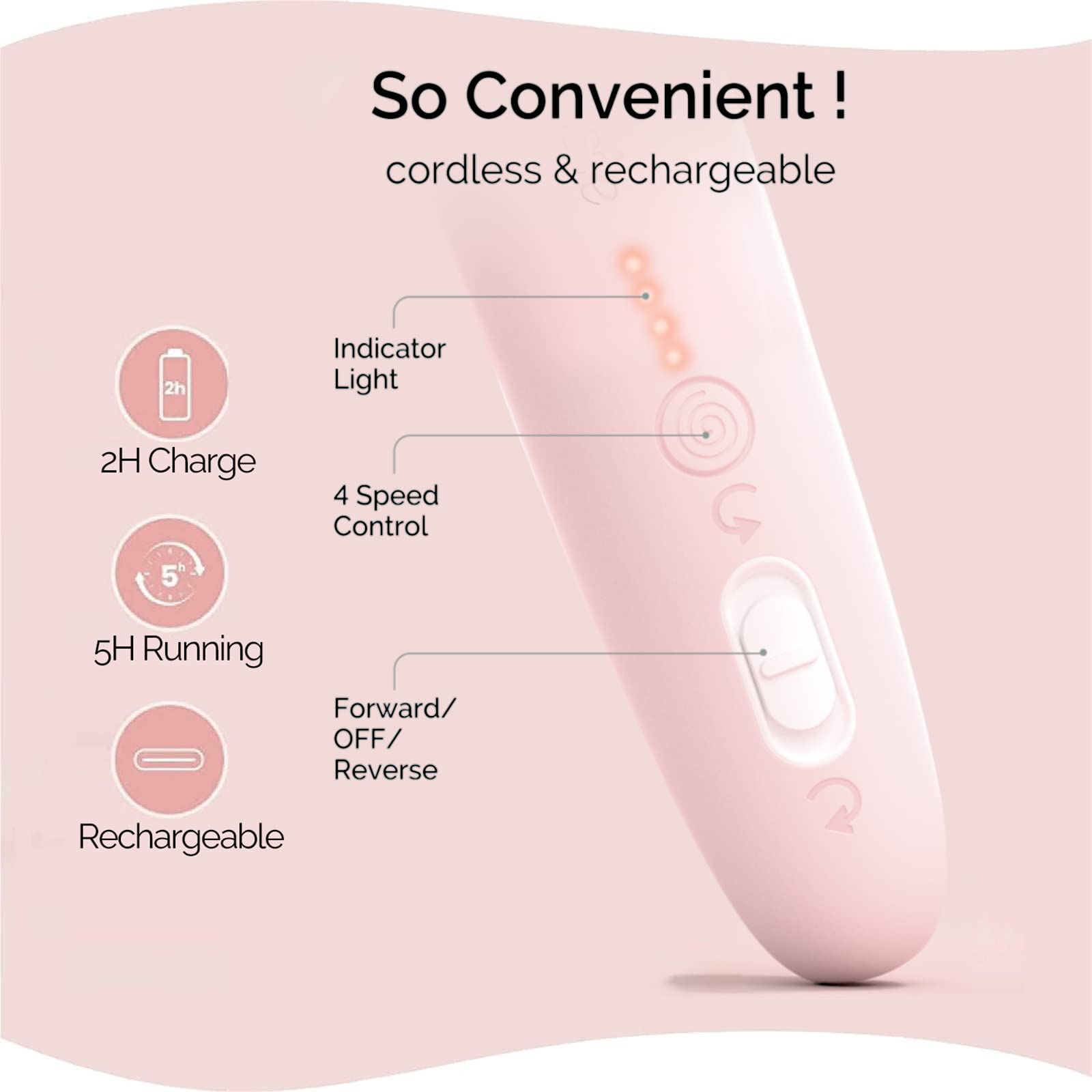 Comfortable and Easy Use
Food-grade silicone body provides comfortable handheld, anti-slip design, and shockproof protection. Perfect nail care tools for both professionals and beginners.
Multifunction 8 in 1 Kit
With 8 interchangeable nail drill bits, it can use for exfoliation, dead skin grinding, thick nail polishing, and dry skin removal. Providing a dust-free environment with a dust shield.