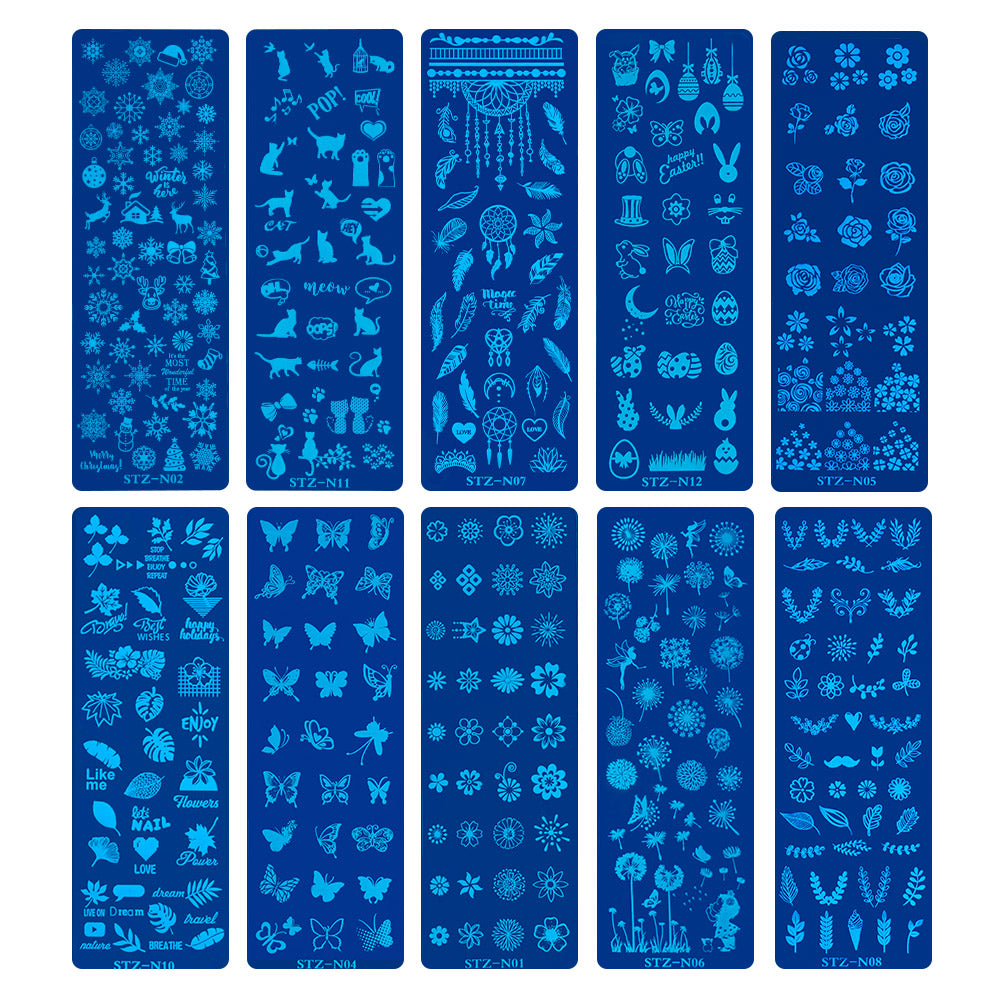 Nail Decorate Tools

5-Pc Dual-Ended Nail Art Dotting Pen Kit

High-quality Materials: metallic balls ends The Pen body is made of high quality Crystal Diamond Acrylic material, durable for longer use durable enough for your daily using
Double Head Design:each brush pen with 2 different ends, convenient for you to do different crafts and can satisfy your different needs
Widely Used: Widely use for nail art, embossing, making dots, natural nails, false nails, acrylic nails ftc.gel nails.Ideal for rhinestone, steel bead, pearl or on similar nail art decorative items.
Apply Occasion: suitable for professional salon and home use. and they are ideal for doing gel polish, nail art, making dots, fine drawing, painting flowers and pattern design on fingernails
Package Includes:5 pieces nail pen with different size for various dotting work.meet all nail art design requirement

 

10-Pack Nail Art Stamping Plate
HOW TO USE:
● The plate is shielded by a thin transparent protective film, please remove the film before use.
● Apply base coat or regular polish on the nail.
● Apply the nail polish to desired image within a plate.
● Make a scraper leaned over 45 degrees and scrape excessive polish off quickly and strongly from inside to outside.
● Immediately press the stamper with a gentle rolling motion to pick up the design. The image is transferred on the stamp.
● Stamp the image on your nail with a gentle rolling motion. The image is transferred on your nail.
● Repeat the above steps for all of your nails.
● After stamping nail art, apply top coat for lasting wear.

TIPS:
● Prepare transparent adhesive tape, to clean the stamper.
● The choice of nail polish, it depends on the viscosity and concentration of the polish, we'd better chose the stamping polish to stamp.
● Please do all the stamping steps quickly, since the stamping nail polish dries fast than normal nail polish.
● Clean the stamper and stamping plate after every usage will keeps your print tools working longer. Please clean the stamper head with Cellulose Tape (Do not clean the stamper with chemical cleansing agent since the stamper head may be damaged).


Use code MSOFF15 to get 15% off on orders over $149.99 (gift boxes are not included)
This product has no reviews yet.