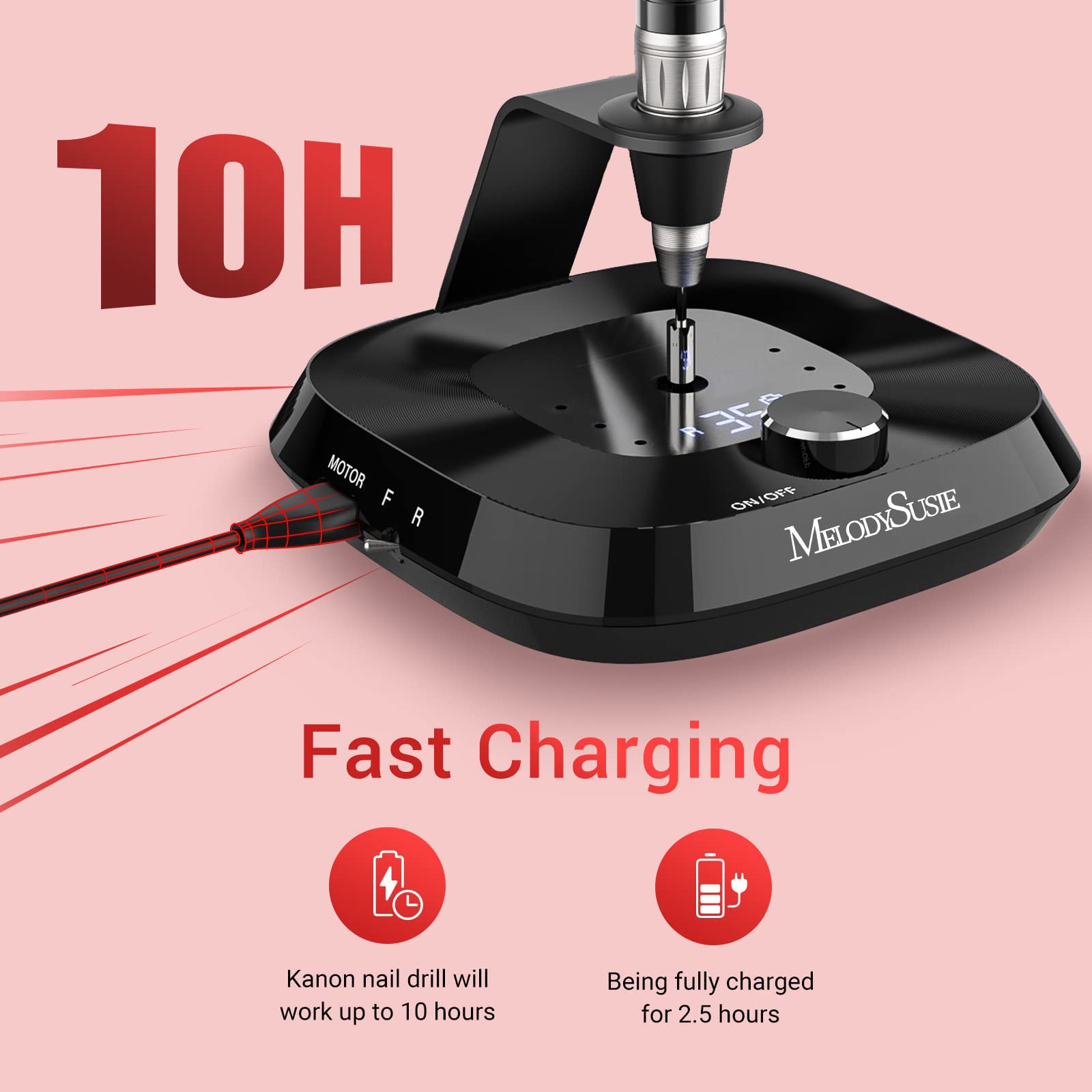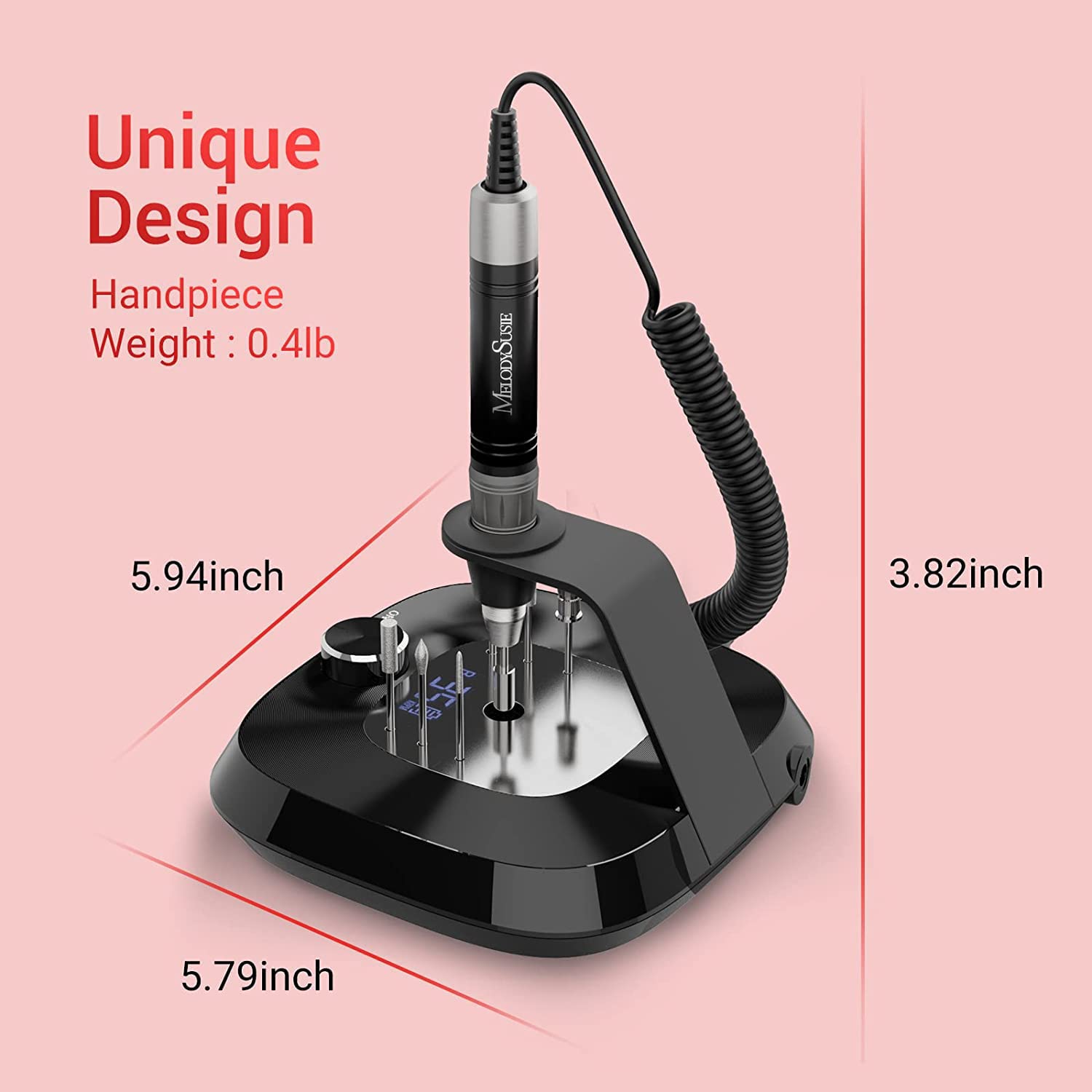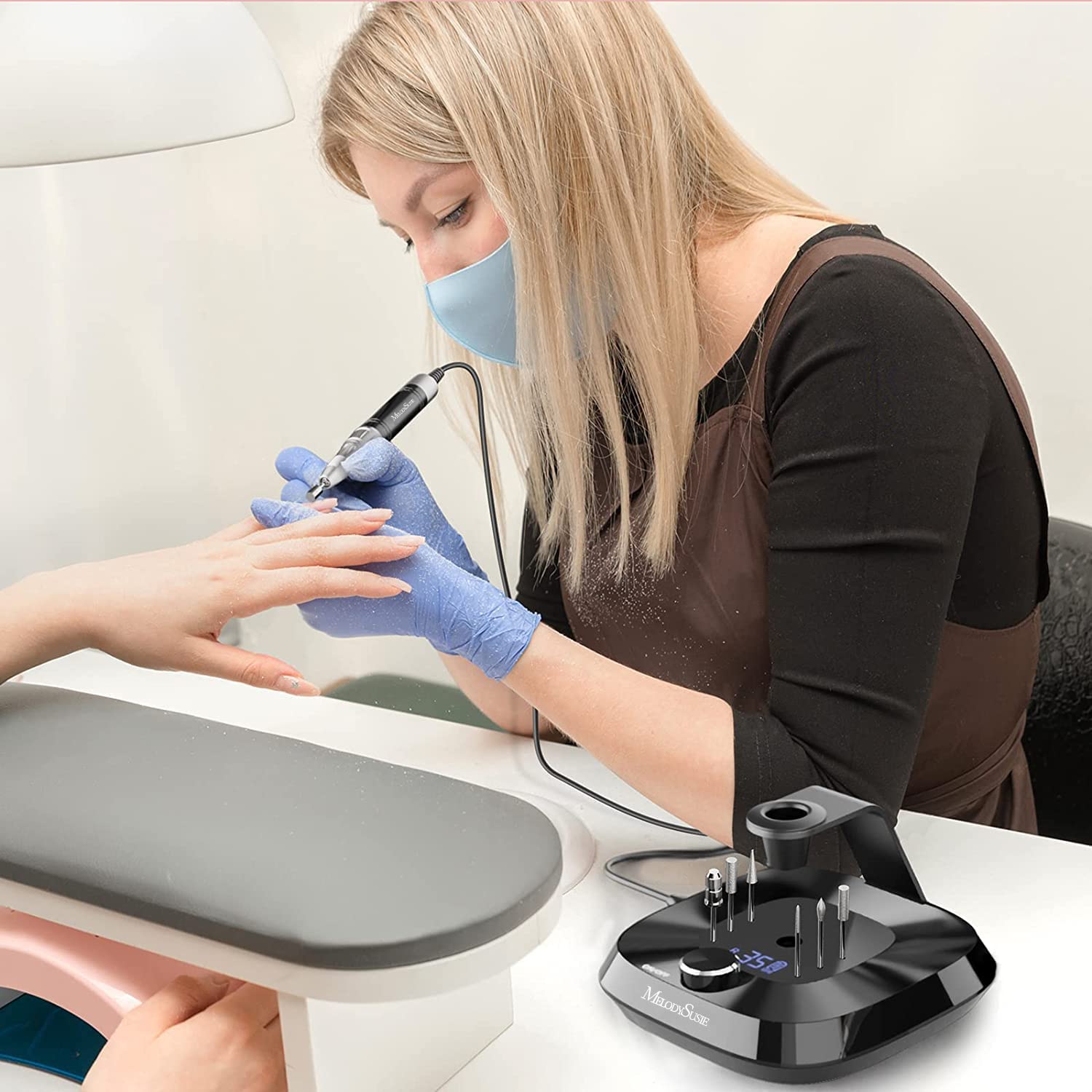 MR3-Kanon Rechargeable Nail Drill 35,000 RPM
Kanon is a Premium Quality Professional Electric Nail Fraught to you from MelodySusie, which comes with 35,000 RPM. "Bring you a high-end and experience", and do your own manicures like a pro, Let every woman who loves nail art have her own artwork.
• High Speed & Smart LCD Screen Display
• Upgrade Design Brushless Motor
• Top-notch Appearance Design
• Long Battery
• Multifunctional and Easy To Use
Speed: 0-35,000 RPM
Input voltage range: AC 100-240V / 50-60Hz
Output Voltage: DC 24.0V 1.0A
Charging time: 2.5 hours
Use time: 10 hours
Power: 45W
1 x Rechargeable Nail Drill
1 x Power Supply
8 x Drill Bits
6 x Sanding Bands
1 x User Manual
New Arrival
Note: Please leave the name (within 16 letters) you'd like to engrave on the handpiece on the 'cart' page before checkout. Customized version will be shipped within 10 working days after we get your note.
(The number of lettering is 6-16 characters, and the font size is related to the word length.) Customized version is not allowed to return or replace for non-quality problems.
*Please Note: Due to the update of our brand logo, we will randomly send products in either the old or new packaging, but it will not affect the product quality. Thank you for your understanding during this transition.
The Most Special New Nail Drill
With its special design like a record player, this new arrival rechargeable nail drill provides a high-performance experience, which is ideal for beginners & professional manicurists.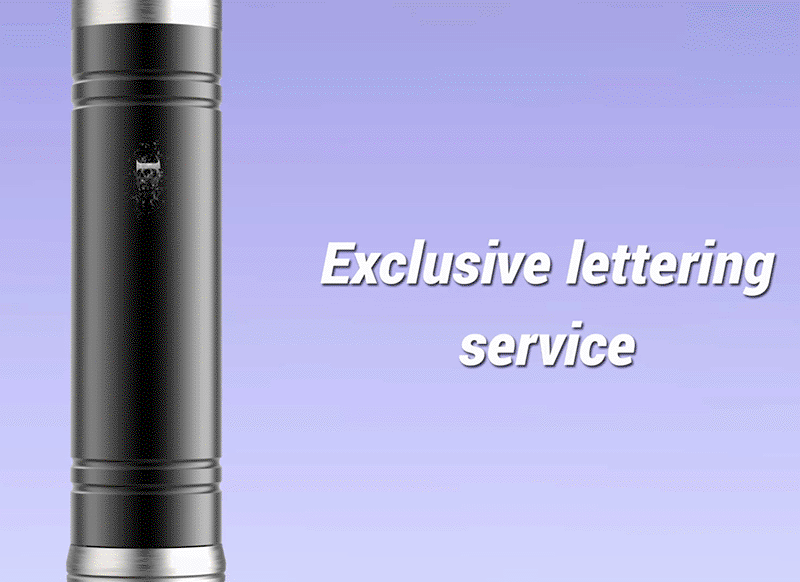 Laser Engraving – Make Your Nail Drill Unique
Enjoy your name engraved on your drill.
We combine the cool laser engraving technology with our new arrival nail drill to make it the most special one in the world! You could leave the message of the name you need to engrave on your drill after you order the Customized version.

Note: only the 'Customized' version has the exclusive lettering service.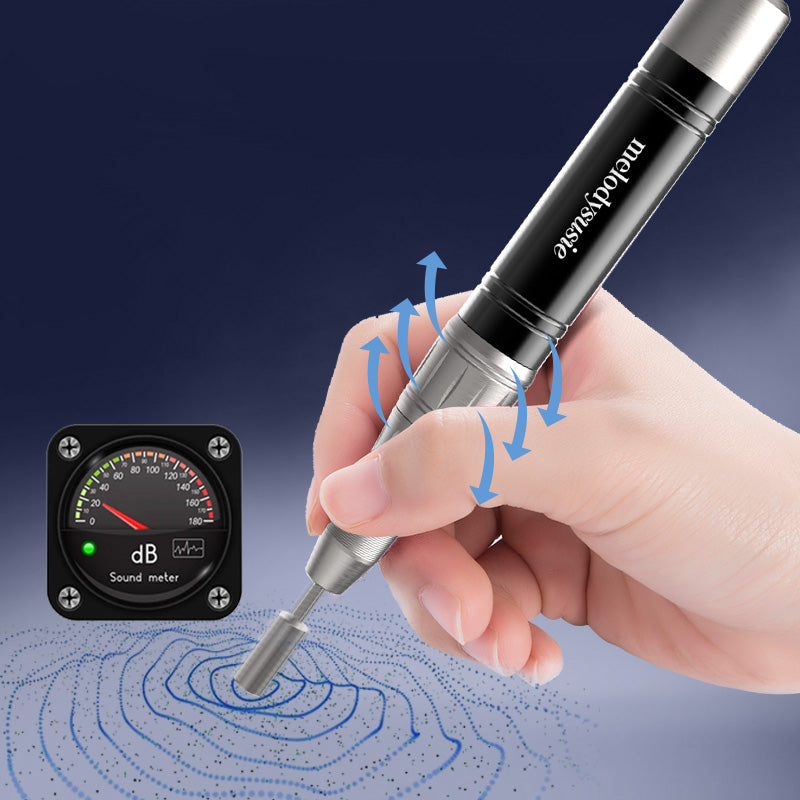 Low Heat & Low Vibration with Superior Brushless Motor
Kanon Rechargeable e-file comes with a brushless motor that combines a higher output power, smaller size and weight, better heat dissipation and efficiency, wider operating speed ranges, and very low electrical noise operation.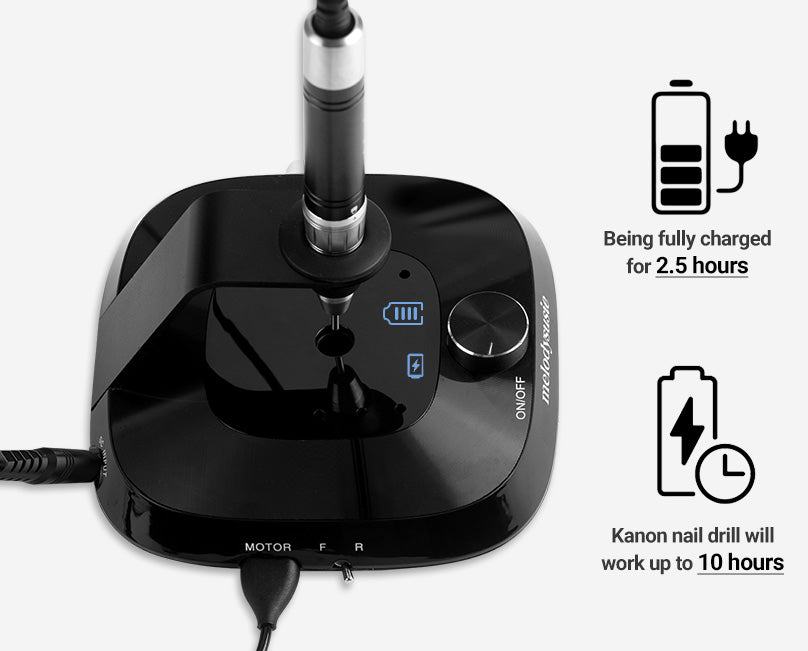 Rechargeable & Long Battery Life
Built-in 2000mAh lithium battery, which can last around 10 hours after 2.5 hours fully charged. It makes the electric nail drill more effective and safer to polish nails.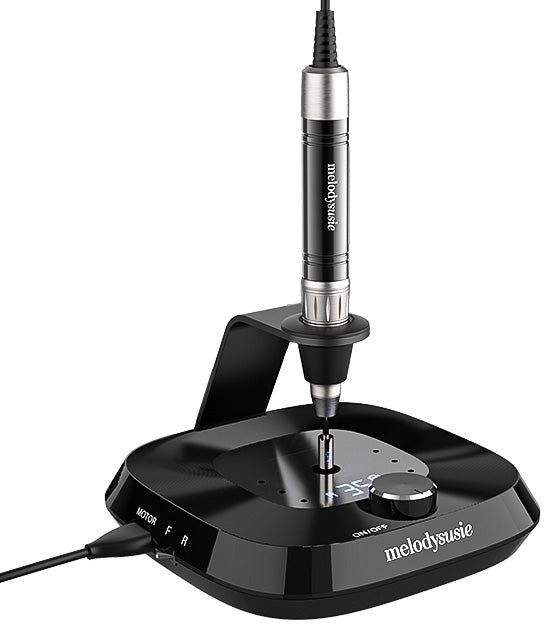 High Speed Up to 35,000 RPM
The electric nail drill speed is adjustable from 0 to 35,000 RPM, with the speed control knob, which makes this electric nail file easier to polish your nails.
Smart LCD Screen Display
The LCD Display on the drill machine shows the speed and the remaining battery level, which is convenient for you to adjust the speed and to remind you of charging.
Top-notch Appearance Design
Comes with a small compact controller and you can place the handpiece in the center of the drill machine. Much saving space on your manicure desk. Bit holders on it let you can have your favorite pieces right there at your convenience.
Functional Twist Lock System
The twist lock system allows you to easily change the drill bits which can meet your multiple manicures from a simple trim to remove gel nails, acrylic nails, or poly nail gel.
HOW TO USE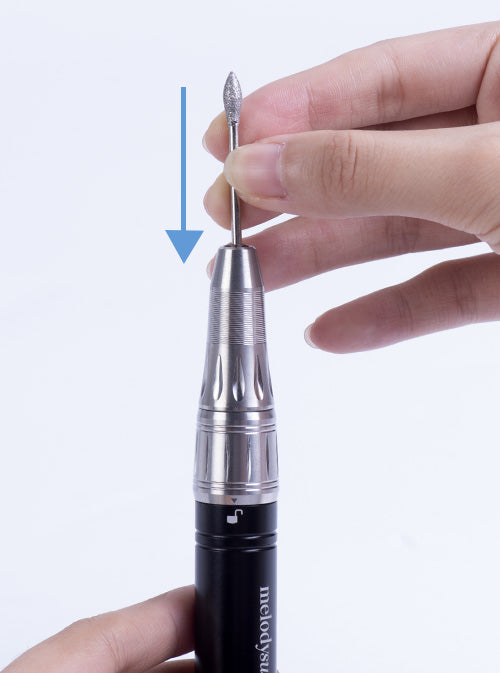 1. Insert the nail bits
Choose one grinding drill bit, release the handpiece, insert the drill bit into the drill and lock it in place.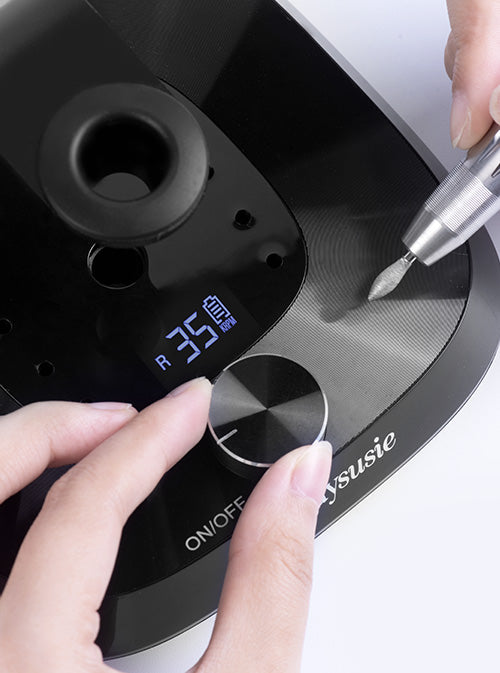 2. Rotate the ON/OFF button
Rotate the ON/OFF button to turn on the device. Rotate the speed control knob to accelerate or decelerate the rotation speed.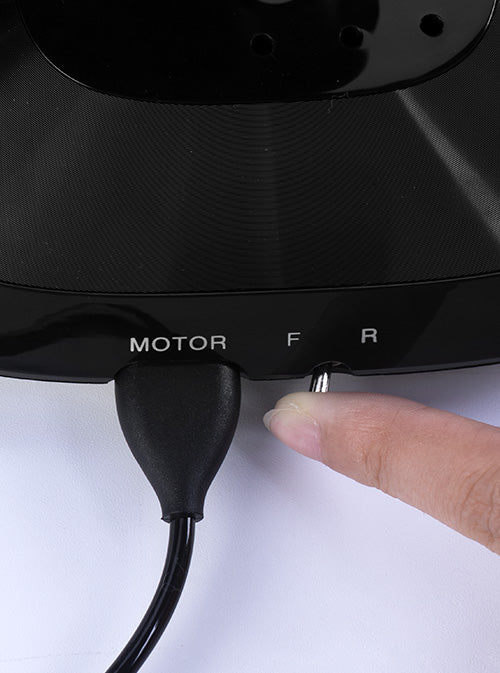 3. F/R button
Change the rotation direction of the grinding drill bit on the F/R button if needed.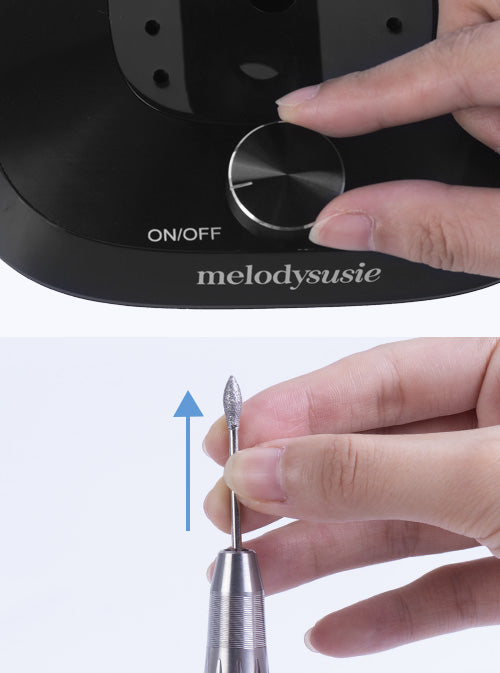 4. Turn off
After the polishing is finished, please turn off the device and rotate the central barrel and take out the drill bit.
Note:
1. This nail drill is designed for acrylic gel nails. So if you want to remove the gel polish of natural nails but you are not a professional manicurist, please use the nail polish remover pads instead of a nail drill to avoid damage to the nail bed.
2. In order to meet the requirements of professional manicurists, this product is designed to have an adjustable rotation speed of 0-35000 rpm. Please slowly adjust it from low speed to a higher speed that you like when you are using it. Do not adjust it to the highest speed all at once to prevent the improper operation from hurting your nails.
3. A high-speed motor will inevitably generate heat, so please do not use the nail drill for too long each time. When you feel that the nail drill is overheated, please stop using it immediately and wait for the heat to dissipate before using it again. (no more than 20 minutes of continuous use each time is recommended)
4. Please use the adapter in the original package. When the nail drill is rotating, please turn off the switch before replacing the nail drill bit.
5. Please do not pull the power cord or let the device drop or by other impacts.
6. Please do not use the device when the connecting wires broke and do not touch the plug with a wet hand to prevent electric leakage and shock or fire. Do not operate in wet or moist conditions/Only a dry cloth is allowed for cleaning.
Compare
Which nail drills are made for you ?
Not sure which one to choose? We selected our most popular nail drills. Compare them and choose the best one for your needs.
Material
ABS+Aluminum+Stainless
Steel