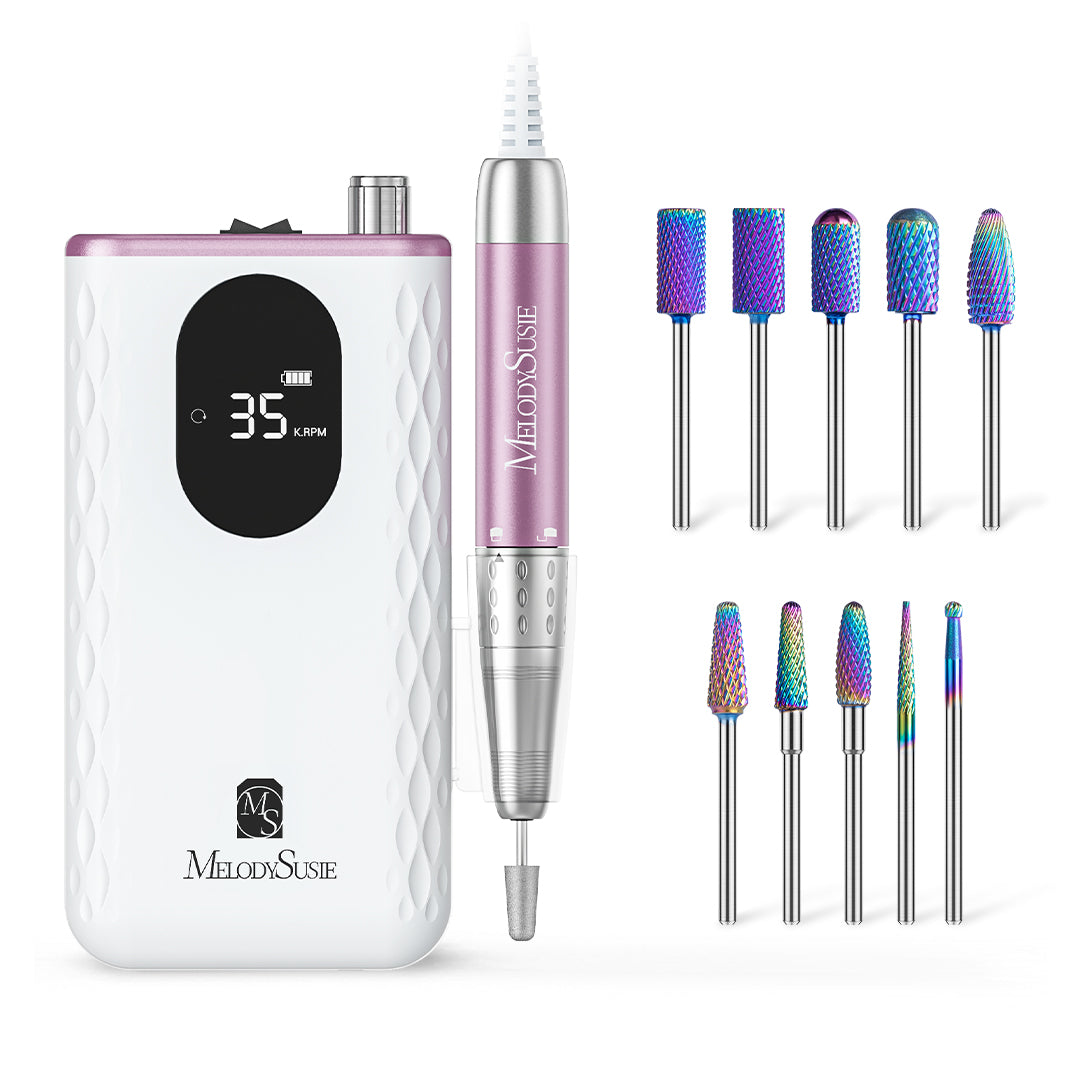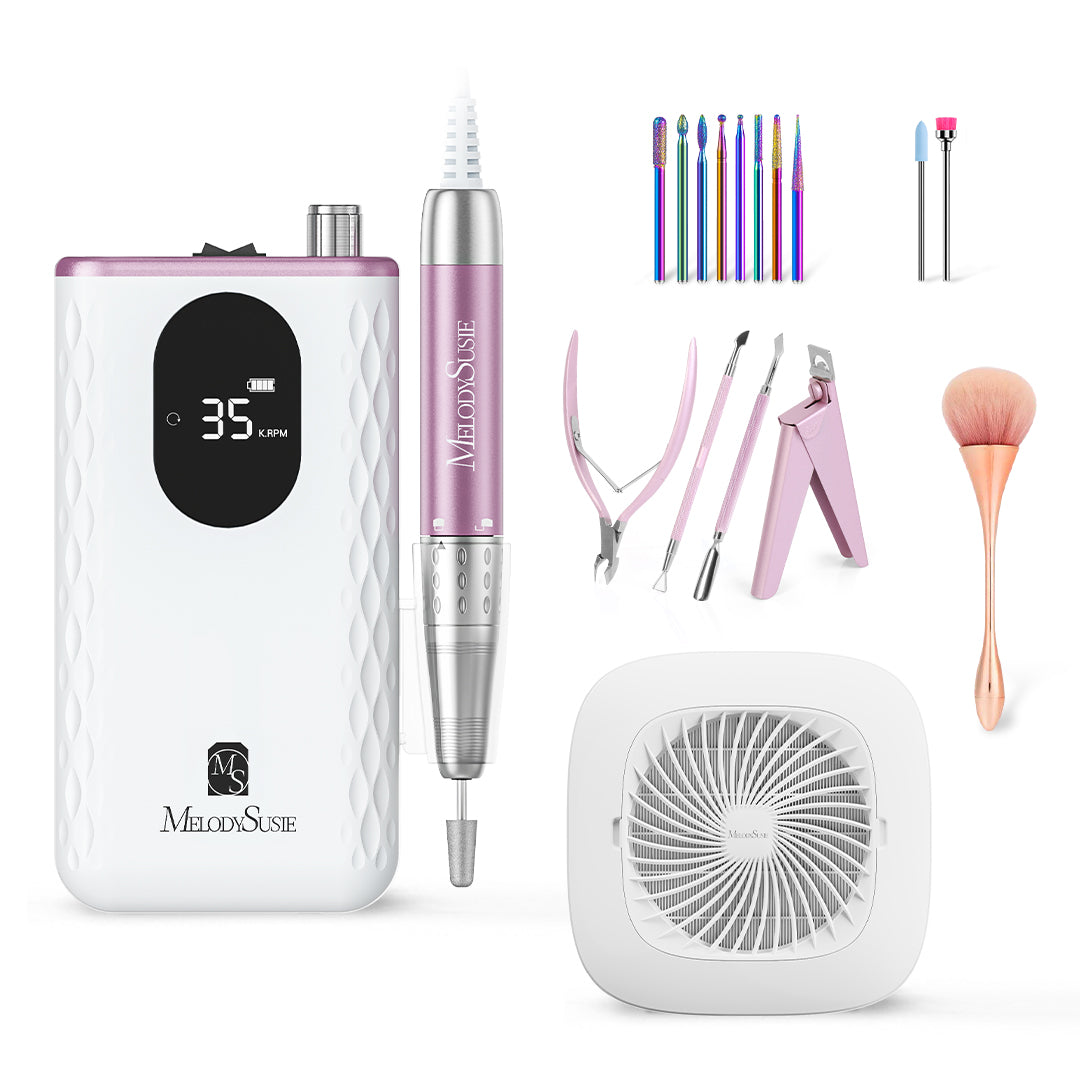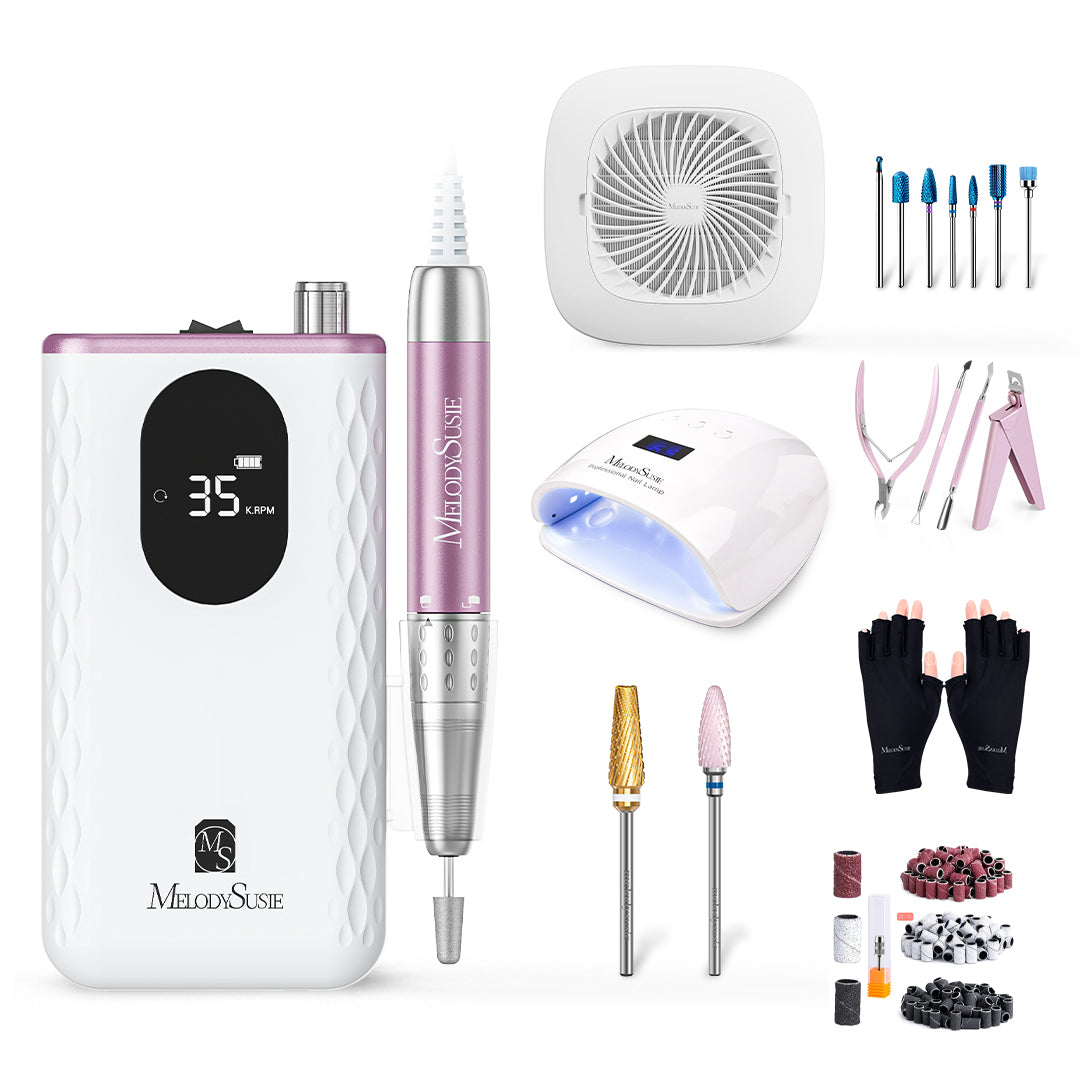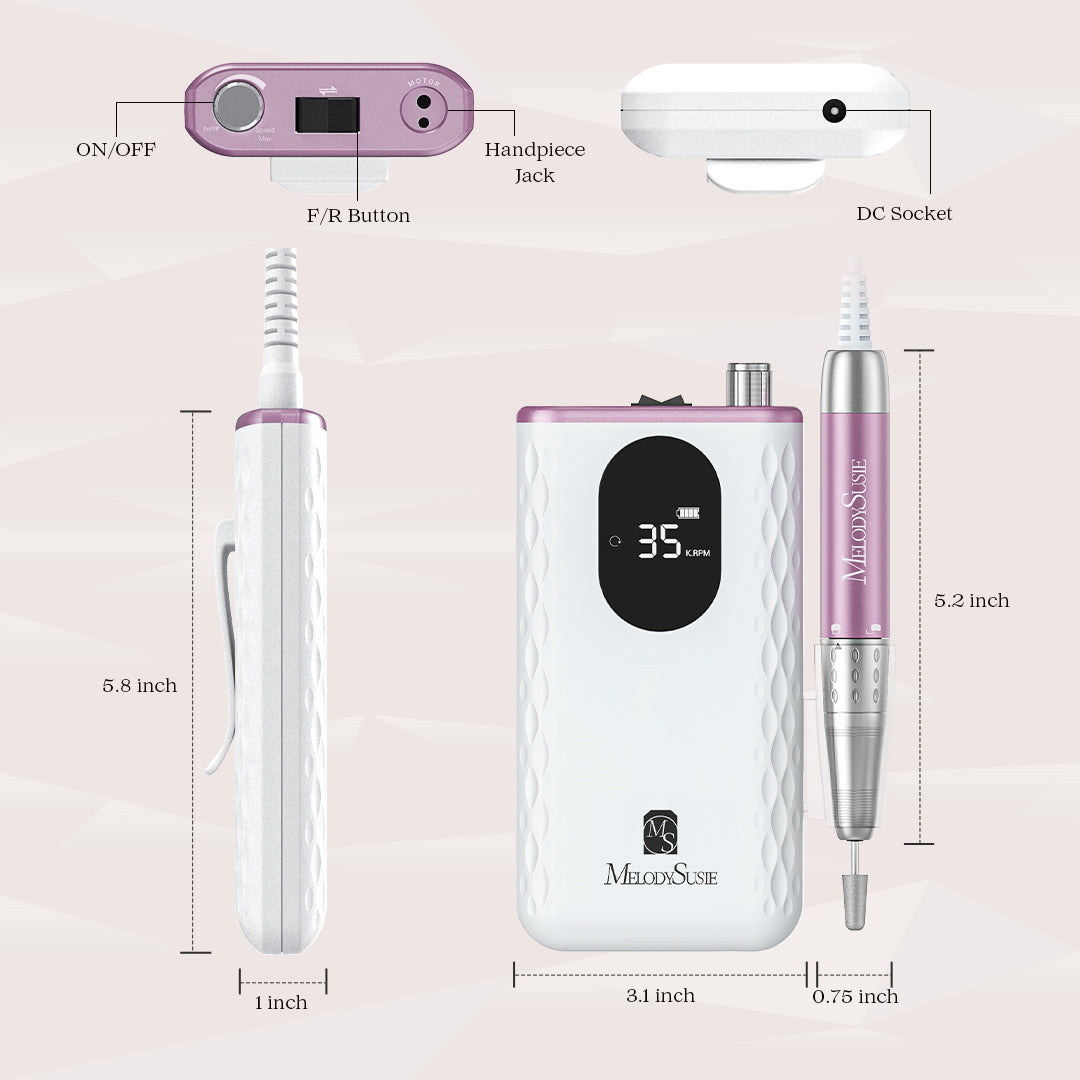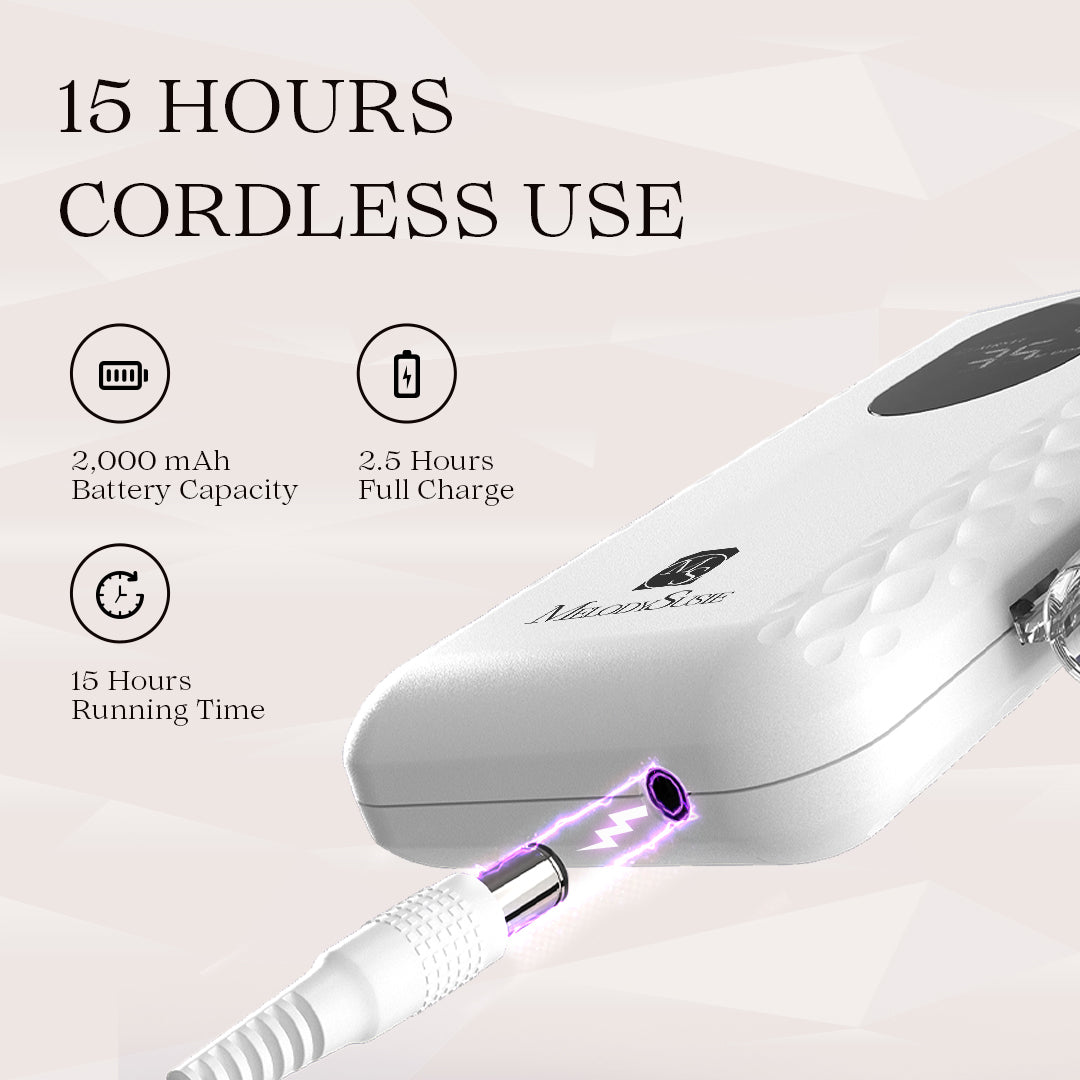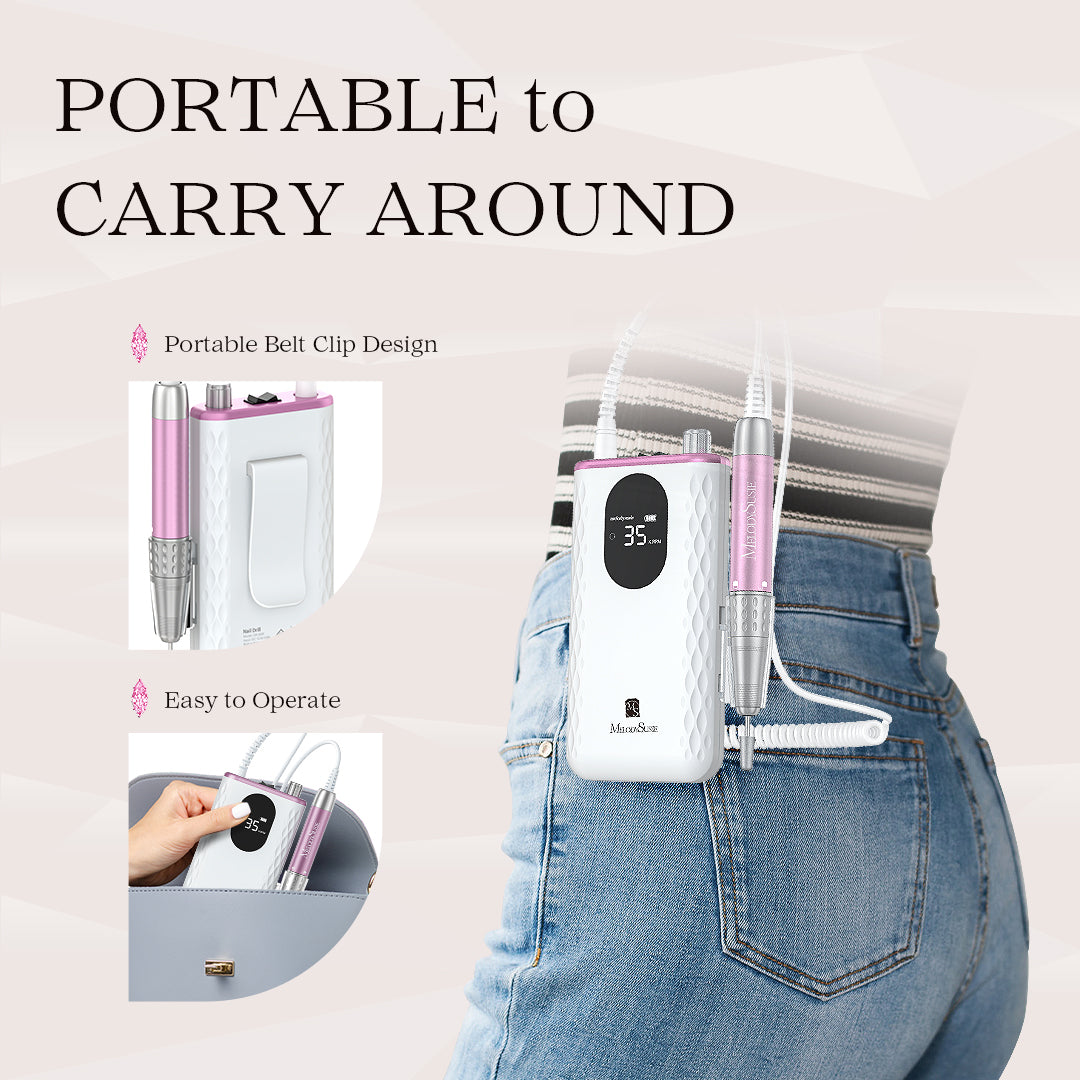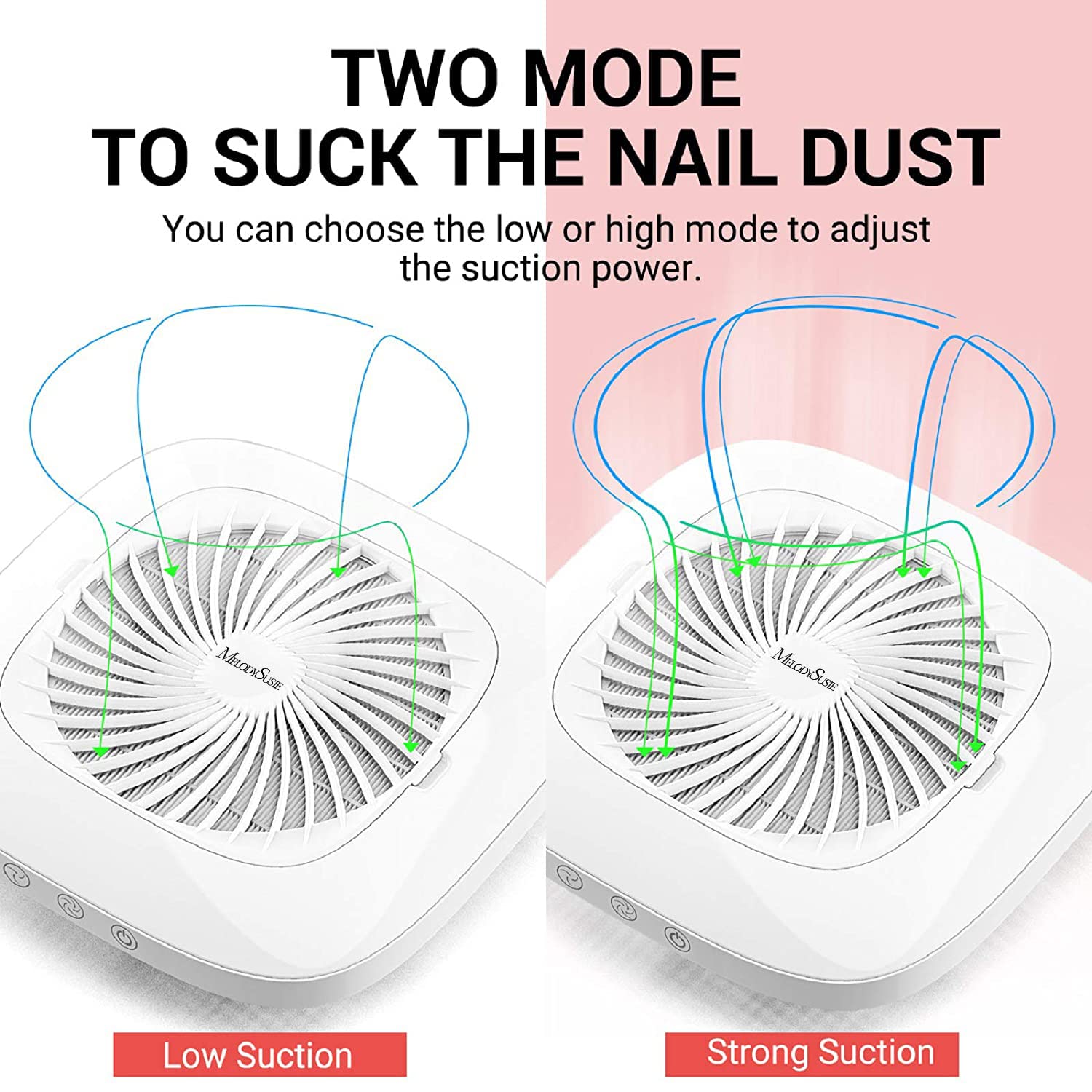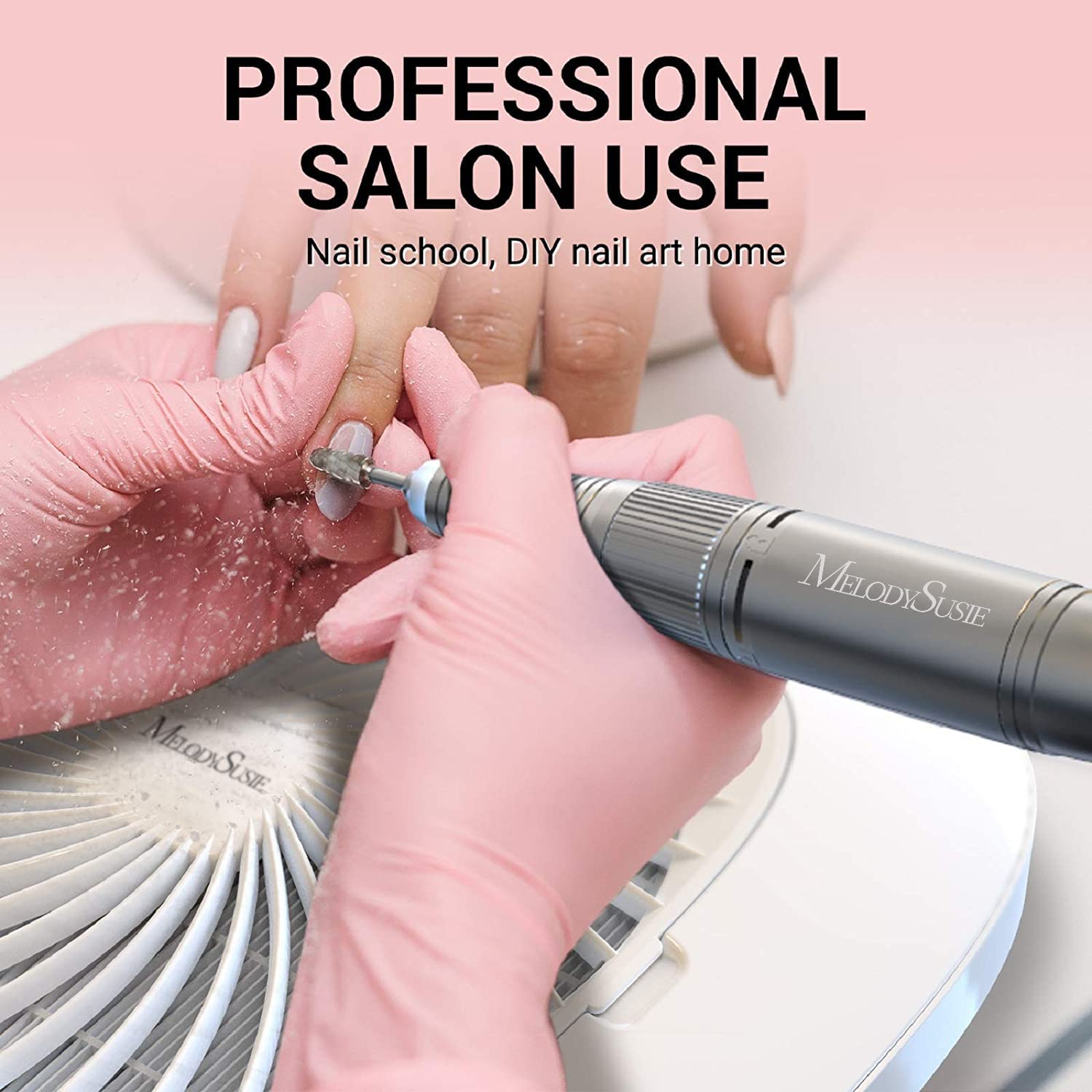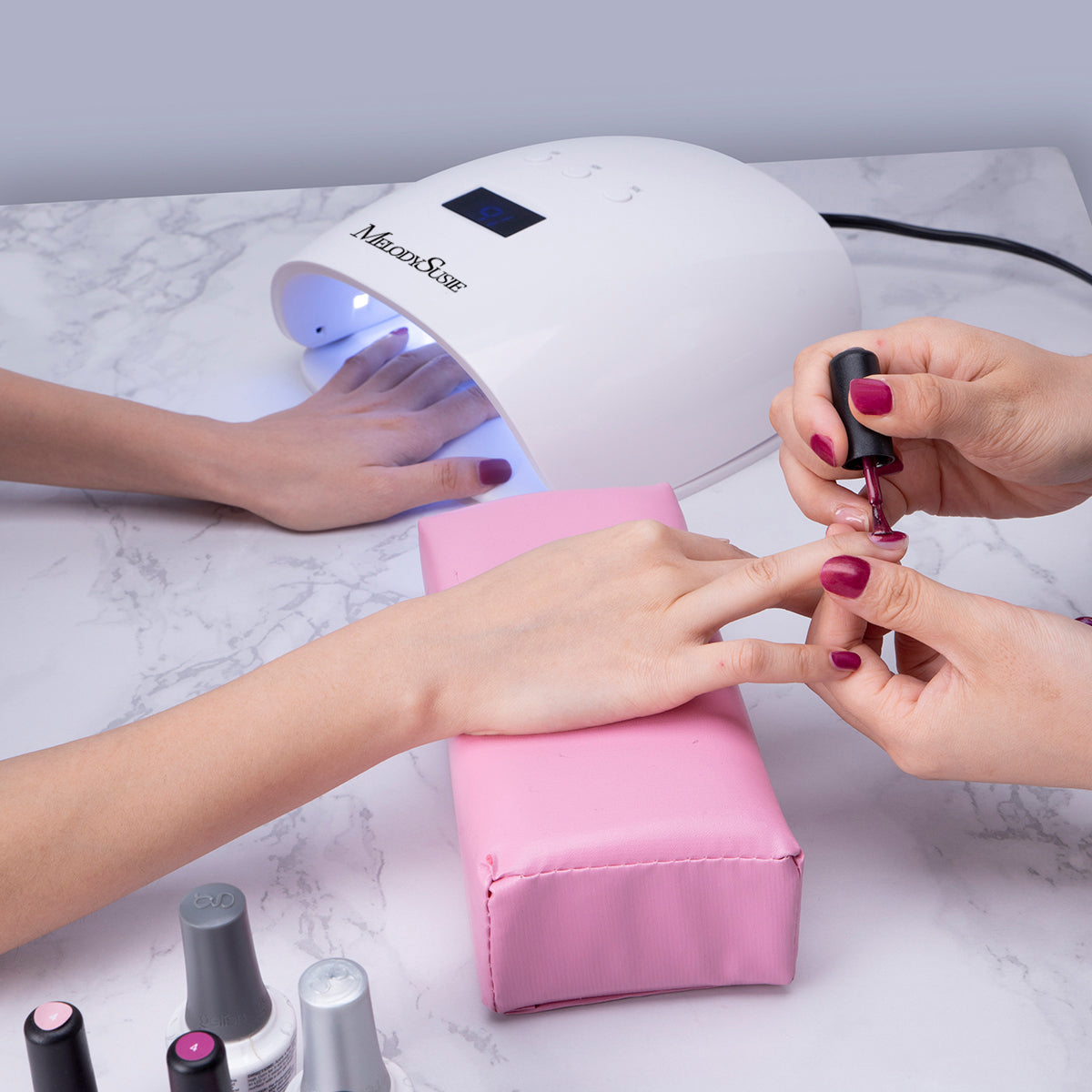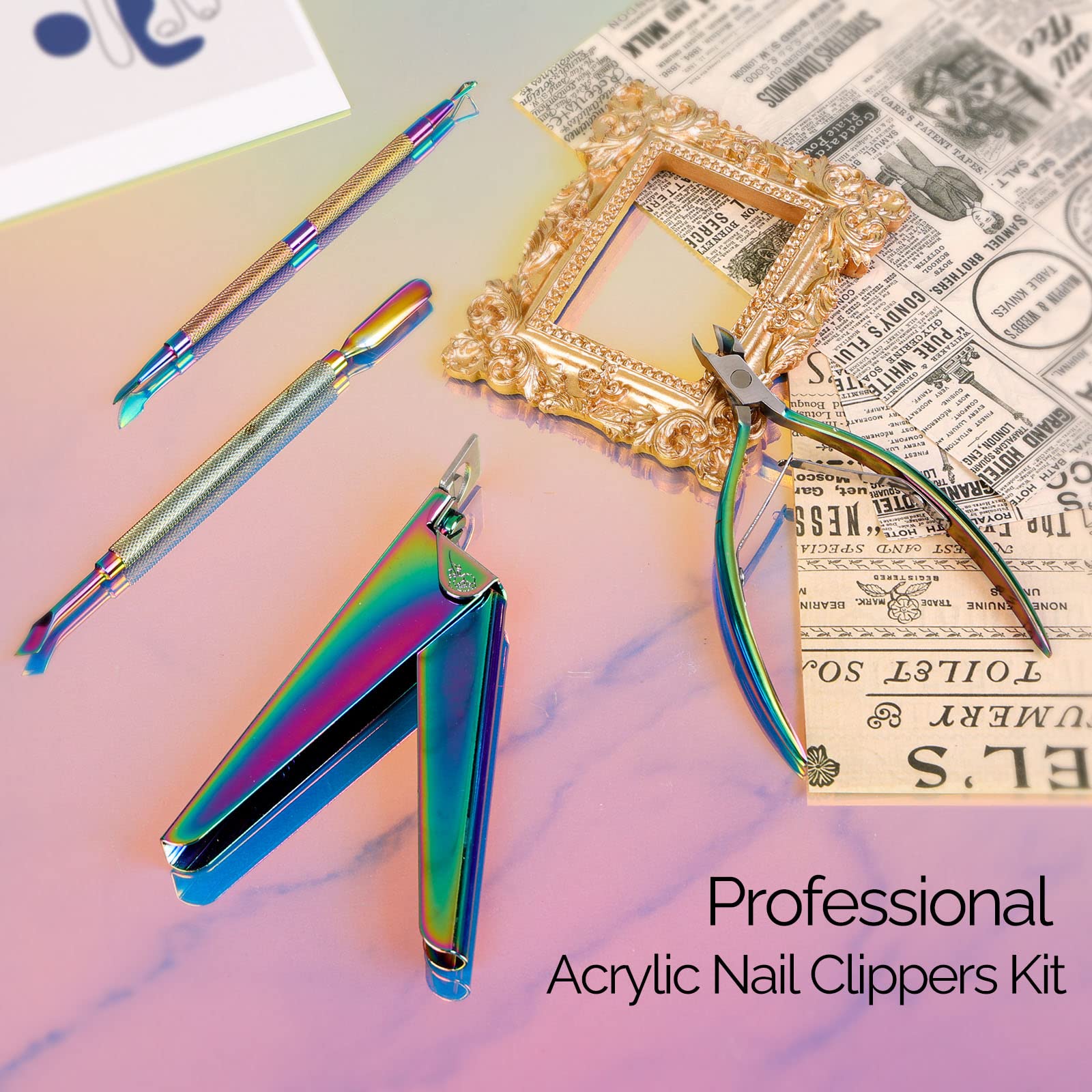 Hello! MR5 Kit
*Please Note: Due to the update of our brand logo, we will randomly send products in either the old or new packaging, but it will not affect the product quality. Thank you for your understanding during this transition.

Hello! MR5 Kit:

MR5-Rechargeable Nail Drill 35,000 RPM; 
New Colorful Tungsten Carbide Nail Drill Bits Set (10pcs)

MR5 Dust-Free Kit:

MR5-Rechargeable Nail Drill 35,000 RPM;
Nail Dust Collector(white);
Nail Art Dust Remover Brush; 
Colorful Diamond Cuticle Nail Drill Bits Set 10Pcs; 
Acrylic Nail Clipper 4 in 1 Kit Pink

MR5 Full Set:

MR5-Rechargeable Nail Drill 35,000 RPM; 
EOS 9 LED/UV Nail Lamp; 
Nail Dust Collector(white); 
UV Shield LYCRA Gloves - Black; 
Acrylic Nail Clipper 4 in 1 Kit Pink; 
Blue Carbide Nail Drill Bits Set (7pcs); 
Colorful 300pcs Professional Sanding Bands; 
Ceramic Nail Drill Bits Pink-Medium(1pc); 
5 in 1 Pro Tungsten Carbide Nail Drill Bits-XC+M+3XF(1pc)

*Please note: This set will not provide the gift box.

Note: According to the receiving address, the package includes a national standard plug or a conversion plug.

MR5 Nail Drill: 

Professionalism: Superior MR5 nail drill is equipped with a metal brush hollow cup motor with a high-speed bearing, providing ≥400g.cm powerful torque and a high rotation speed up to 35,000rpm. Efficient nail polishing and shaping keep your nail creations ultra-precise. Immerse yourself in a quiet, stable, and highly professional manicure experience.
Durability: MelodySusie never ceases to improve, new nail drill has upgraded larger capacity 2000mAh battery. With only 2.5 hours of full charge, you will get an incredible 15h long battery life, which is almost twice that of other similar products on the market, reducing the inconvenience of frequent charging, greatly improving usability.
Sophistication: Applying classic color matching of pink & white, which is gorgeous, chic, and unique. The elegant rose gold metal frame combined with an extraordinary gem-cut body make the pro nail drill have both premium performance and an outstanding look. Show your pursuit of beauty from the very beginning of nail drill selection.
Monitorability: This premium nail drill is embedded in a segment LCD screen, which clearly displays running information such as rpm, direction, and battery status in real-time, allowing you to know everything about your beloved pro nail drill. Extremely easy operation, just connect the handpiece and turn the switch knob to start the nail file drill.
Lightness: Weighing only 1 lb, this ultra-light nail drill tool allows you to easily ignore the numbness and fatigue caused by its weight. Set up a portable belt clip design that allows you to attach it to your belt, pocket, or clothes and carry it with you. The thoughtful side holder design is convenient for you to store the handpiece into the bayonet after finishing the manicure to prevent rolling and falling.

 EOS 9 LED/UV Nail Lamp:

AMAZING CURING: 30 pcs dual LED UV beads with 54 watts high power, low heat, no harm, comfortable, dry your gels fast and efficiently. Well compatible with UV gel, UV resin, poly gel, builder/extension gel, nail sculpture gel, rhinestone gems glue.
ADVANCED TECHNOLOGY, FASTER, SAFER: Professional Salon Edge nail lamp shortens your curing time by 50% than other nail lamps. It takes only 30s to dry nail UV glue and 60s to dry rhinestone gem glue. Enjoy a beautiful, long-lasting gel color!
POWER SAVING, AUTO SENSOR, 3 TIMER SETTING: Hands in, light on; hands out, light off. Without any operation for 5 minutes, the lamp will begin power-saving mode. The 30s, 60s, 90s timers make you control the curing time easily. No need to worry about over-drying.
LCD DISPLAY, DETACHABLE MAGNETIC TRAY, LARGE SPACE: LCD display screen can see the working time clearly, controlling your time as needed. Detachable Magnetic Tray avoids staining the desktop. Suitable for both hands and feet. Large space ensures 2 hands at the same time.
PREMIUM MATERIALS: MelodySusie Eos 9 Gel Nail Lamp is made of premium Engineering ABS plastic, which is lightweight, sturdy, and healthy. It is an ideal choice for a salon and home!

 Diamond Cuticle Nail Drill Bits Set 10Pcs:

TIME-SAVING: Cut your time in half. It's so convenient and efficient for your manicure.
VERSATILE: You can use these tools to remove dead skin.
DURABLE: Made of high-quality and hard-wearing carbide.
SAFE: The unique design is professional for you to do your nail artwork and protect your skin from damage.
PORTABLE: Easy to carry and bring them out. You can do your nail artwork anytime anywhere.

Stainless Steel Edge Cutter:

MULTIFUNCTIONAL: It is suitable for fake nails, false nails, acrylic nails, artificial nails, gel nails. It is professional for both home and salon use.
PROFESSIONAL TIP AND ACRYLIC CLIPPER: Cut your time in half, It's so convenient, efficient, and time-saving for your manicure. A powerful and sharp clip, creating your perfect nail shape.
STAINLESS STEEL MATERIAL AND STRONG SPRING: It is made of high-quality stainless steel, so durable that you can use it for a long time. The Strong Spring is strong enough to do your nail artwork.
ERGONOMICALLY DESIGNED: It is suitable for the different palm sizes of most people.
COMPACT AND PROFESSIONAL: it is easy to carry and portable to bring it out. You can do your nail artwork anytime anywhere.

Nail Dust Collector:

POWERFUL NAIL DUST COLLECTOR: 100% vacuum effect, prevent dust fly ash from being scattered and inhaled into the air, while other nail dust collector just has 70-80% vacuum effect, dust will fly out, the powerful Nail Dust collector is equipped with strong fans to collect dust created while filing or polishing nails.
ADJUSTABLE SUCTION: Adjusting the power bases your preference, it can give a dust-free clean manicure workplace, saving your cleaning time. No dirt of nail is left, the soft and smooth surface providing you a luxury manicure experience. Suitable for grinding nails and feet, make your hands and foot feel comfortable.
NEAT AND PORTABLE: Compact size, easy to install and remove. It is ideal for both professional use in the salon and beginner use at home or salon, giving you an enjoyable manicure experience.
EASY TO OPERATE: The nail dust collector is equipped with a touch control induction operation panel, which is easy to set up for any operation with just a touch.

 300pcs Sanding Bands:

THREE GRIT FILE:180# comes with a smooth surface and it will perfect on the natural nail and cuticle with your file's low speed. 120# helps you to prep the nail quickly, file the nail sidewalk, shape, and smooth. 80#to remove the gel overlays or shorten the acrylic or artificial nails easily.
DURABLE AND SAVING YOUR MONEY: High hardness, durable and abrasion-resistant.
MULTIFUNCTIONAL: Designed to be suitable for most size 3/32" nail drill machines, which is used for grinding, smoothening, Shaping, shortening, and polishing for all nail arts as well as cuticle removal.
EASY TO USE: It is suitable for manicure as well as pedicure. Work on natural nails (180#) as well as artificial nails (180# 120# 80#).
PORTABLE AND LIGHT: It is easy to carry and portable to bring it out, You can do your nail artwork anytime anywhere. It is professional for both home and salon use.
Use code MSOFF15 to get 15% off on orders over $149.99 (gift boxes are not included)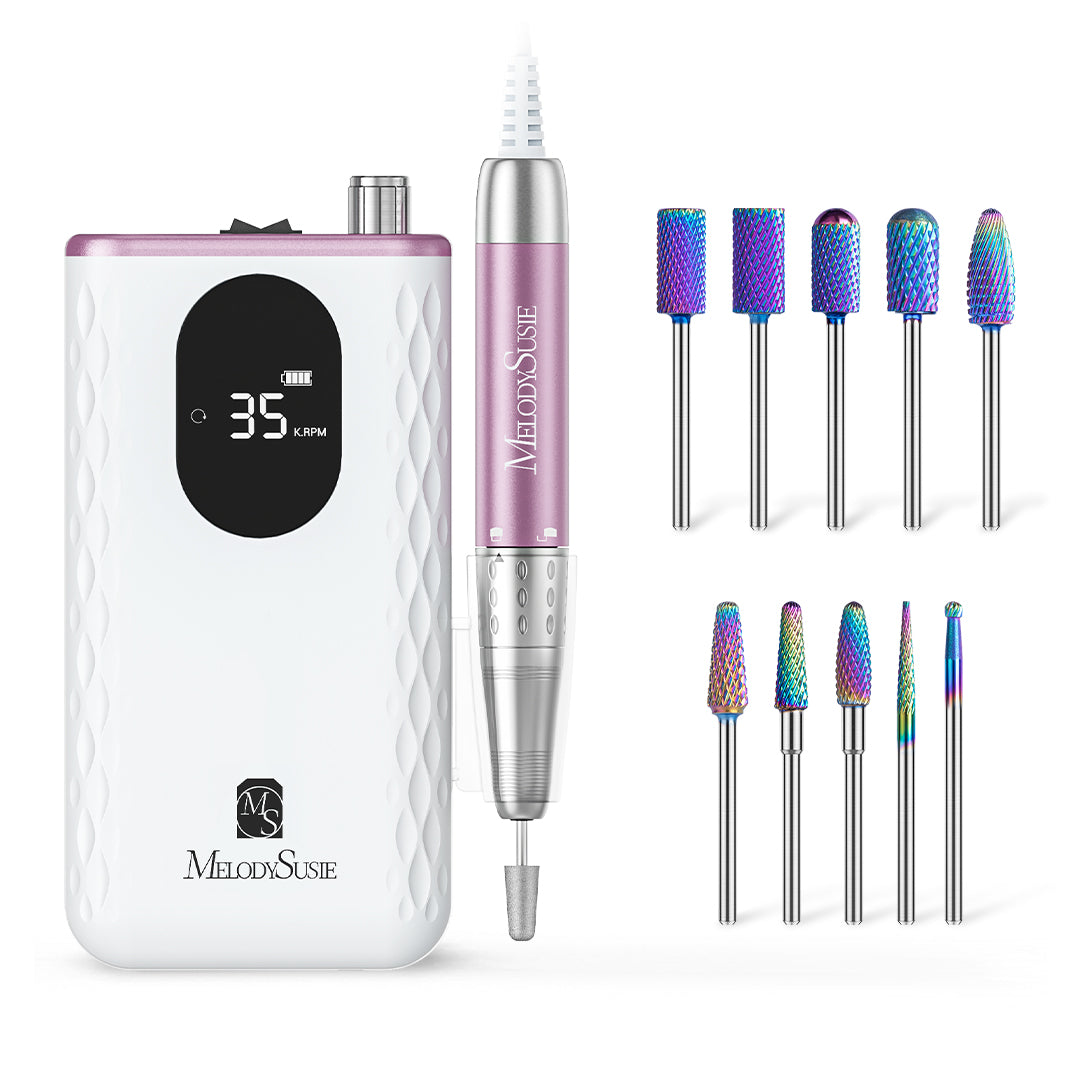 This product is rated 5.0 of 5.0 stars.
It has received 107 reviews.