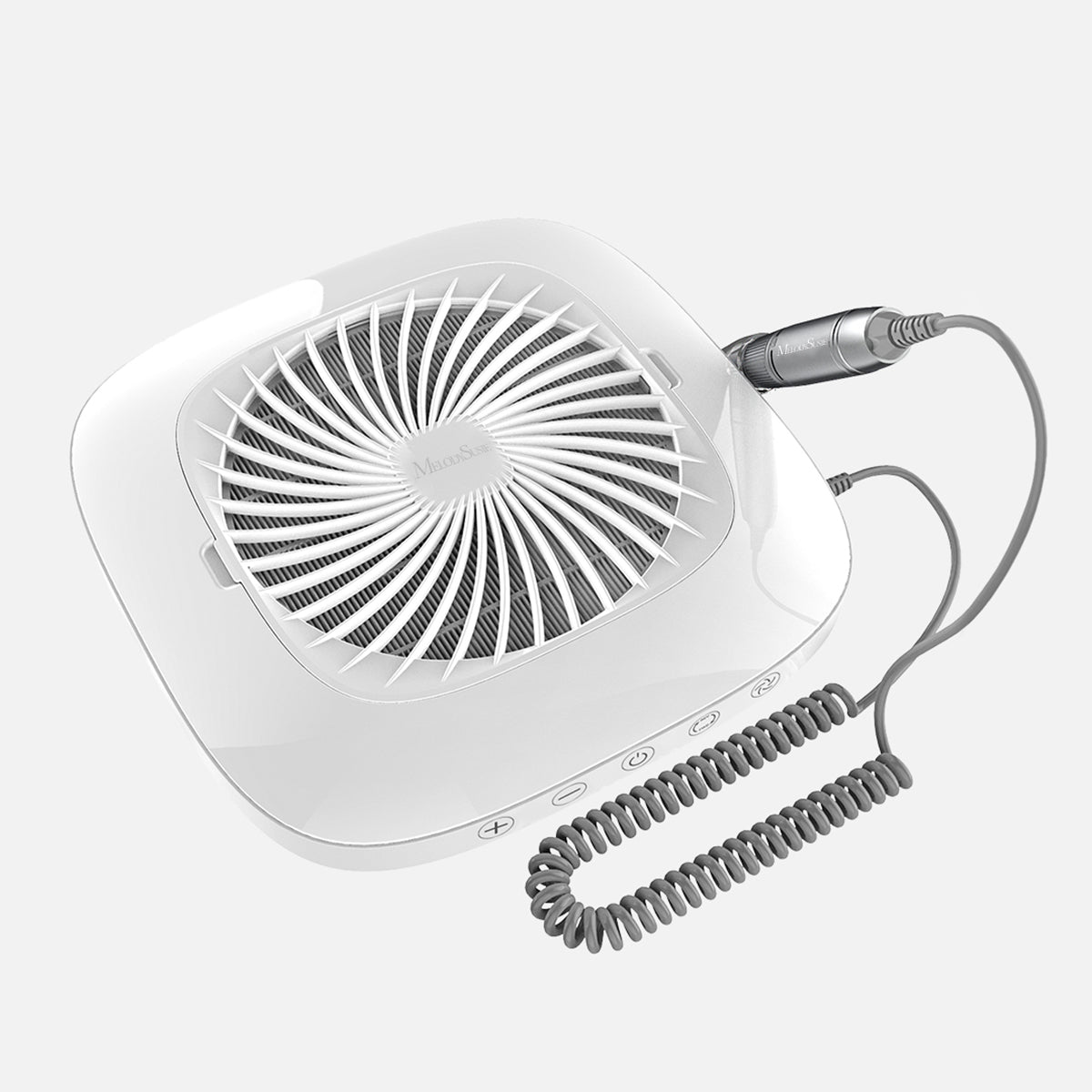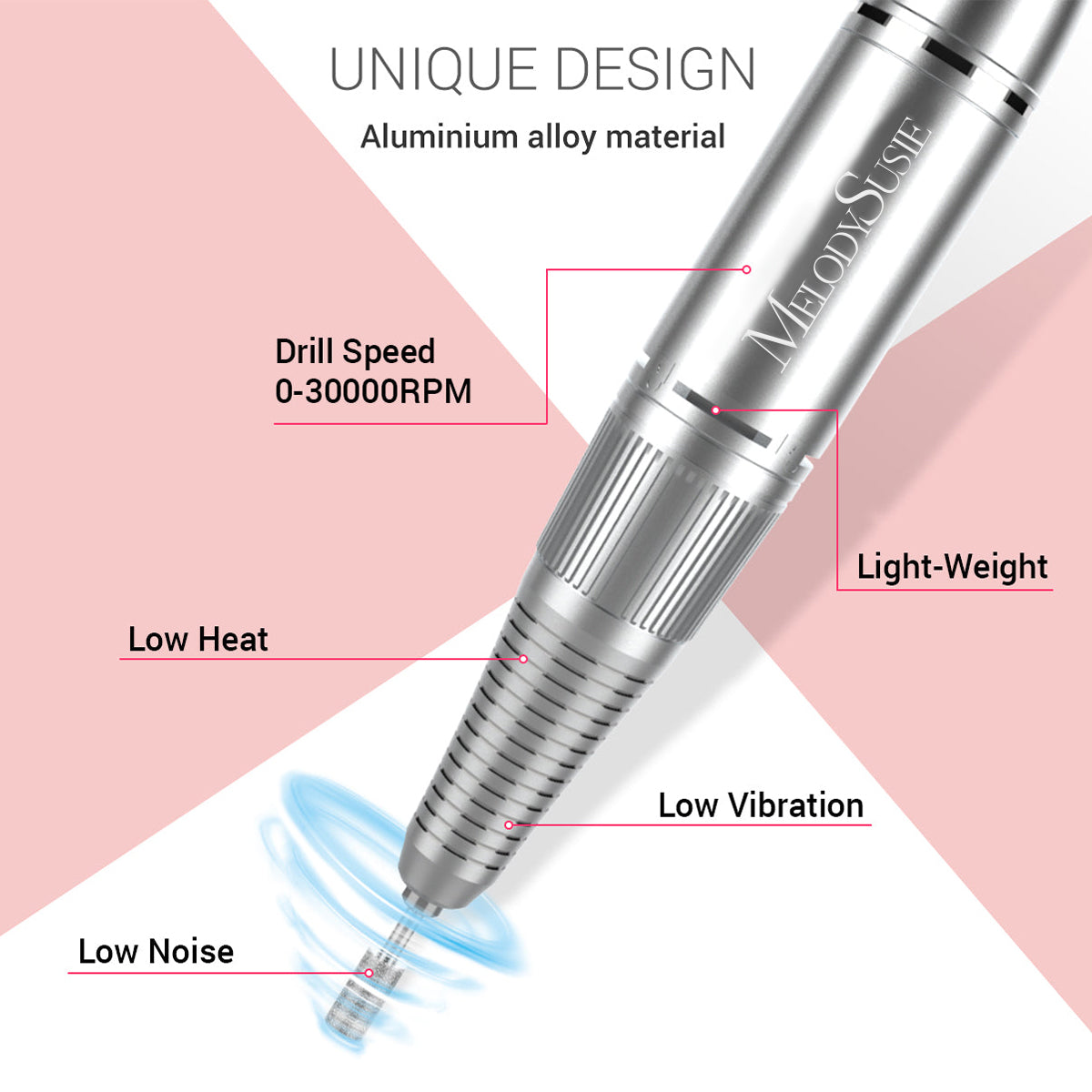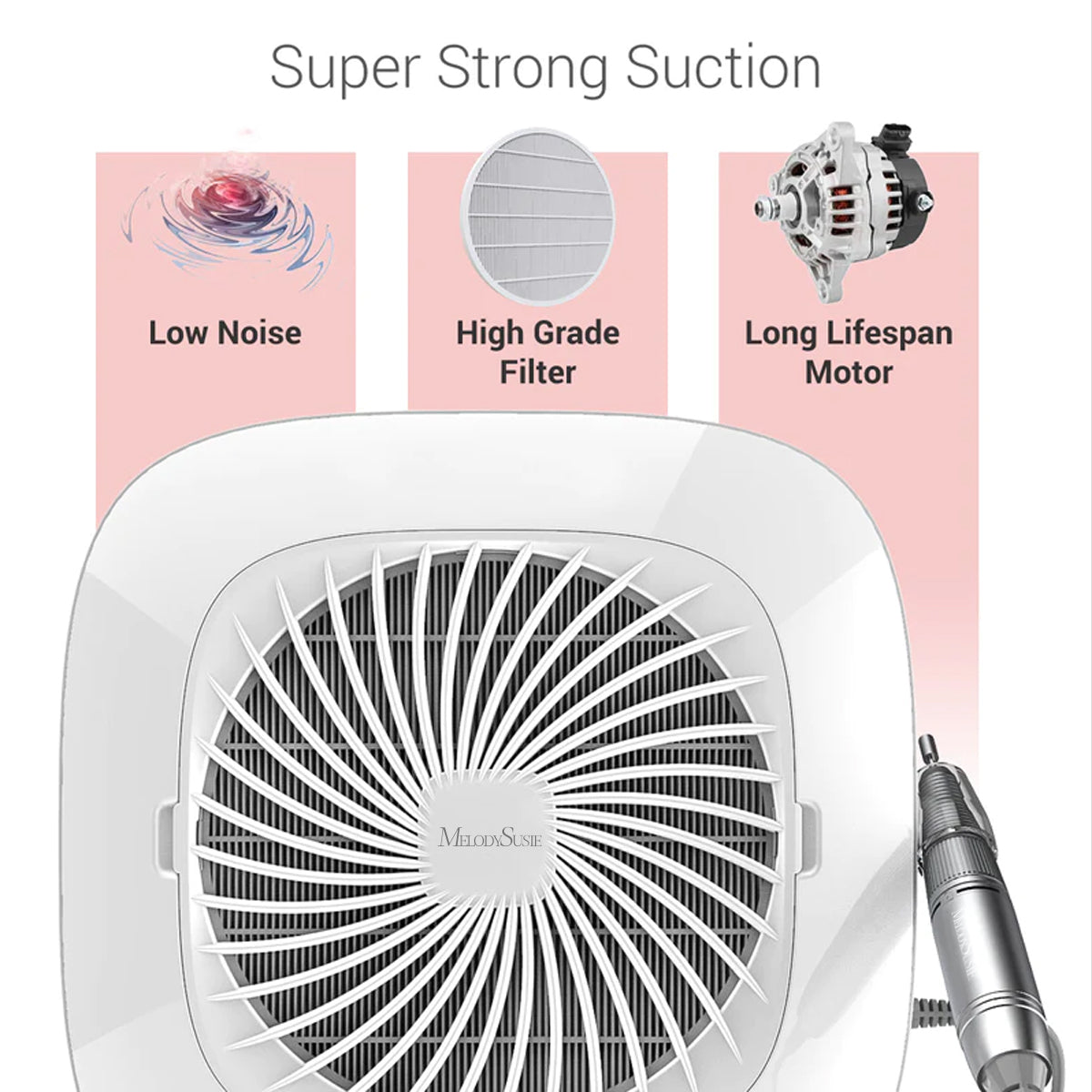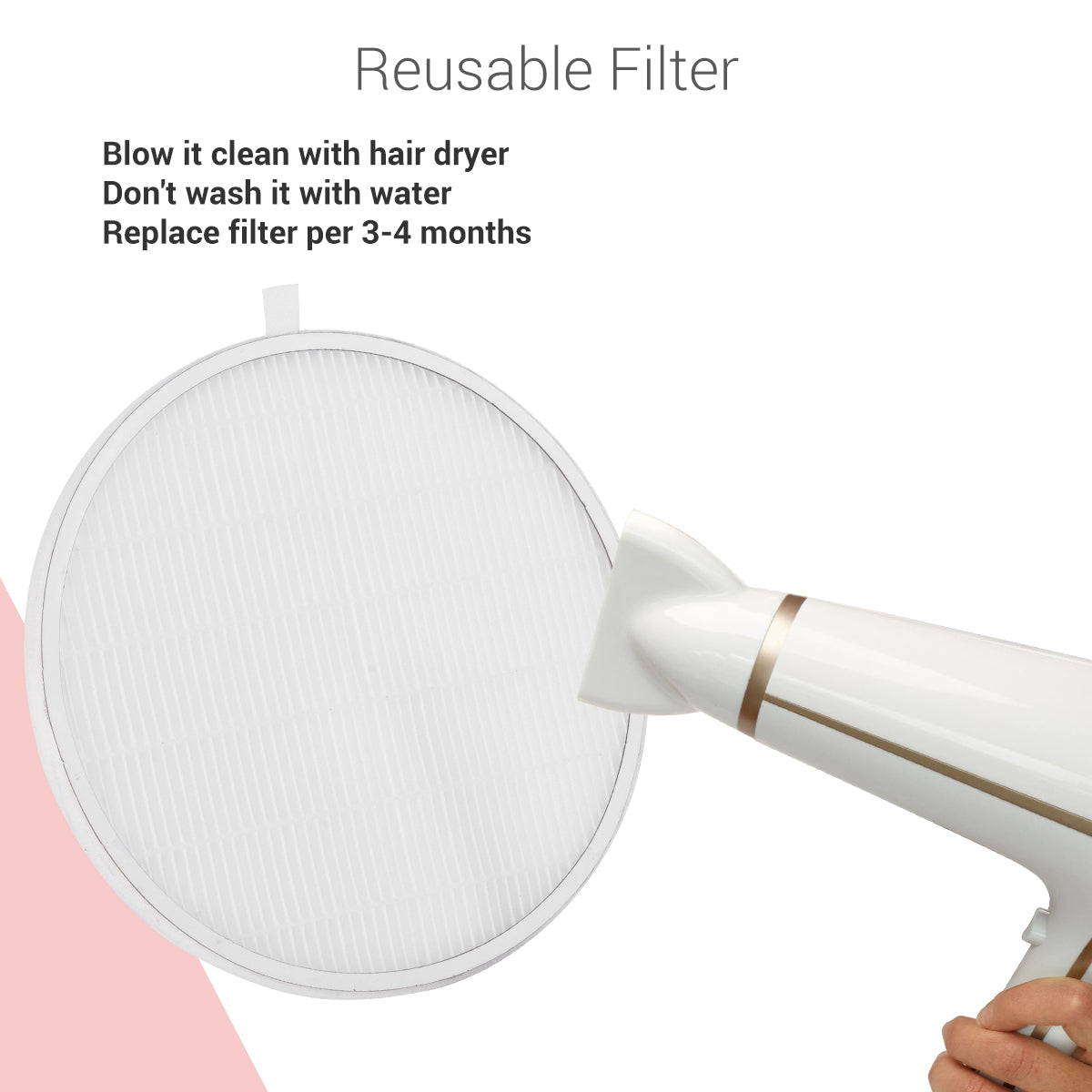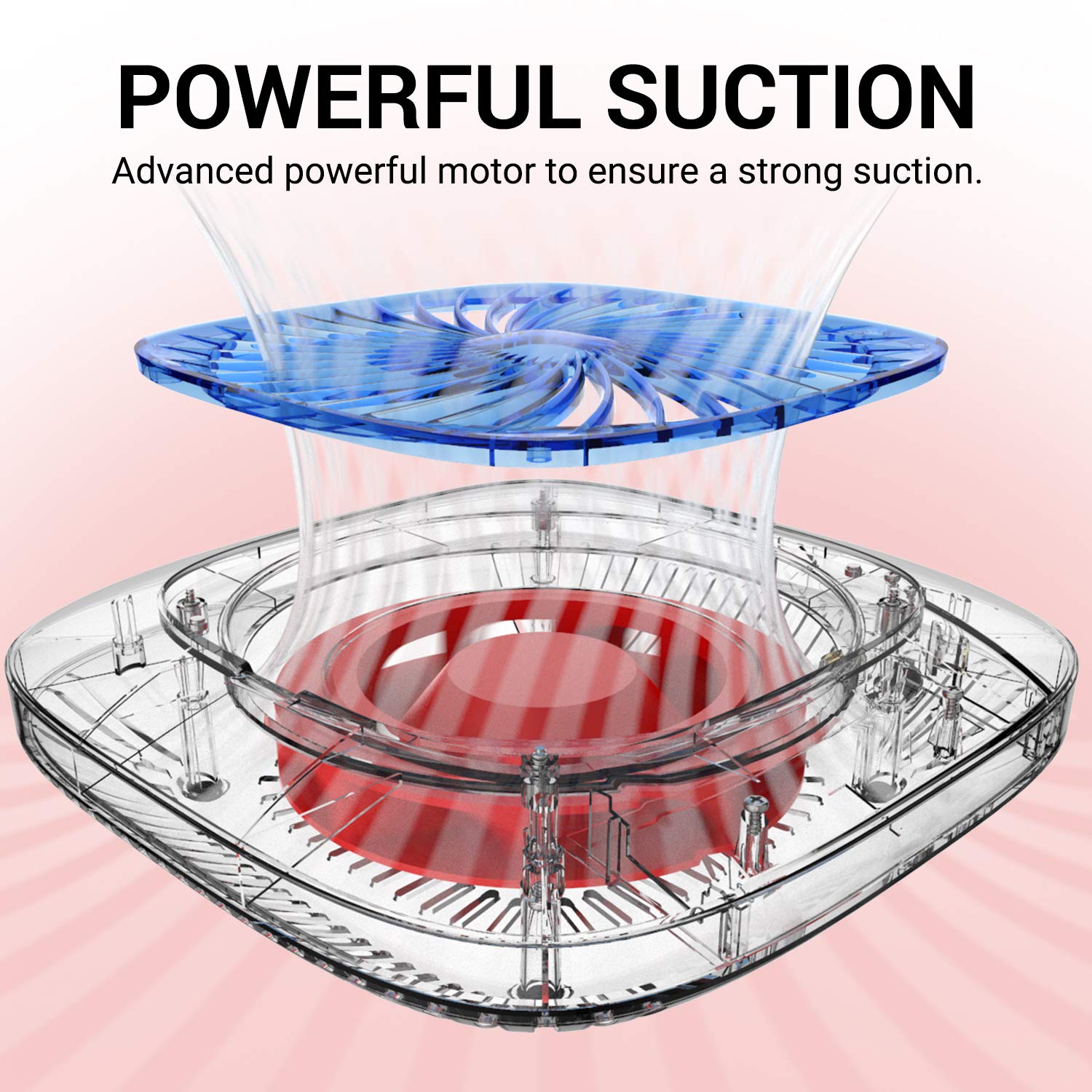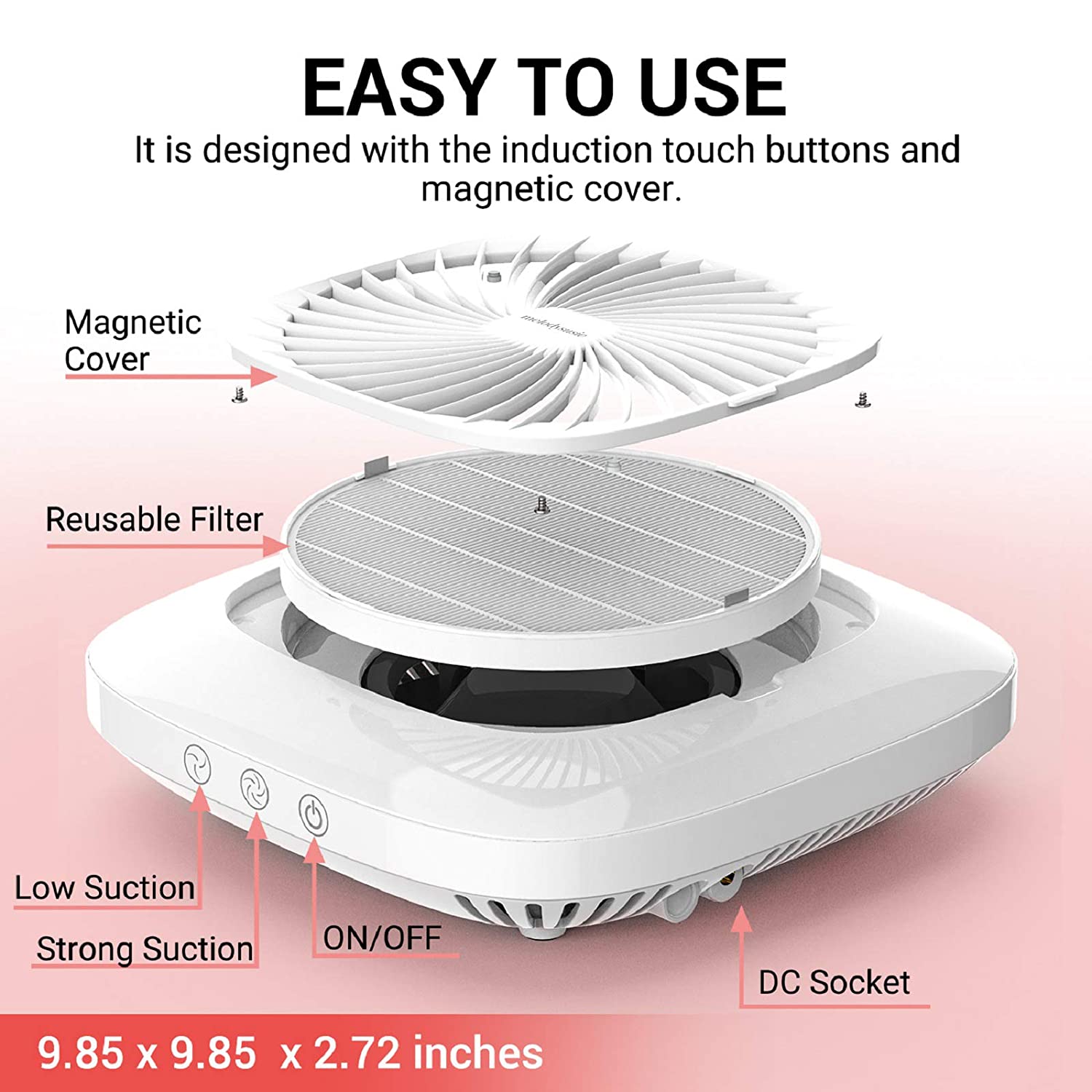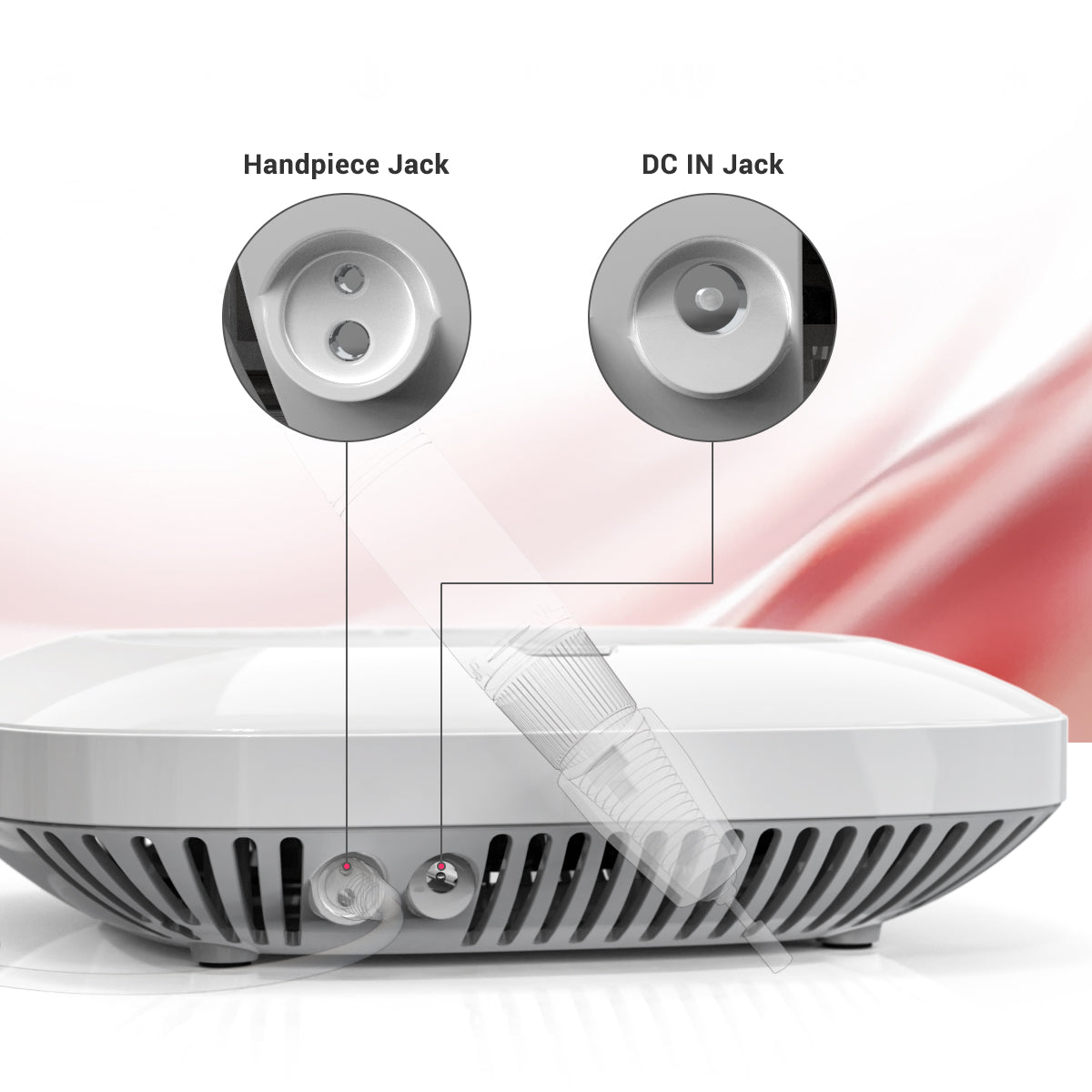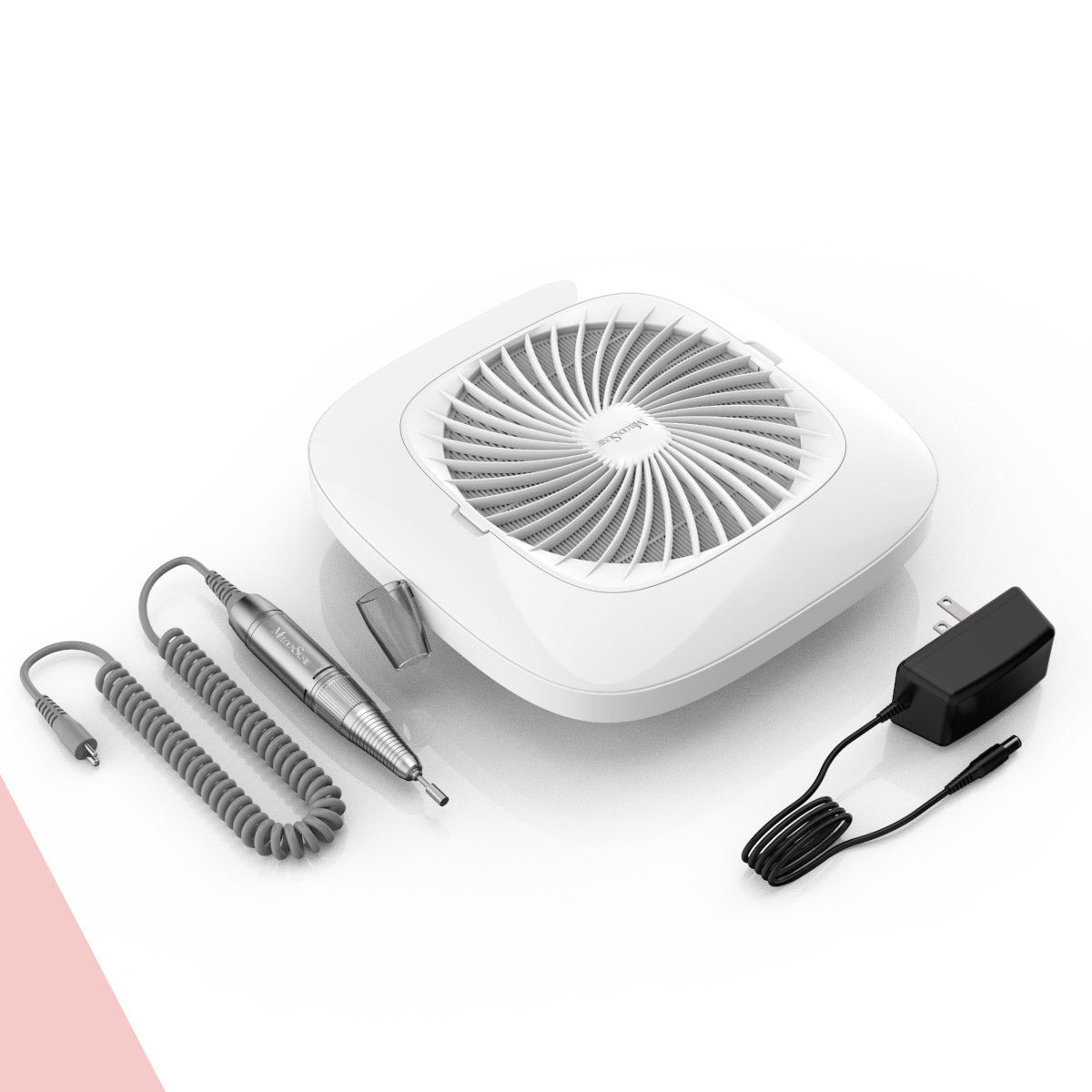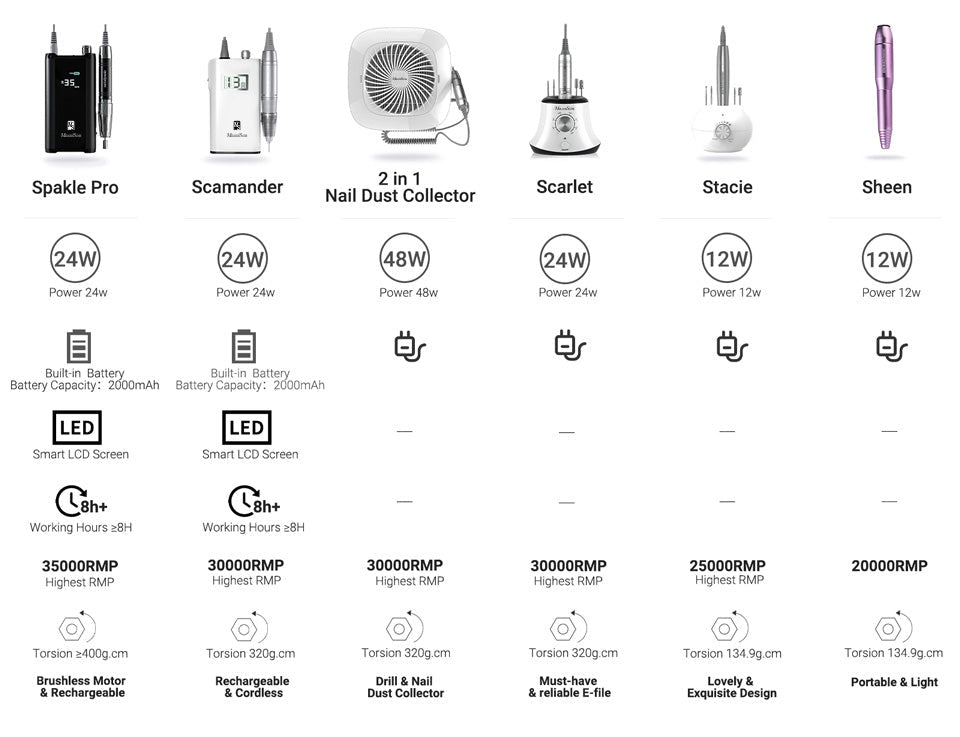 X1-2 In 1 Nail Dust Collector
MelodySusie POWERFUL NAIL DUST COLLECTOR offers a 100% vacuum effect, totally dust-free. Adjustable suction based on your preference. Portable Compact, easy to install. For DIYs and Crafts. Easy touch panel control. Detachable 2 in 1: nail dust collector & nail drill. Use it separately or together with the drill.
• 2 in 1: nail drill (detachable) + dust collector (can work alone)
• Professional 30000rpm e-file drill
• Powerful and adjustable suction
• Touch control panel, easy to use
• Neat, portable and lightweight
• Replaceable filter
• Low audible noise
Maximum wind speed at the air inlet: 4.2M/S
Vacuum + grinding noise: High-end 58dB, low-end: 50dB
2 Levels of the speed of revolution: 2000RPM (Low), 2800RPM(High)
The PRM of Nail Drill: adjustable 0-30,000RPM
Input Voltage Range: 100-240V/50-60Hz
Output Voltage: 24.0V 2.0A
Product Size: 12.13x11.42x3.03 inches (2 in 1 version), 9.85x9.85x2.72 inches
Product Weight: 3.439lb (2 in 1 version), 3.329lb
Power: 48w (2 in 1 version) / 24w
Note: According to the receiving address, the package includes a national standard plug or a conversion plug.
2 in 1 Nail Dust Collector (With Nail Drill Version):

1 x Nail Dust Collector

1 x Nail Drill Handpiece

1 x Handpiece Accessory

1 x Adaptor Charger

6 x Drill Bits6 x Sanding Bands

1 x User Manual

15-month Warranty

Nail Dust Collector (Without Nail Drill Version):

1 x Nail Dust Collector

1 x Adaptor Charger

1 x User Manual

15-month Warranty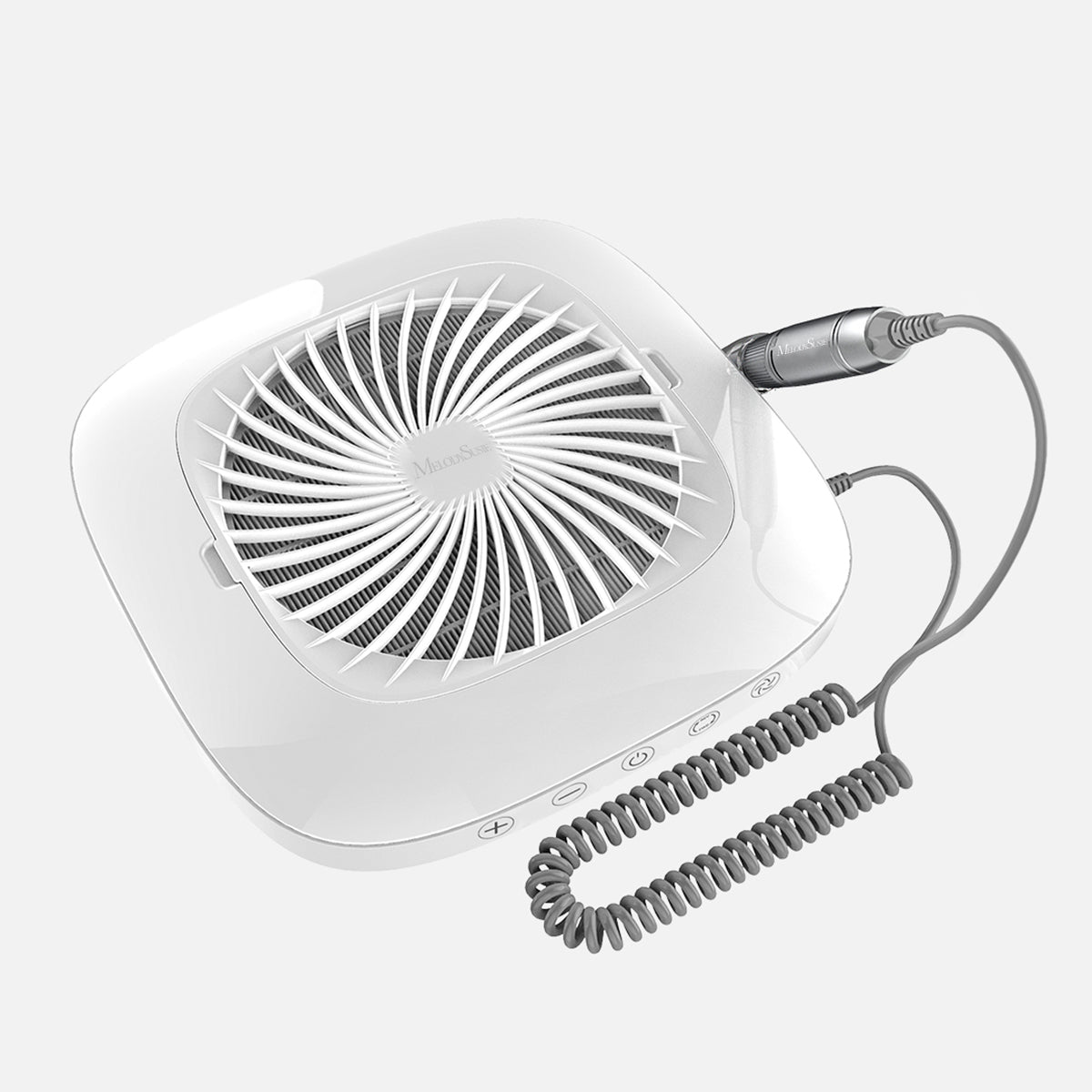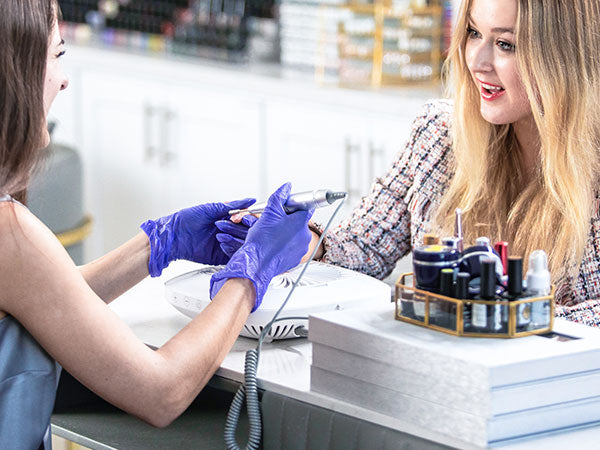 Your new manicure work station
Bring you and your client a free-breathing environment while filing or polishing nails. A must-have nail accessory for nail salon or home use.
2-in-1 Dust Collector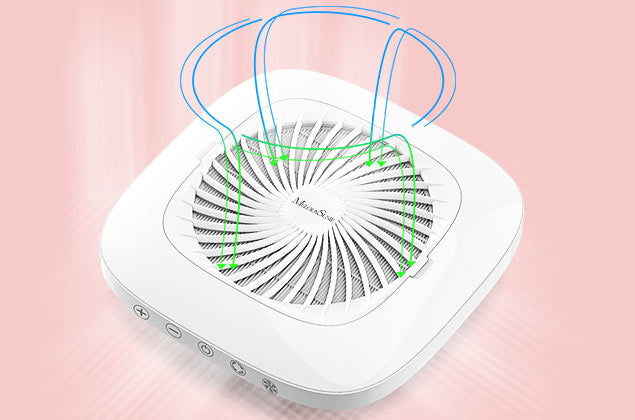 High efficiency in dust cleaning & can work separately
High rotational speed can quickly suck up the dusts and fine particles. It can work separately without the drill, neat, portable and lightweight, durable to clean the dust away.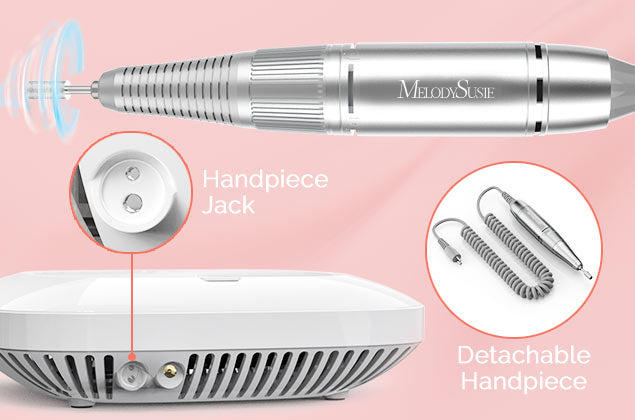 Detachable professional 30000rpm drill handpiece
Equipped with high-quality aluminum alloy handpiece, easy adjustable speed. It can be detached, compatible with Scamander nail drill.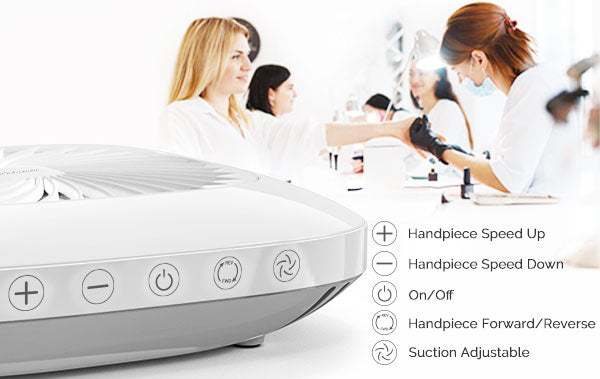 Touch Panel and Adjustable Suction
Equipped with a touch control operation panel, easy to set up any operation with just a touch. The fan speed can be adjusted based on your preference (2 modes for your option).
Benefits of 2-in-1 nail dust collector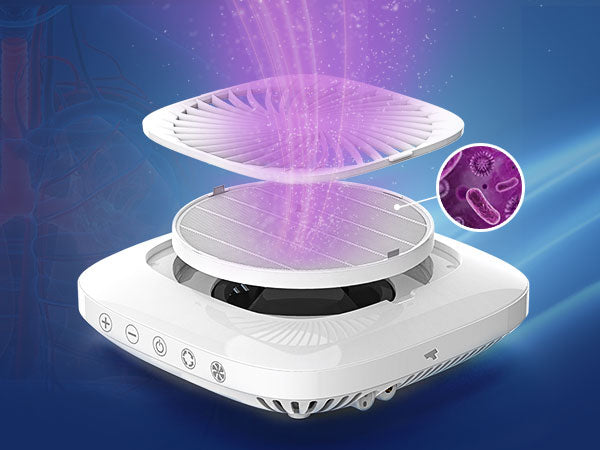 Avoid Respiratory Diseases and Improve Health
It is estimated that a cosmetician inhales around 4kg of harmful dust yearly which 32% of them might result in diseases of the respiratory system. A dust extractor would help to suck up most of the dusts during the manicure and make you stay away from the dust, enjoy a free breath!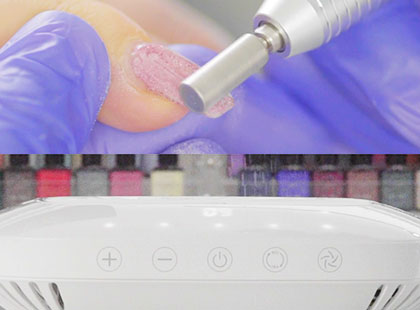 Keep a dust-free workstation
All dusts produced would go directly into the dust collector. No more cleaning up annoying dust that ends up in every corner.
Save your desk space
Compact & lightweight, come with a salon-level powerful drill, no more extra cable and socket for your e-file.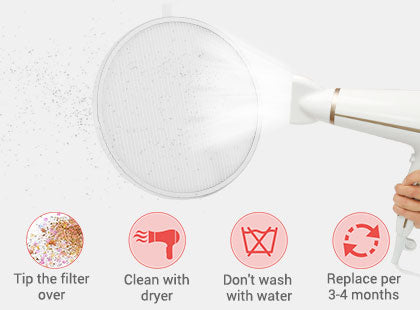 Reusable filter and easy to clean
Blow the dust away easily with a hairdryer or take the filter out to shake dust out.
Having a good dust collector is really important!
"The whole thing is really lightweight and portable, you can use the nail dust vacuum alone if you don't want to use the drill. Nail dust collector is an absolute must if you use a nail drill at the salon or at home. And the dust collector is just powerful and keeps my table clean…" - Laurart
HOW TO USE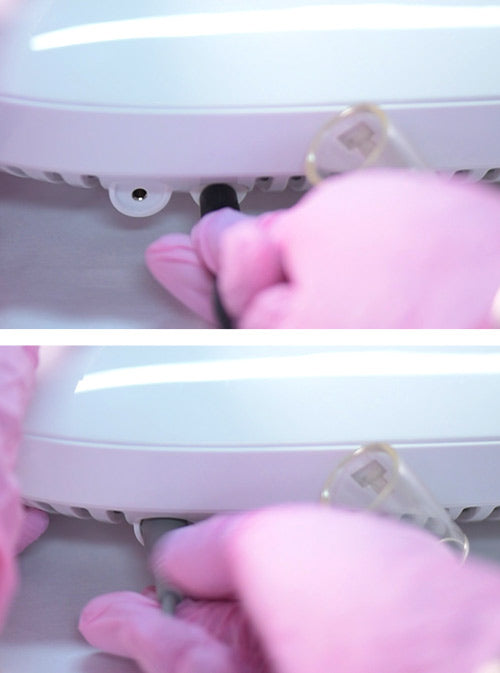 Power connection
Connect the power supply with the power control device in the DC socket.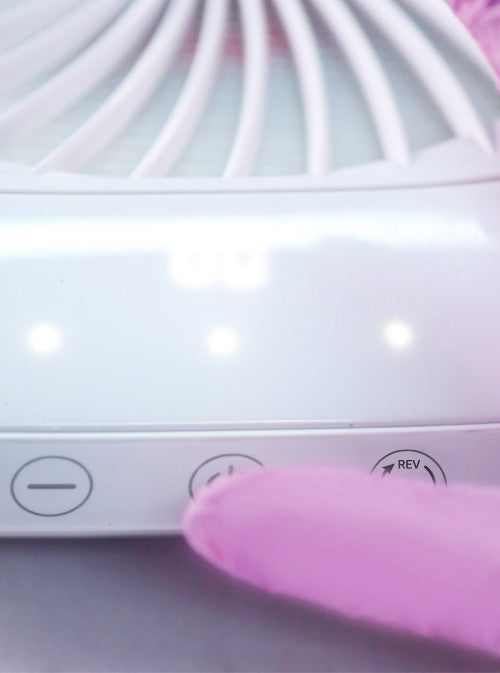 Touch switch to turn on
Press the ON/OFF button to turn on the device.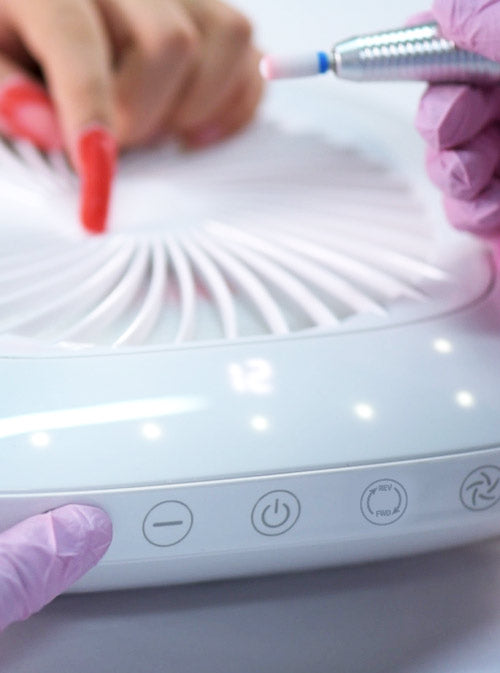 Rotation & Suction Adjustment
Press the button on the side of the device to easily adjust the suction and the rotation speed.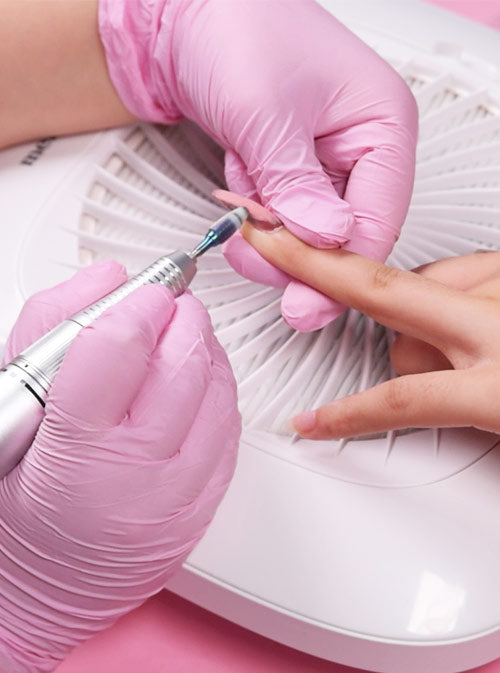 Filing
Start filing the nails above the fan area.
Tips for you:
Check Before Using
1. Check the power supply cord before the first use. Do not use this device if it has a damaged cord or plug or it is not working properly or damaged.
2. Do not plug this device into a voltage system that is different from the voltage system specified on the device or charger.
3. Use with improper voltage will damage the device and VOID warranty.
4. Please use the original charger only.
5. The handpiece of this device is compatible with scamander which produced after 2021. Please don't connect the handpiece with other nail drill machines. (We will unify the jack of the handpiece in the future)

How To Clean Nail Dust Collector
1. Clean it with a hair dryer or take the filter out to shake the dust out.
2. Replace filter per 3-4 months.
3. Don't wash it with water, if you have to do that, please make sure to blow-dry it after you wash it.
*Please Note: Due to the update of our brand logo, we will randomly send products in either the old or new packaging, but it will not affect the product quality. Thank you for your understanding during this transition.