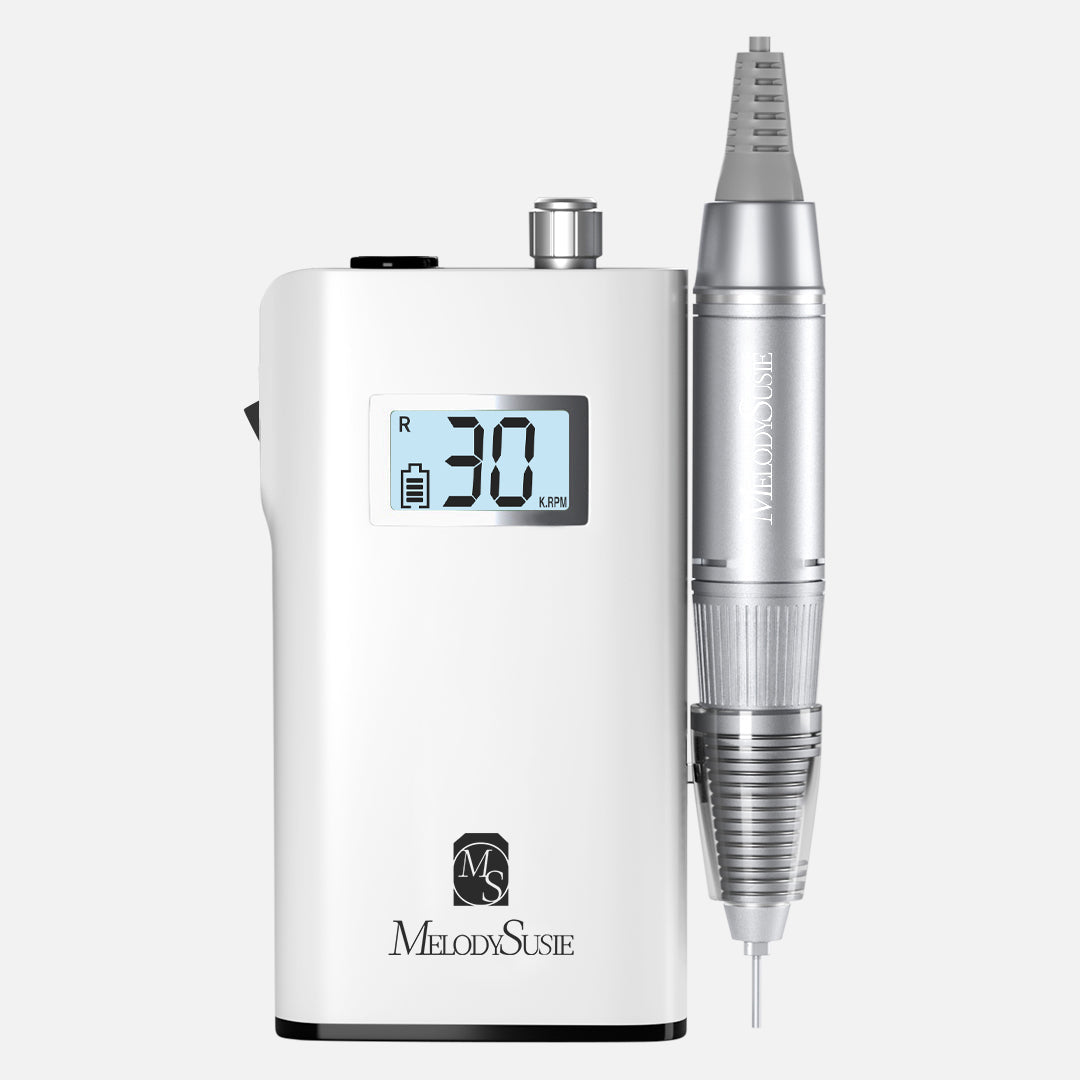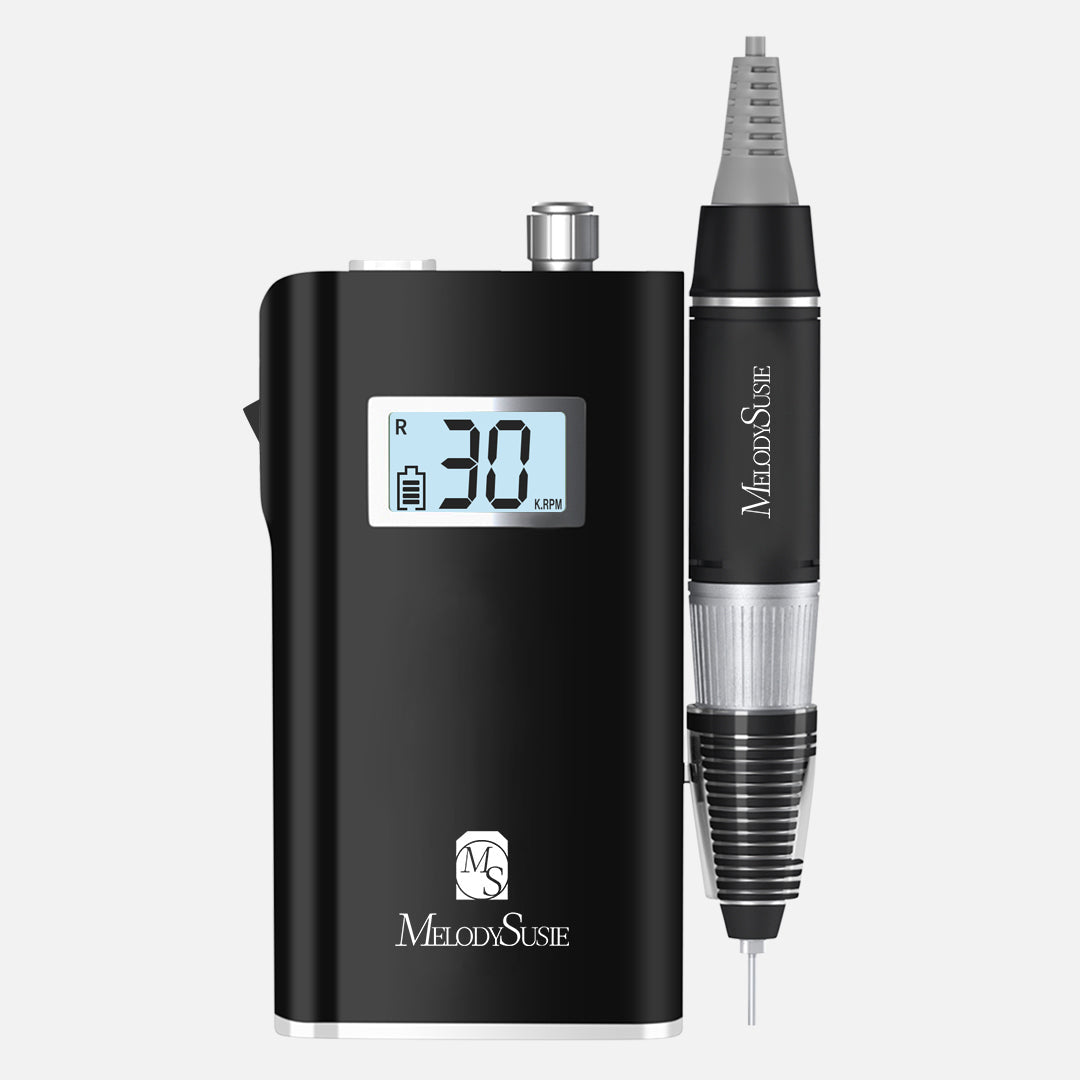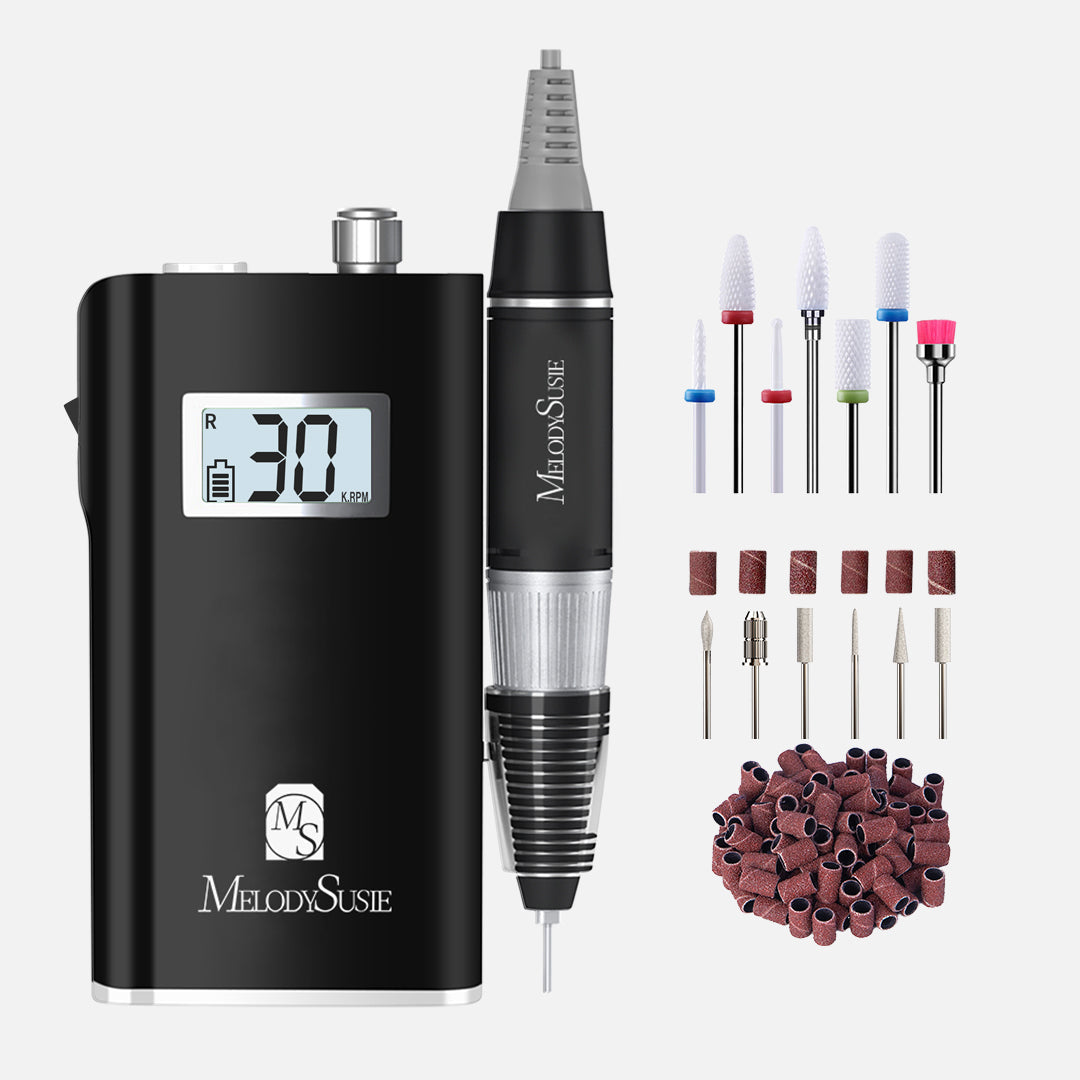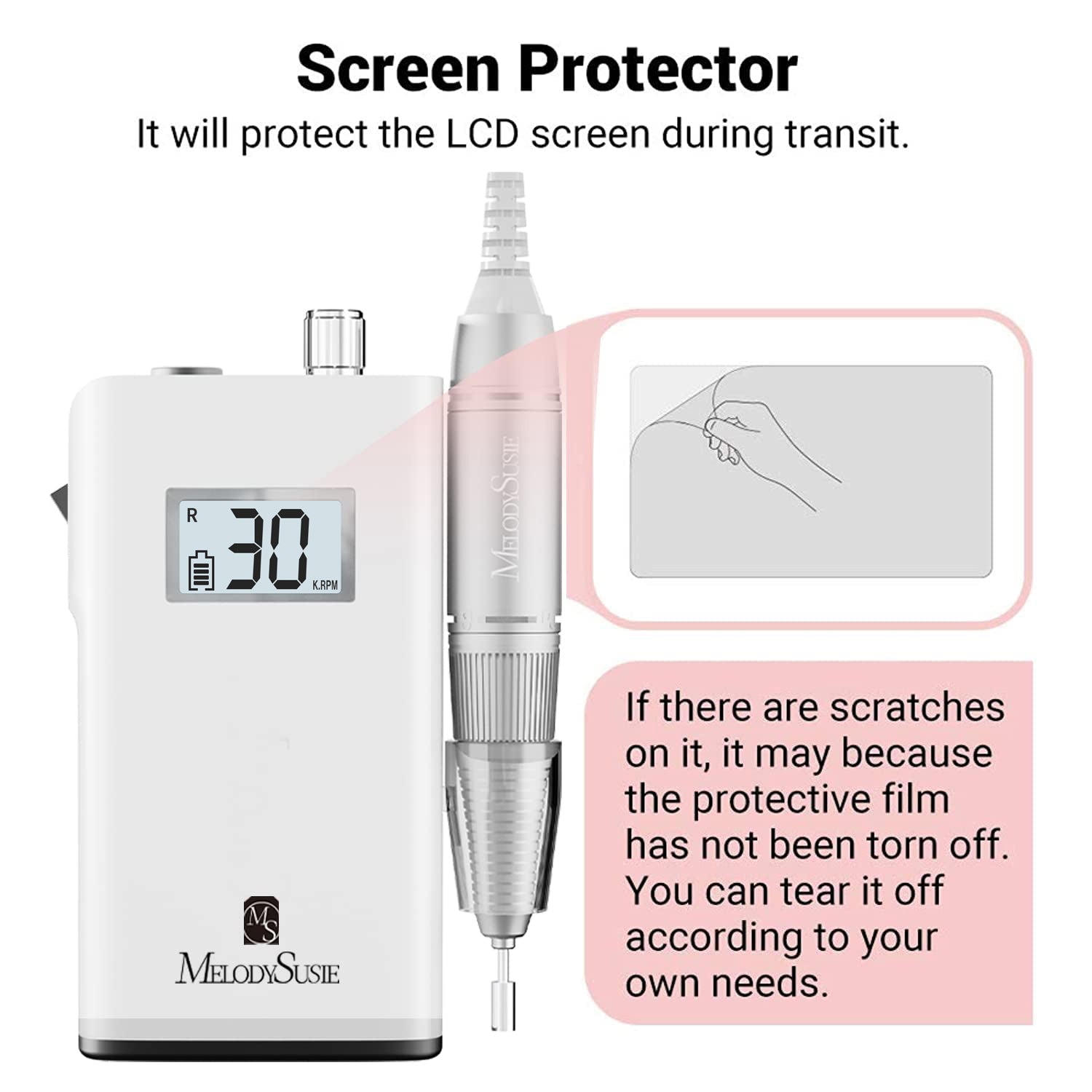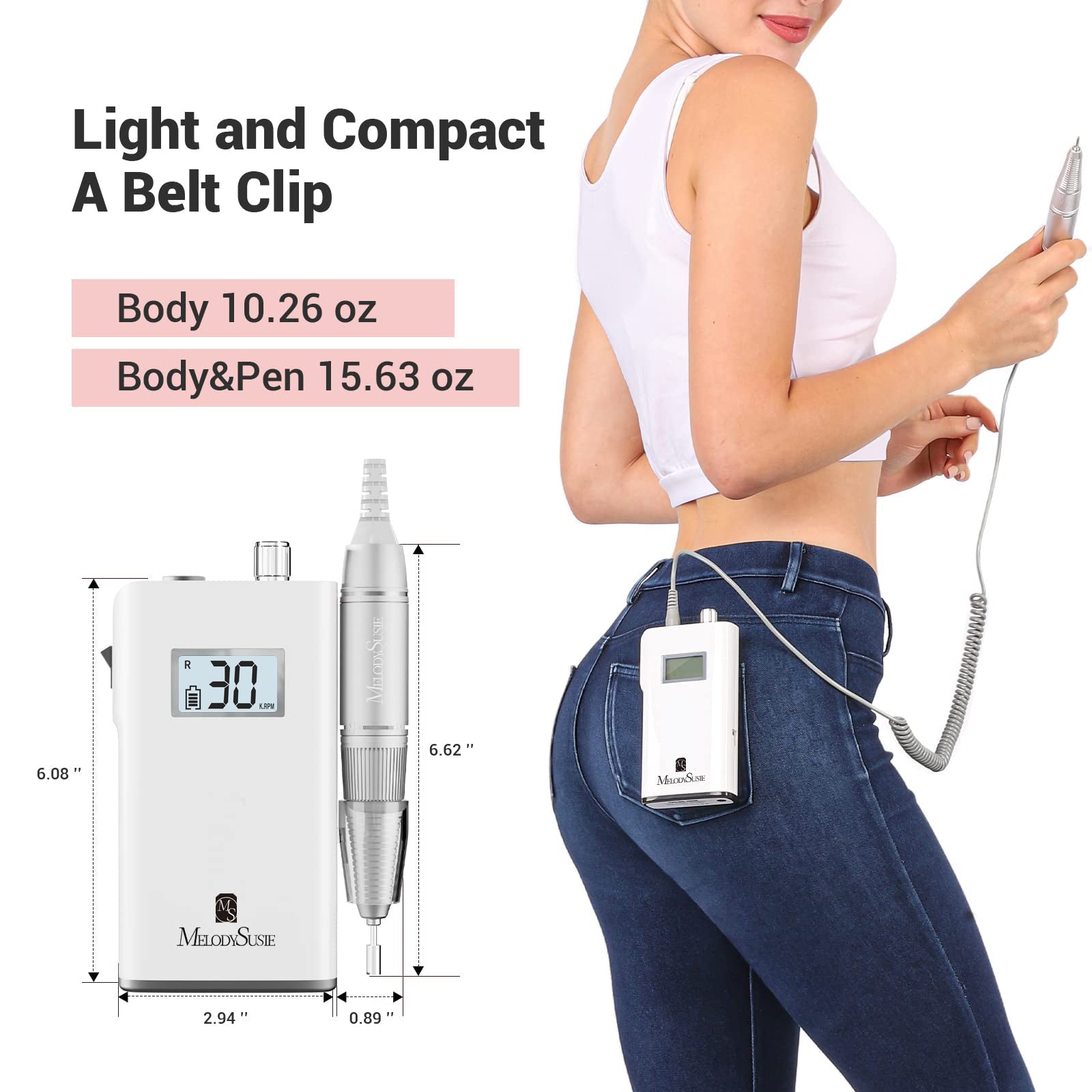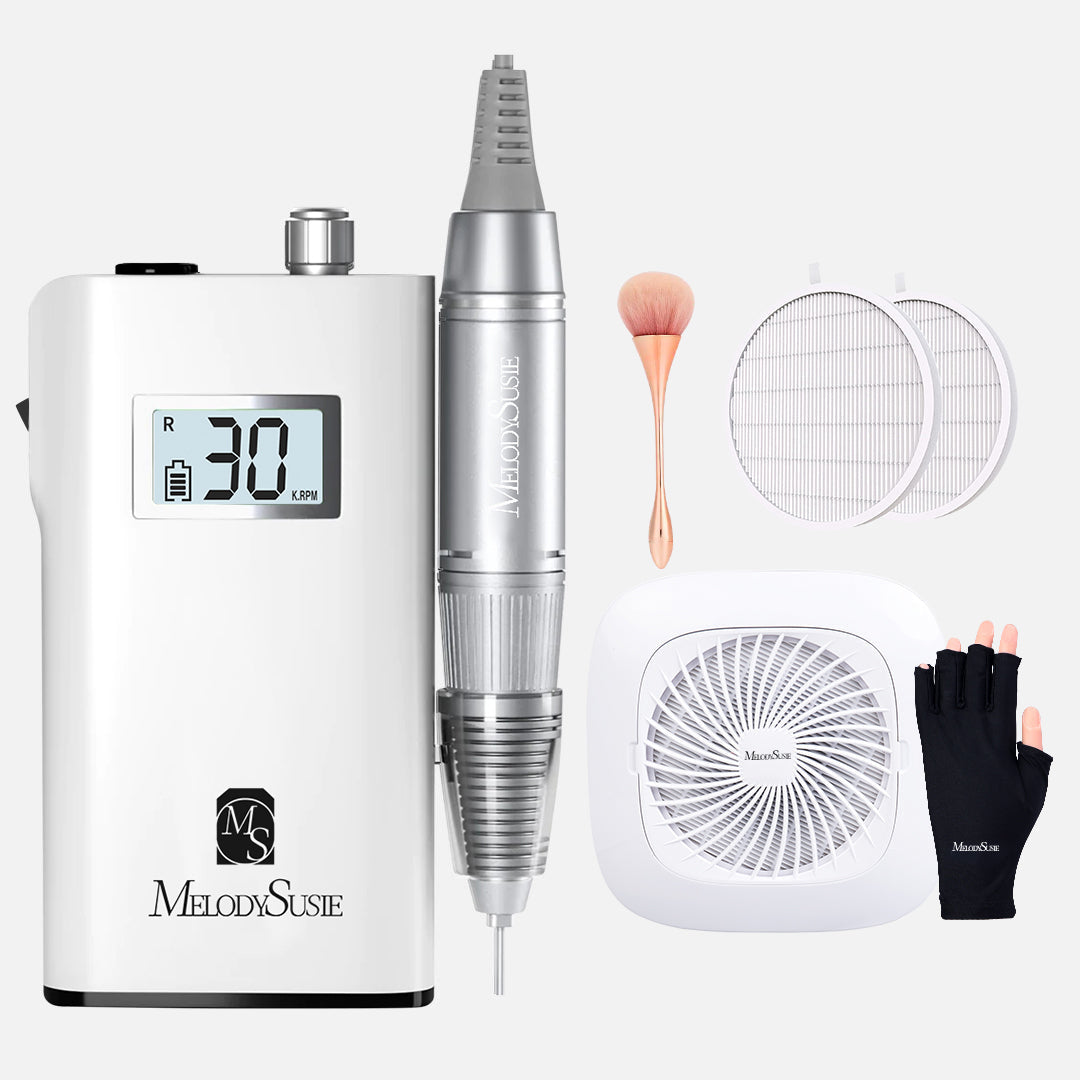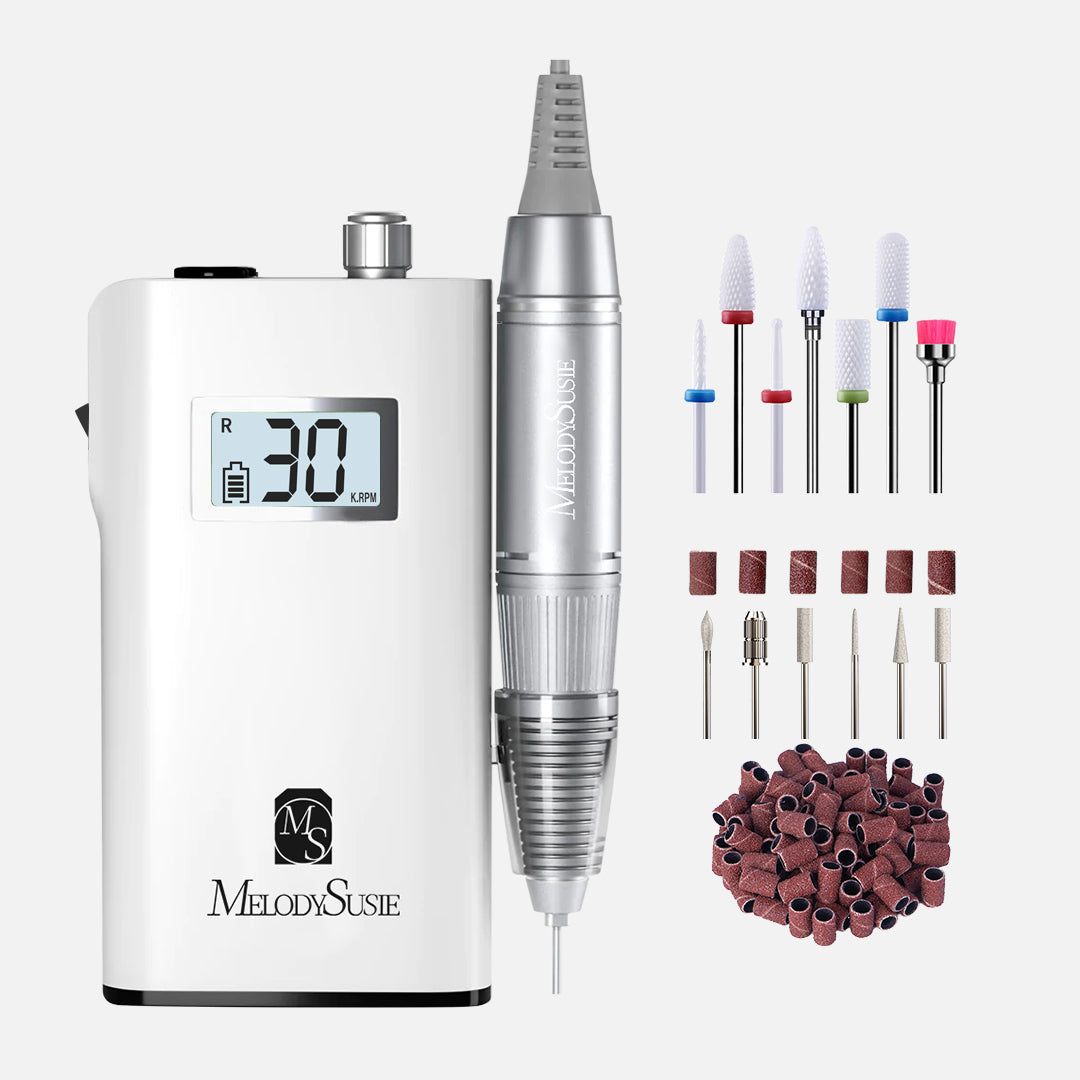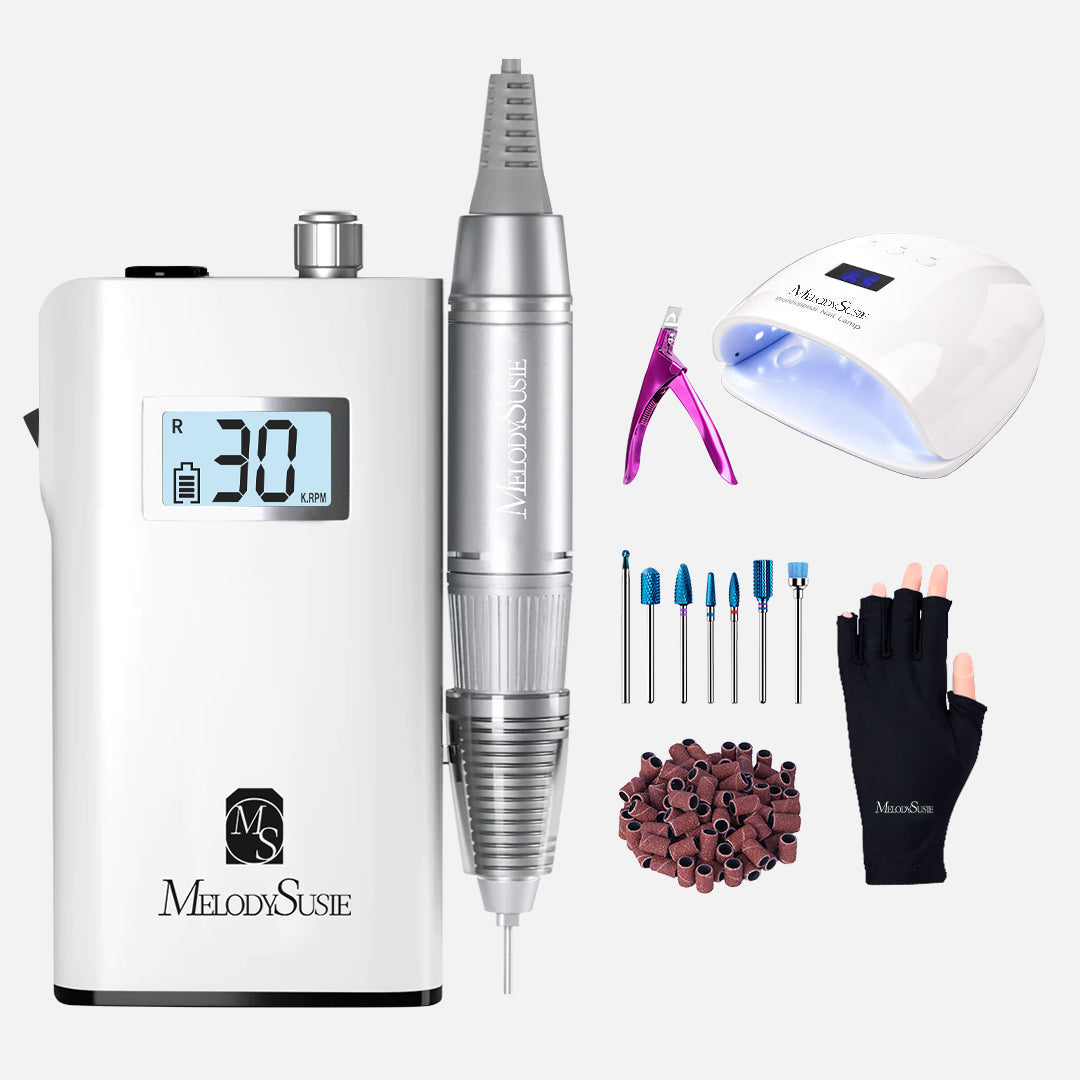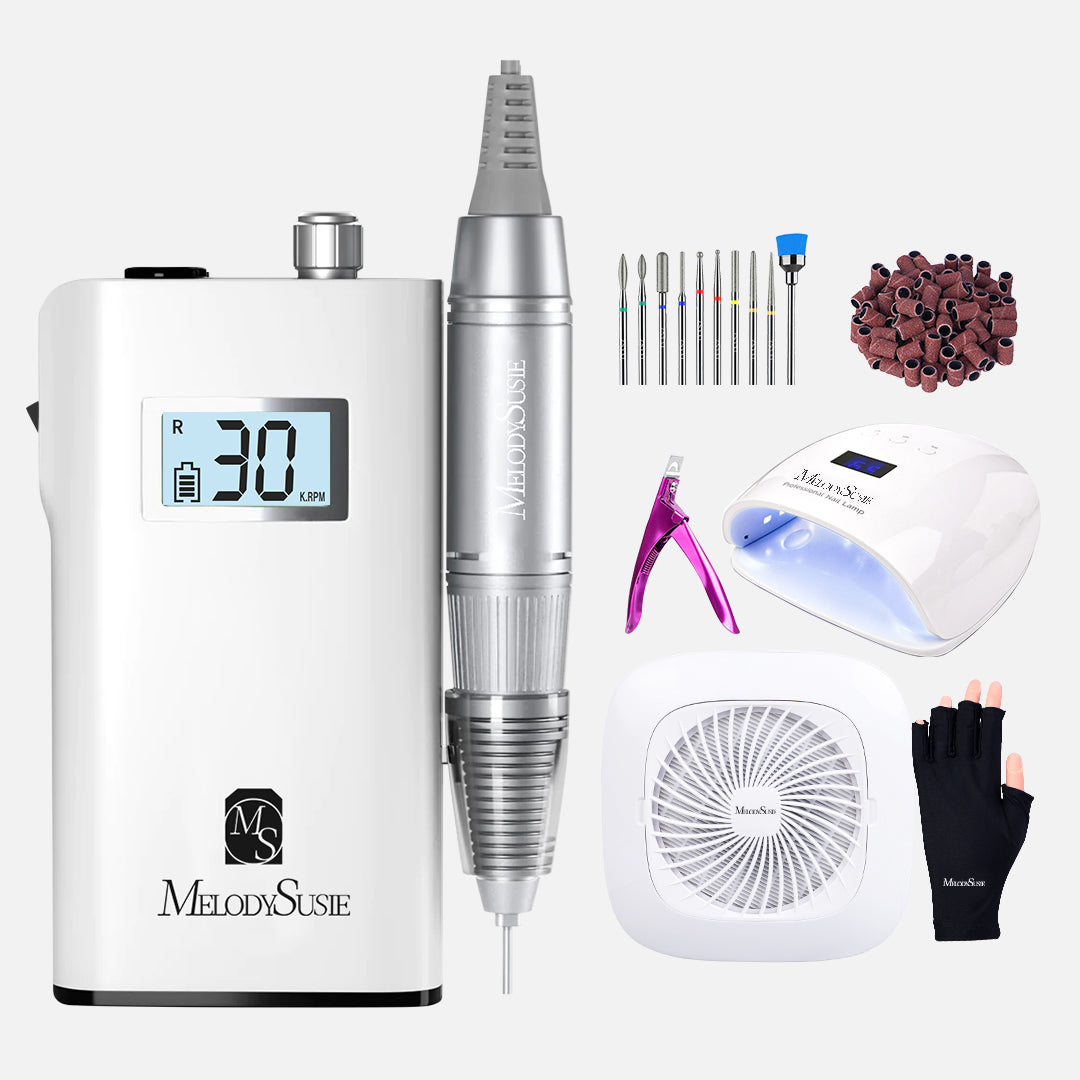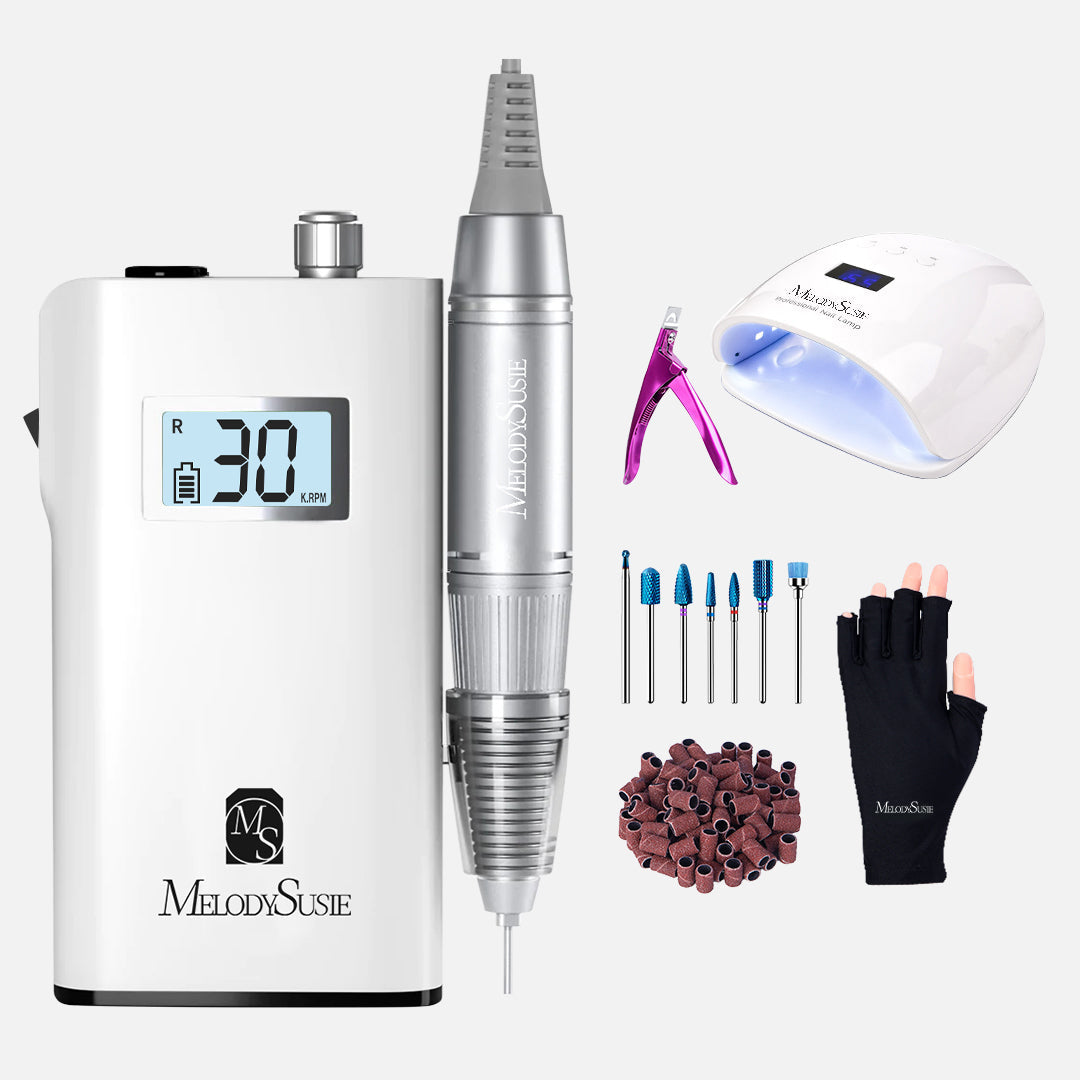 SR1-Scamander Rechargeable Nail Drill 30,000RPM
Scamander rechargeable and portable nail drill in 30,000 RPM. It shows the RPM and electricity on the Smart LED Display. Long last operation up to 7 hours quick 2.5 hours full charge. It is strong and efficient enough for natural nails and acrylic nails. Low in heat, noise, vibration and price, high for RPM.
High Speed up to 30000RPM 
Top Quality Torque
Rechargeable and Cordless
Portable design
The smart LCD screen 
Light Weight Handpiece
Safe design 
Speed: 0-30,000 RPM
Input voltage range: AC100-240V/50-60Hz 0.6A
Output voltage: 24.0V 1.0A
Charging time: 2.5 hours
Battery Capacity: 2000mA (11.1V)
Power: 24W

Package Size: 7.95x4.80x3.97inches
Input Voltage Range: AC100-240V/50-60Hz 0.6A
Output Voltage: 24.0V 1.0A
Battery Capacity: 2000mAH
Handpiece Weight: 0.3704lb
longer lifespan over 10000 hours
1 x Rechargeable Nail Drill
1 x Power Supply
1 x Handpiece holder
6 x Drill Bits
6 x Sanding Bands
1 x User Manual 6-Month Warranty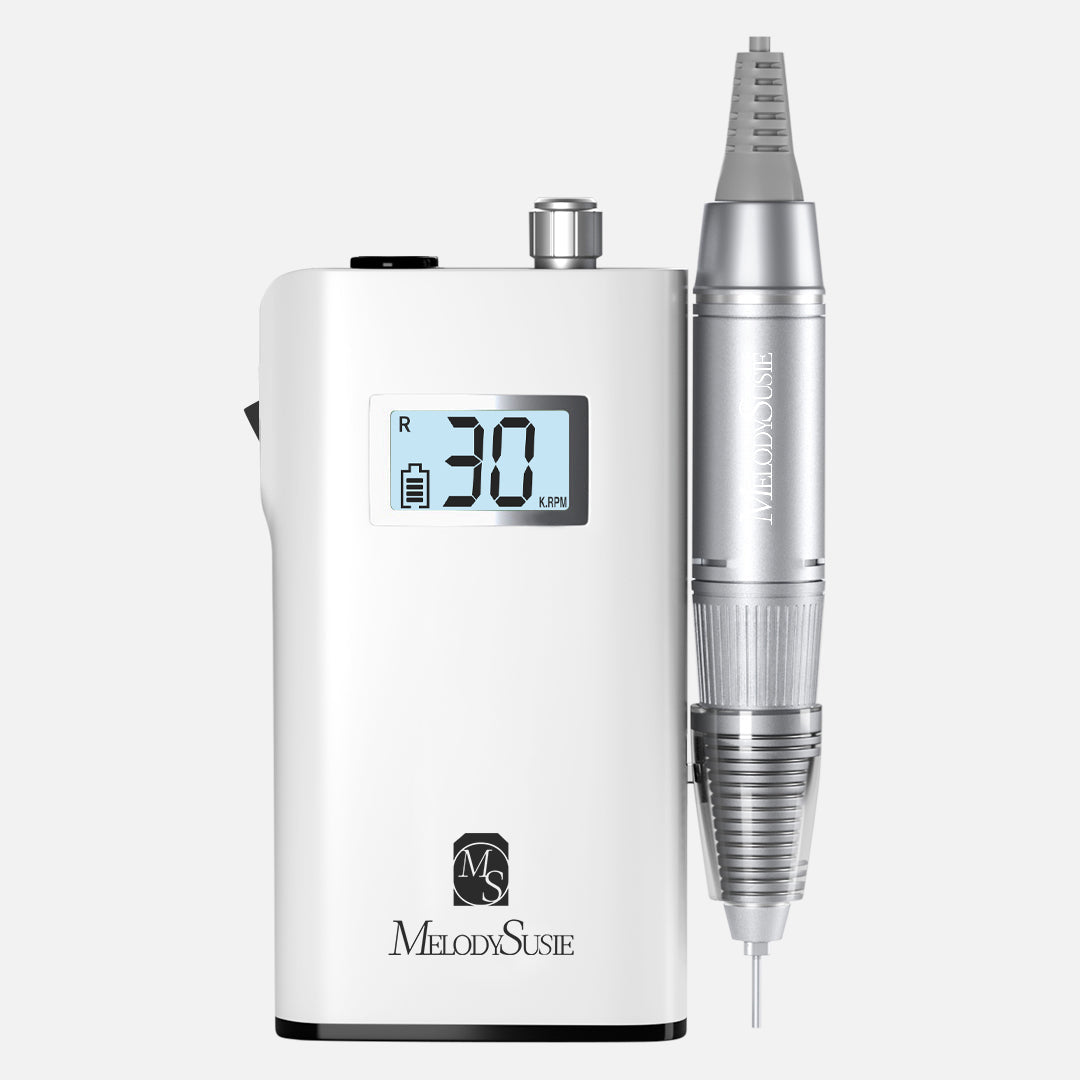 High Speed up to 30000RPM
This professional nail drill is equipped with high-quality bearing, which enables it work smoothly at a high and adjustable speed (0-30000 RPM).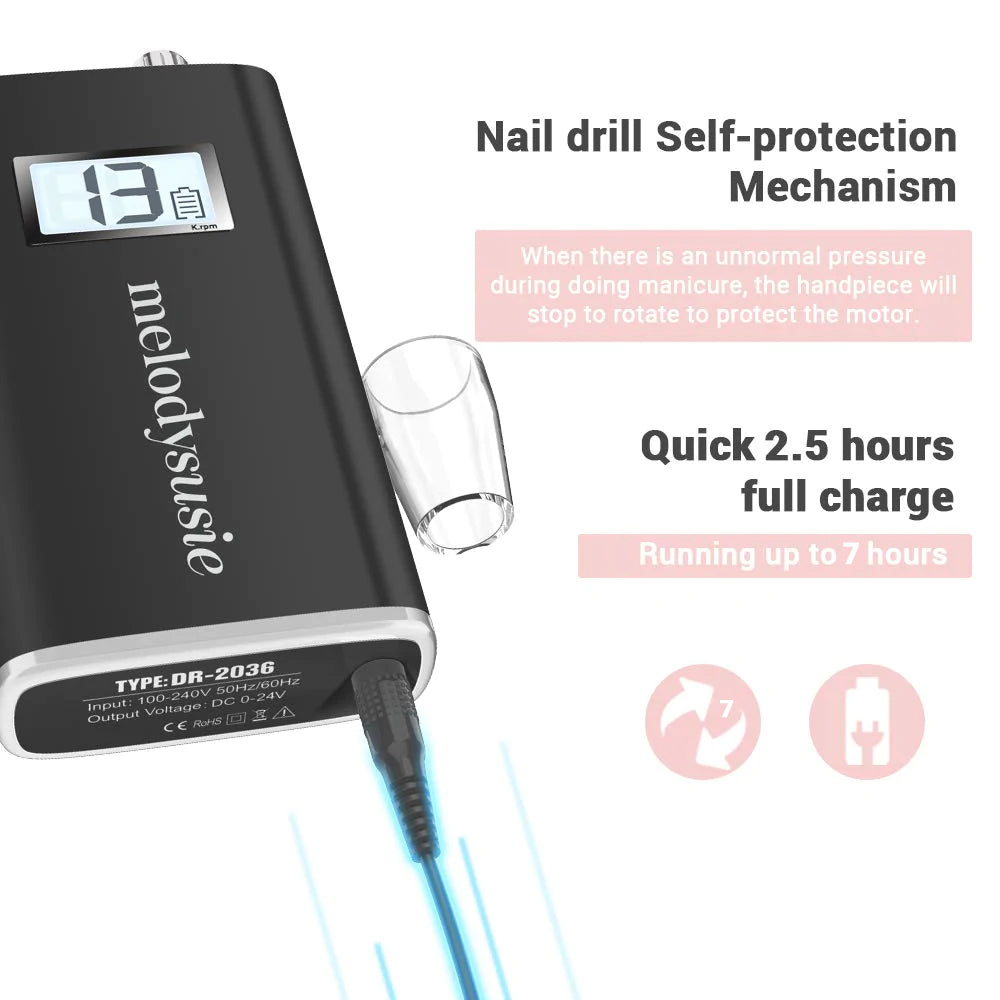 Rechargeable and Cordless
With a large battery capacity (2000mA), you can use this nail drill at anywhere anytime. Being fully charged for about 2.5 hours, the electric nail file will work up to 7 hours.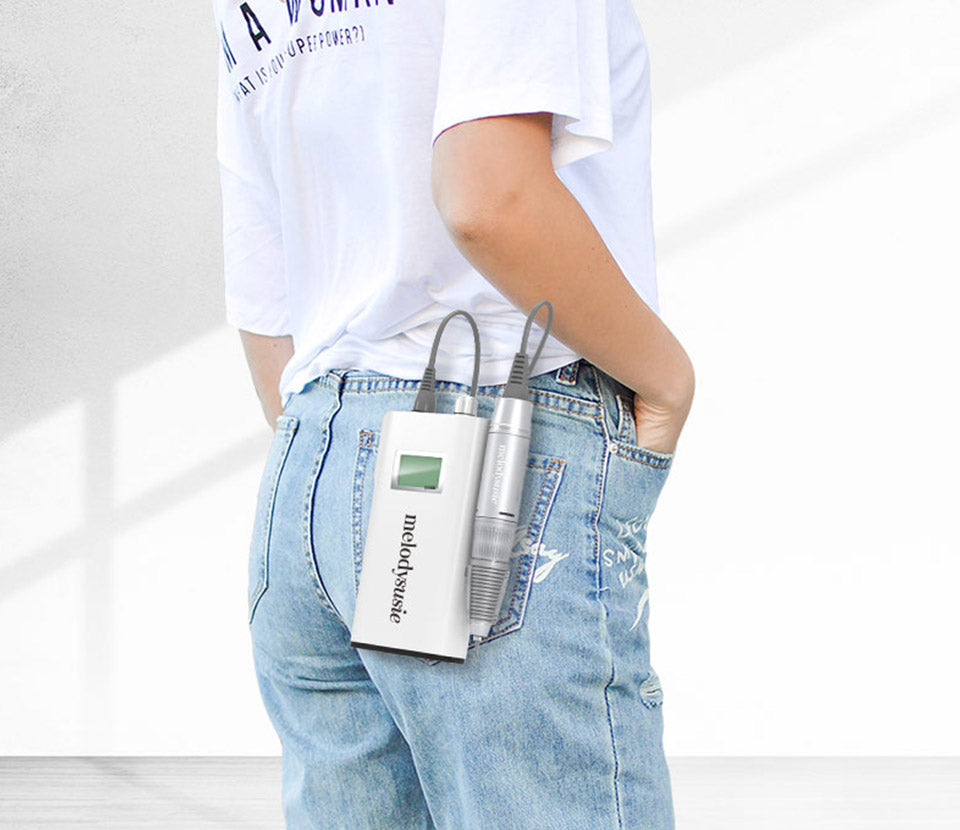 Portable Design and Lightweight
A clip of the body case allows you to hang it on your pocket or belt and it is compact enough to pack into your traveling bag.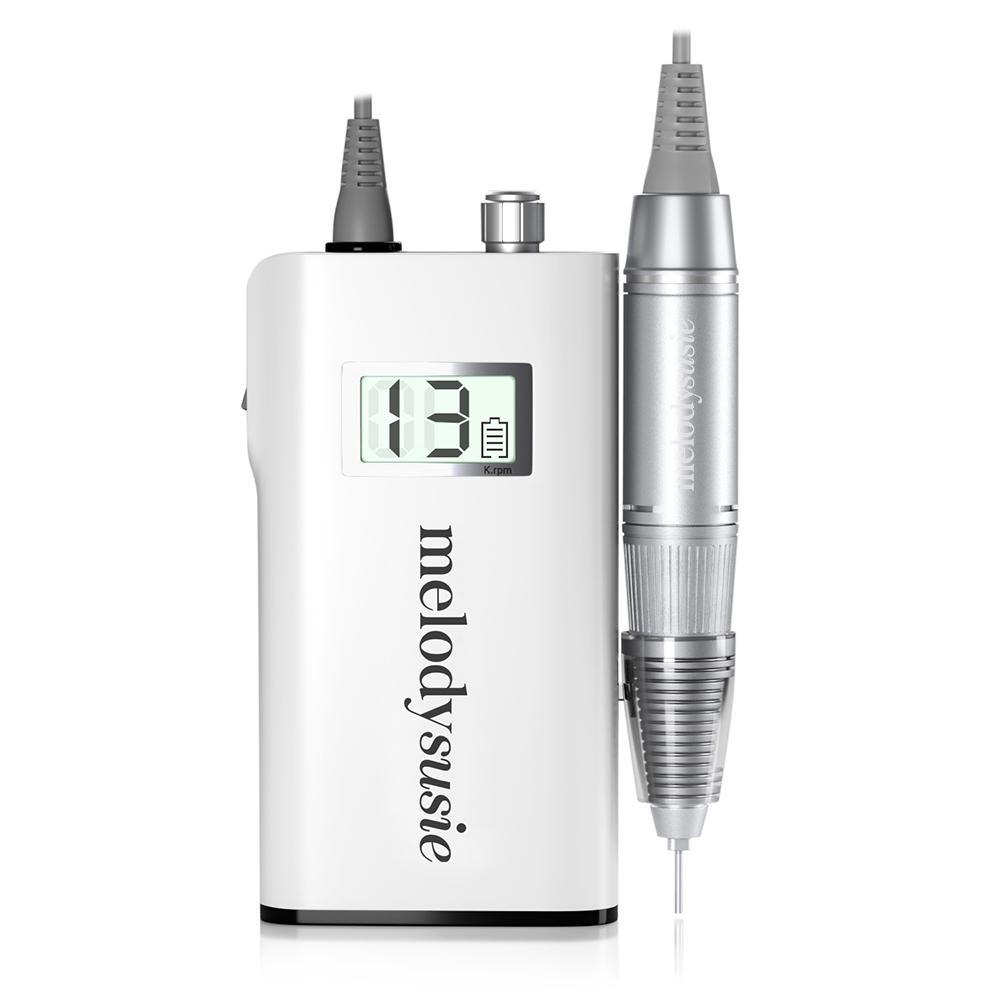 Lightweight Handpiece
Made of superior aluminum alloy with good heat dissipation. No numb hands after long-term use.
Top Quality Torque
This E-file comes with superior torque to avoid it from stopping occasionally during work.
Smart LCD Screen
Your operation status will be displayed on the screen, including precise RPM and battery, you can easily choose your desired speed.
Safe Design
Equipped with Nail Drill Self-protection Mechanism, when there is an unmoral pressure, the handpiece will stop to rotate and avoid damage.
It is very handy and powerful.
"Wow, this is brilliant. My thought on this nail drill is-it is amazing! There's no reason for me to lie on this channel, it is just good and even better."
- Absolute Nails
HOW TO USE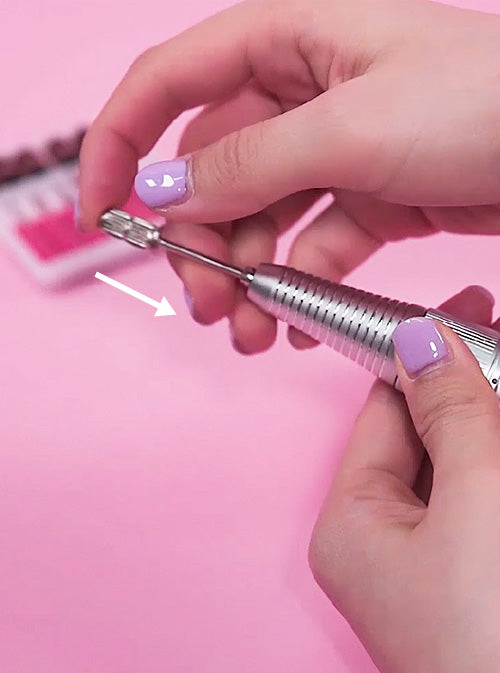 1. Insert Bit
Choose one grinding drill bit, release the handpiece, insert the drill bit into the drill and lock it in place.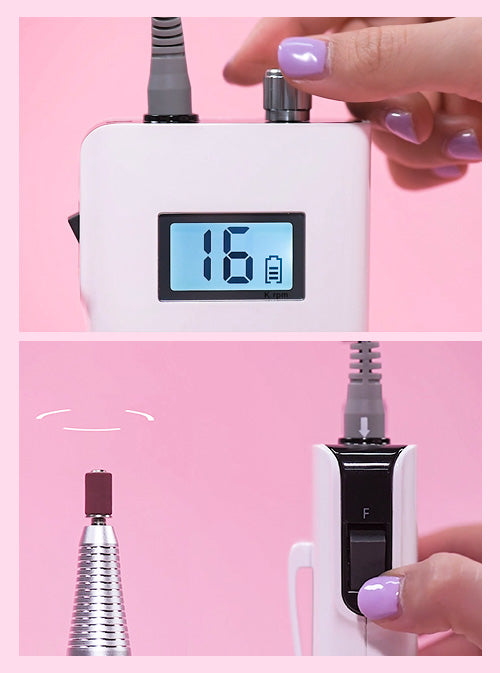 2. Rotate Knob, F/R Button
Rotate the ON/OFF button to turn on the device. Change the rotation direction of the grinding drill bit on the F/R button if needed.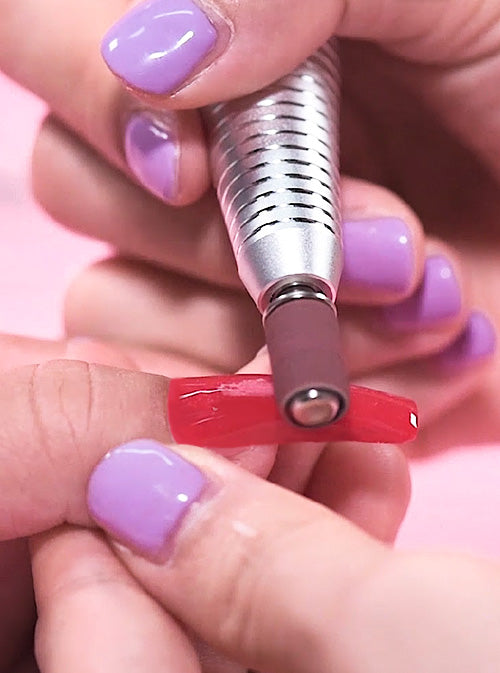 3. Start Your Nail Art Work
Now you can use this e-file to manicure now. Strong enough for acrylics, builder, gel/dip powder nails etc.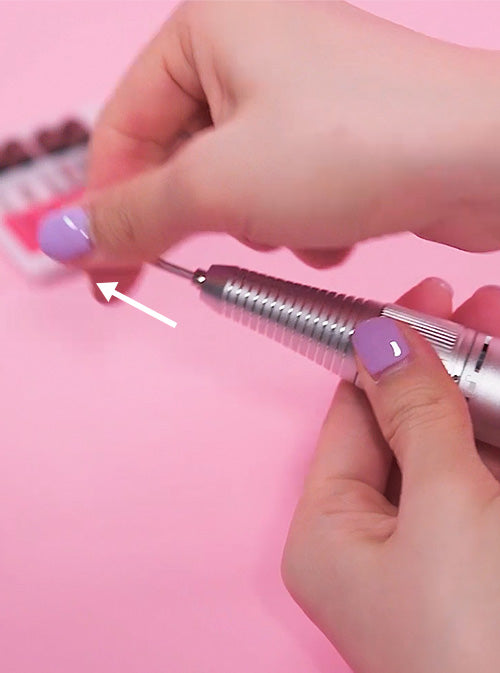 4. Take Out Bit
After the polishing is finished, please rotate the central barrel and take out the drill bit.
Notice
1. Please kindly note that if there is some number jumps on the screen, the speed won't be changed with the unstable circuit, which won't affect the usage effect, in this case, we will not issue the refund or one a new replacement.
2. According to the receiving address, the package includes national standard plug or a conversion plug.
3. Please note: These sets will not be provided the gift box.

Six Interchangeable Bits
1. Needle Head: Polish nail edge.
2. Safety bit for cuticle work. Polish nail side edge.
3. Cone for under nails, cuticles, and sidewalls.
4. Small barrel for surface work.
5. Large barrel for surface work and shortening.
6. Mandrel + sanding bands for surface work, shortening, and removal.
*Please Note: Due to the update of our brand logo, we will randomly send products in either the old or new packaging, but it will not affect the product quality. Thank you for your understanding during this transition.
Compare
Which nail drills are made for you ?
Not sure which one to choose? We selected our most popular nail drills. Compare them and choose the best one for your needs.