New Colorful Tungsten Carbide Nail Drill Bits Set (10pcs)
*Please Note: Due to the update of our brand logo, we will randomly send products in either the old or new packaging, but it will not affect the product quality. Thank you for your understanding during this transition.

 Features:

Highest Precision Tungsten Nail Drill Bits - Comes with 2pcs fine-grit bits, 3pcs medium-grit bits and 5pcs large-grit bits, all of them are made of optimum strength tungsten carbide material, which is sturdy sharpen enough to remove polish acrylic gel nails whatever you want. High-quality material and rigorous test design, it creates less dust with little friction and heat, protecting the skin from overheating harm. Durable and high-value nail art tools for your choice!

Professional Cuticle Drill Bits Set - With every size nail drill bits you need in one set, it does great jobs for any professional manicurist or beginner, cutting your time in a half. Professional for polishing, shaping, cutting, removing gel nails or acrylic nails, or cleaning the cuticles and sidewall.

Universal Shank Size - Design with 3/32" universal shank size(2.35mm), it is suitable for most electric or rechargeable manicure nail file machine.

Multilfunctions Used - Professional shapes and sizes design meets the diversified needs, ideal for refining and shaping nail edges and removing dead skin easily, suitable for the manicure, pedicure used.

Compact and Unique Design - Highly portable and lightweight, it is convenient for both personal and salon use anytime and anywhere. Sharing your time doing nail art with your families and friends!

Specification

Material: Carbide Tungsten

Package: 10 Pieces

Size: 3/32" shank, suitable for most standard size nail drill machine

Cute storage case for each nail drill bit: beautiful and dustproof. It is easy to see-through cover and figures out the desired bits.

 
Use code MSOFF15 to get 15% off on orders over $149.99 (gift boxes are not included)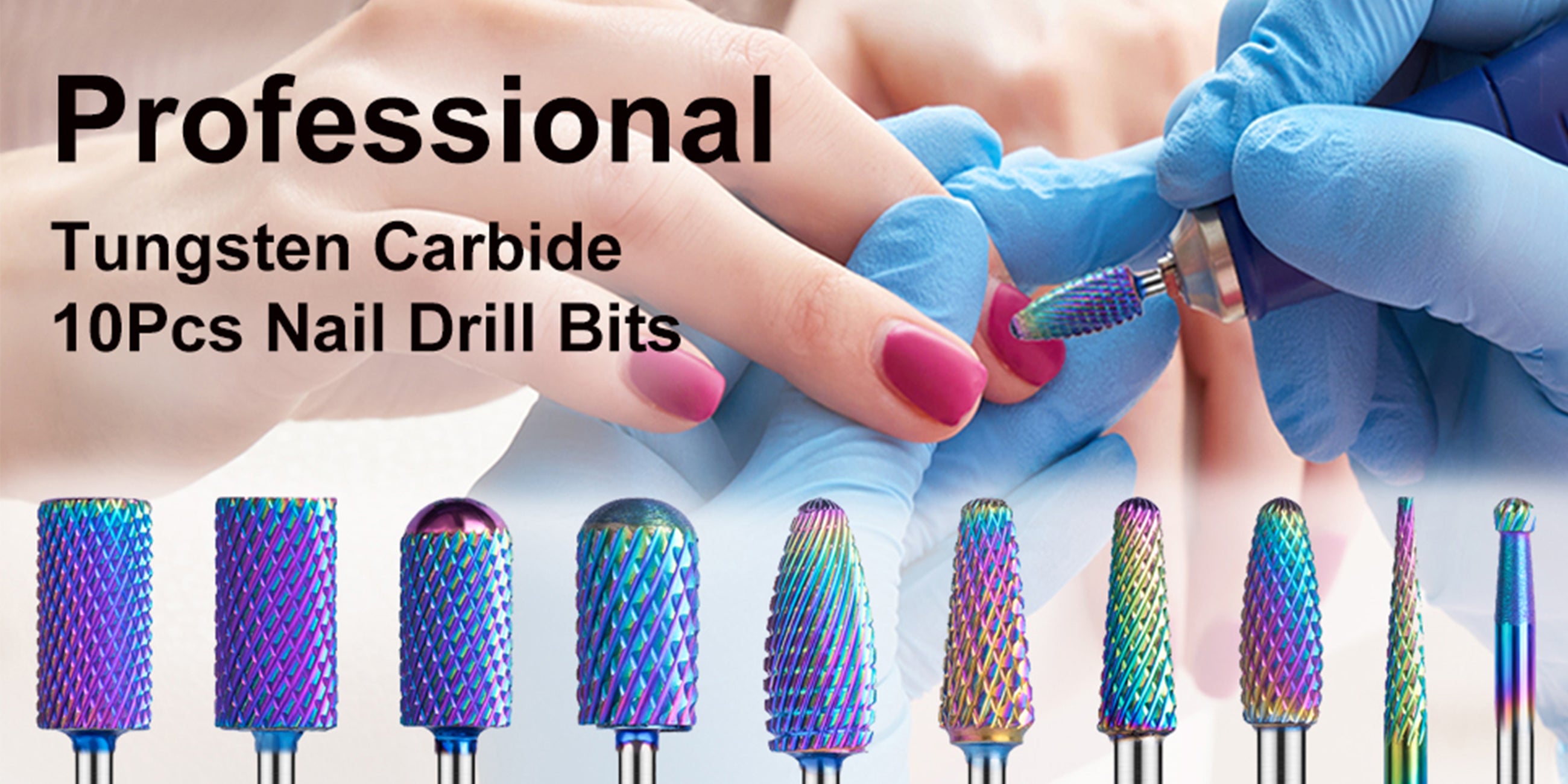 MelodySusie 10Pcs Professional Carbide Nail Drill Bits for Nail Art Work
MelodySusie offers professional beauty products for over ten years, specialized in Nail Drills, Nail Drill Bits, Nail Lamps, and so on.
MelodySusie is dedicated to technological innovation to create salon-quality, high-efficiency, affordable manicure tools for customers all over the world.
MelodySusie pays high attention to the user experience and does hope our product can satisfy your needs. Any suggestions are greatly welcome for sharing, your support will be our force to further development.
Used For
Fast Remove on Acrylic Nails/ Hard Nails/ Gel Extensions/ Thick Nails/ Dip Powder with Little Pressure.
Safe for Cuticle Cleaning/ Dead Skin Neatening, Prevents Your Skin from Hurt.
Ideal for Nail Polishing/ Nail Beautify/ Nail Clean/ Nail Care, Perfect Nail Care Tool for Nail Beginners and Nail Techs Manicure Pedicure.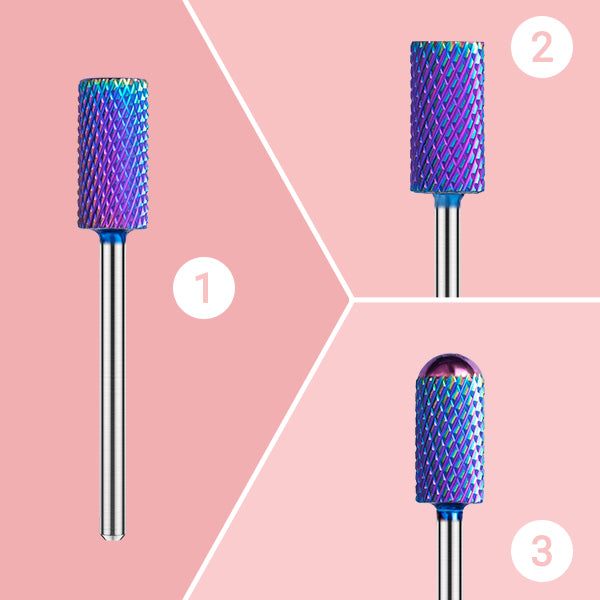 1. Barrel Bit (Medium Grit): Polish shorten the thick nails, acrylic nails, poly gel nails
2. Barrel Bit (Fine Grit): Polish shorten the thick nails, acrylic nails, poly gel nails
3. Safety Bit (Medium Grit): File remove the acrylic nails, poly gel nails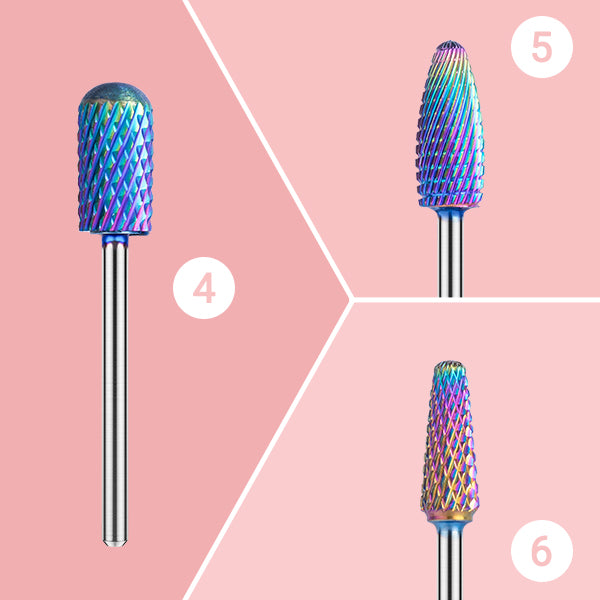 4. Safety Bit (Large Grit): File remove the acrylic nails, poly gel nails
5. Tirch Cylinder Top (Large Grit): Remove small area, sidewalls, cuticles
6. Cone-shape Bit (Large Grit): Remove tight area, cuticles, dead skin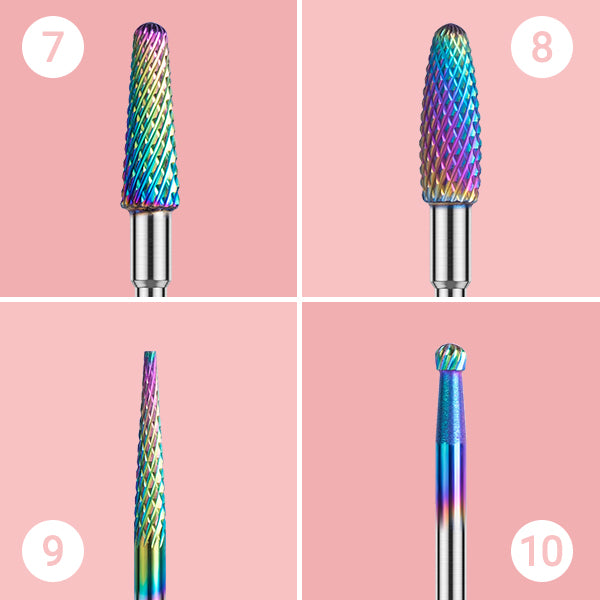 7. Cone-shape Bit (Medium Grit): Remove tight area, cuticles, dead skin
8. Tirch Cylinder Top (Fine Grit): Remove small area, sidewalls, cuticles
9. Cuticle Remover: Remove cuticle and dead skin
10. Cuticle Remover: Remove cuticle and dead skin