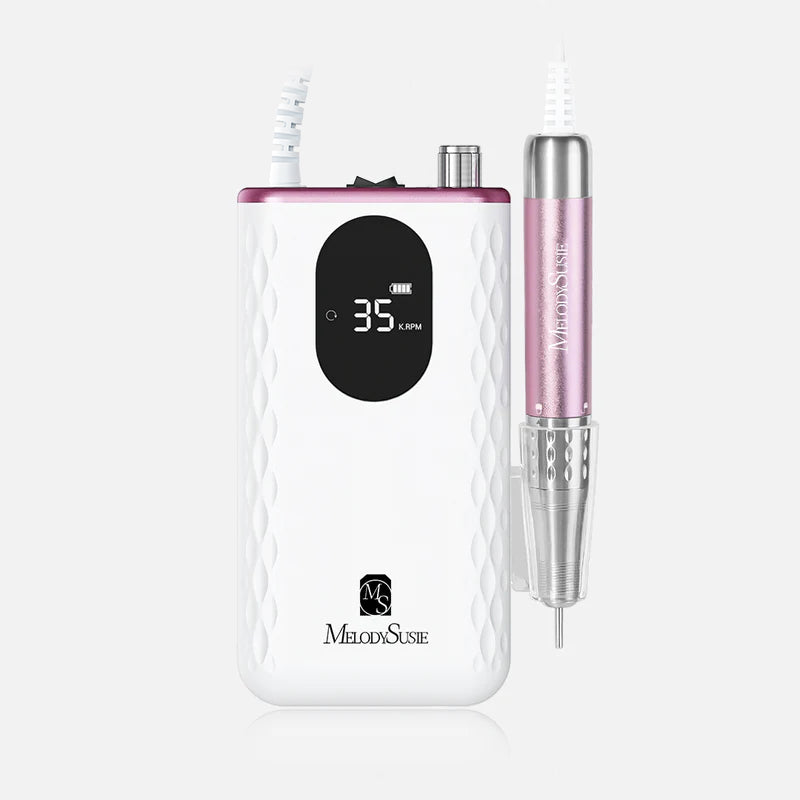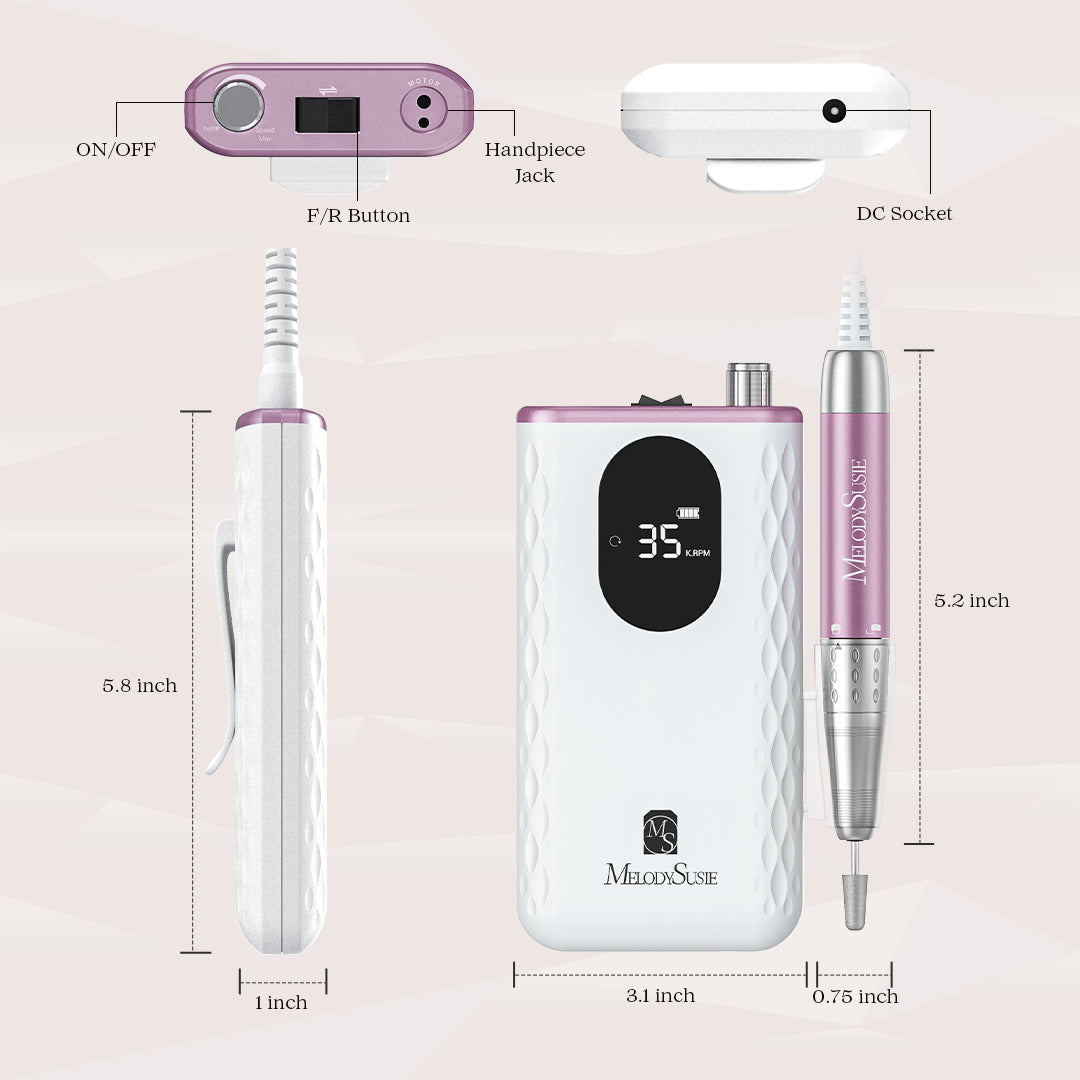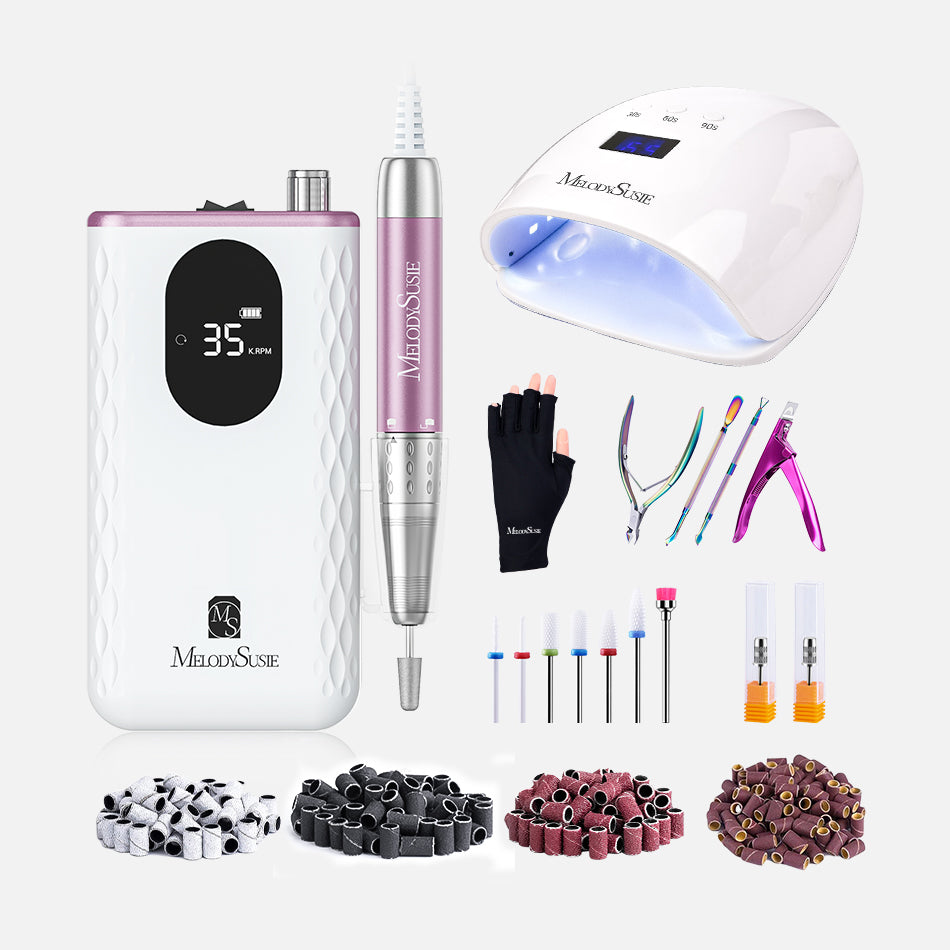 MR5-Rechargeable Nail Drill 35,000 RPM
*Please Note: Due to the update of our brand logo, we will randomly send products in either the old or new packaging, but it will not affect the product quality. Thank you for your understanding during this transition.

Features

:

Professionalism: Superior MR5 nail drill is equipped with a metal brush hollow cup motor with a high-speed bearing, providing ≥400g.cm powerful torque and a high rotation speed up to 35,000rpm. Efficient nail polishing and shaping keep your nail creations ultra-precise. Immerse yourself in a quiet, stable, and highly professional manicure experience!
Durability: MelodySusie never ceases to improve, new nail drill has upgraded larger capacity 2000mAh battery. With only 2.5 hours of full charge, you will get an incredible 15h long battery life, which is almost twice that of other similar products on the market, reducing the inconvenience of frequent charging, greatly improving usability
Sophistication: Applying classic color matching of pink & white, which is gorgeous, chic, and unique. The elegant rose gold metal frame combined with an extraordinary gem-cut body make the pro nail drill have both premium performance and an outstanding look. Show your pursuit of beauty from the very beginning of nail drill selection
Monitorability: This premium nail drill is embedded in a segment LCD screen, which clearly displays running information such as rpm, direction, and battery status in real-time, allowing you to know everything about your beloved pro nail drill. Extremely easy operation, just connect the handpiece and turn the switch knob to start the nail file drill.
Lightness: Weighing only 1 lb, this ultra-light nail drill tool allows you to easily ignore the numbness and fatigue caused by its weight. Set up a portable belt clip design that allows you to attach it to your belt, pocket, or clothes and carry it with you. The thoughtful side holder design is convenient for you to store the handpiece into the bayonet after finishing the manicure to prevent rolling and falling.

MR5 Manicure Starter Kit

This kit contains:
-MR5-Rechargeable Nail Drill 35,000 RPM
-Colorful 400pcs Professional Sanding Bands (#80, #120, #180, #240)
-UV Shield LYCRA Gloves (Black)
-Ceramic Nail Drill Bits Set (7pcs)
-Acrylic Nail Clipper 4 in 1 Kit (Purple)
-EOS 9 LED/UV Nail Lamp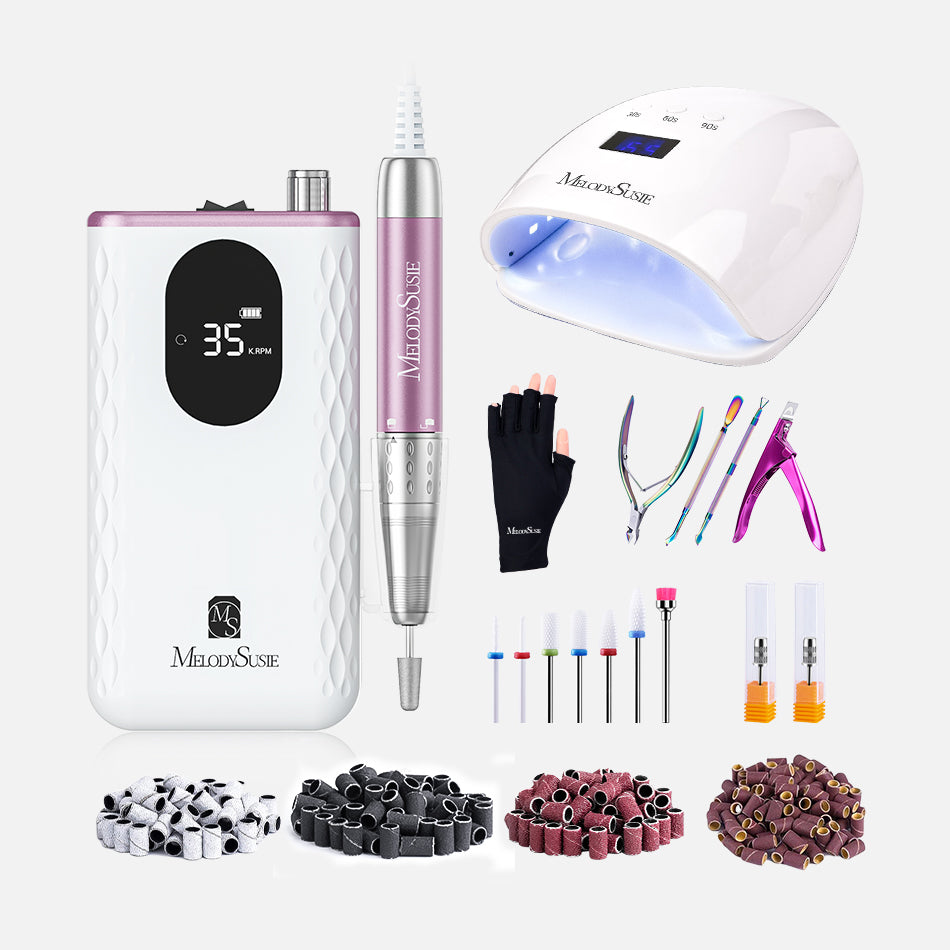 MR5-Rechargeable Nail Drill 35,000 RPM
15-hour battery, 0-35,000 RPM, stylish appearance, coreless motor for stable and effortless use, even over extended periods.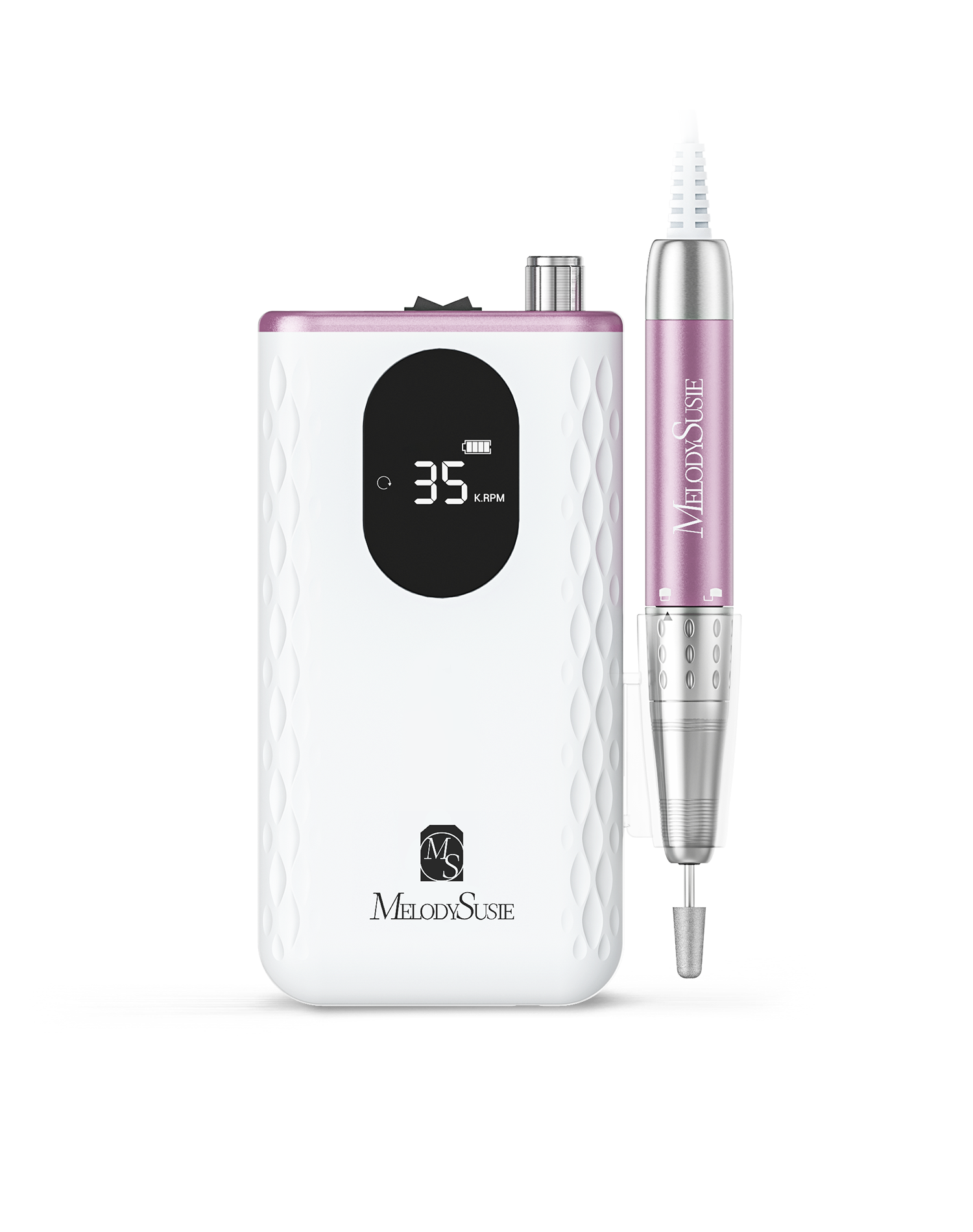 F/R Button
Forward/reverse buttons suit left/right-handed users for convenient use.
Smart LCD Screen
Visual speed adjustment and battery make your operation safer and more convenient.
A Belt Clip Design
Hang it on your belt, or waist and pack it into your travelling bag.
Stylish Appearance
Fashionable styling, an eye-catching tool on a salon table, and its pleasing exterior make both the operator and the customer enjoyable.
15 Hours
Ultra-long battery life with 2.5h full charge for all-day use.
Coreless Motor
Stable performance with powerful torque, minimal heat and voice.
1 lb
Ultra-light 1 lb with portable belt clip design.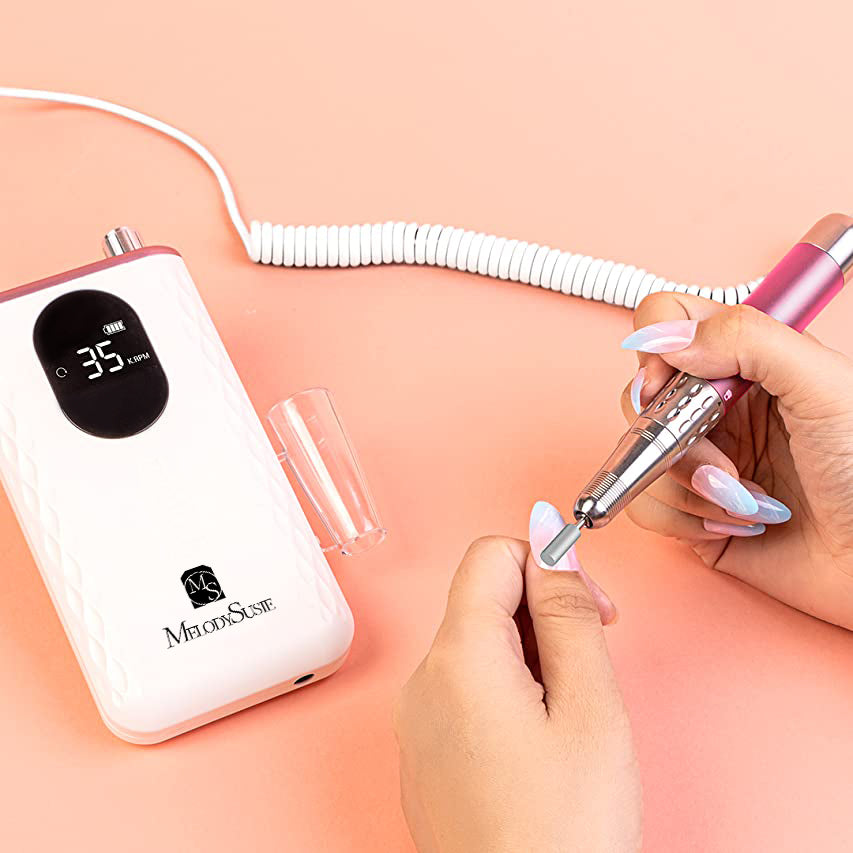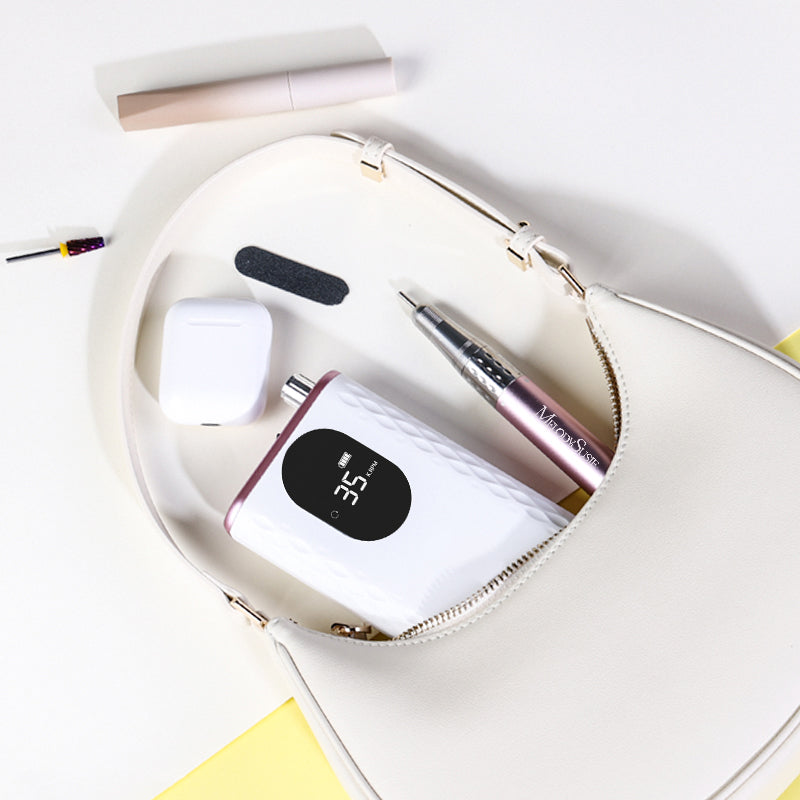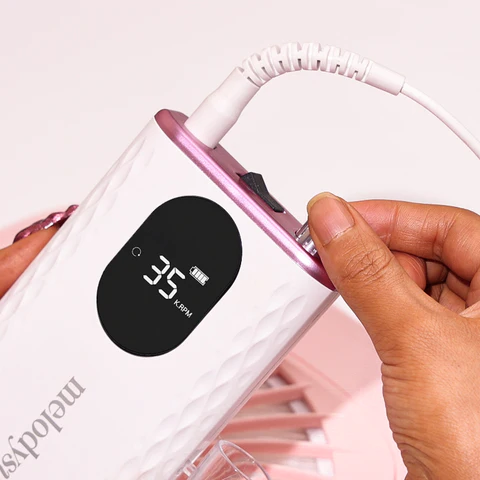 Powerful & Smoother
A wider range of rotational speeds, providing the appropriate RPM and power supply no matter how delicate your creation needs.
Portable & Compact
Small volume and does not take up space, light weight and easy to carry, very comfortable to use in the store or when going out.
Low Heat & Low Vibration
Stays cool and quiet with smart heat dissipation for low noise and vibration.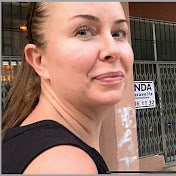 @The Salon Life
I find MelodySusie's nail drill is quite strong, cause the metal motor they used are very different. Good for 35,000 RPM power. And I feel they can last for 15 hours. Wow!
Product Specification
The 15-hour-long super battery life of MR5 is the finishing touch of this machine, allowing you to enjoy manicures without worrying about running out of power.
Compare
Which nail drill is made for you?
Not sure which one to choose? We selected our most popular nail drills. Compare them and choose the best one for your needs.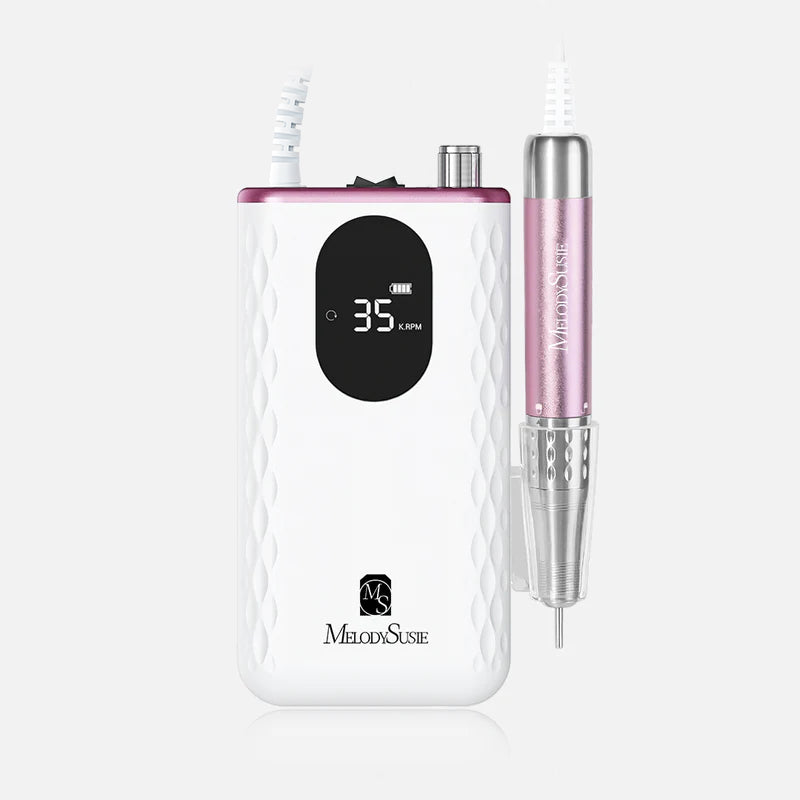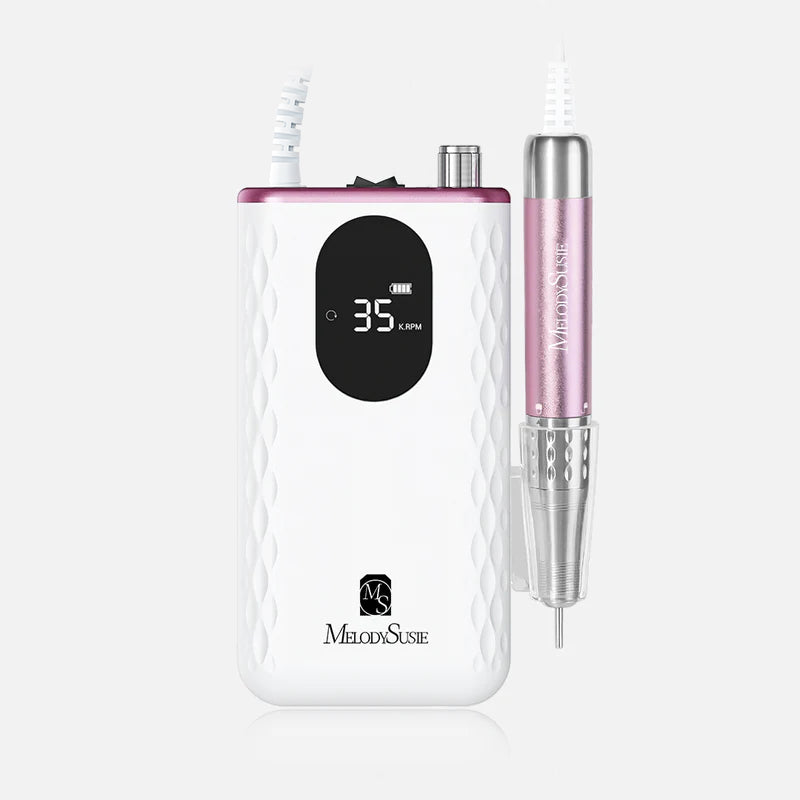 Material
Aluminum+PC+Stainless
Steel
Have a question? We are here to help.
Here are some frequently asked questions by our customers.
Still have questions? Contact our customer support, or subscribe to our newsletter for the latest and most professional nail knowledge.
Do MelodySusie Products have a warranty?

All items from MelodySusie have a 6-15 month limited warranty. If you have any questions about warranty details, feel free to contact us.
Does MR5 nail drill have multiple speeds?

Yes! Our MR5 can reach up 35, 000rpm. It has remarkable power!
Does it work for left-handed people as well?

Yes! Our MR5 nail drill is suitable for both left-handed and right-hand. It has the option to change forward and reverse modes as you wish.
What is the bit diameter that fits in MR5 Nail Drill?
Does MR5 work for acrylic nails?

Yes! MR5 can be used for any type of nails, including the natural nails.