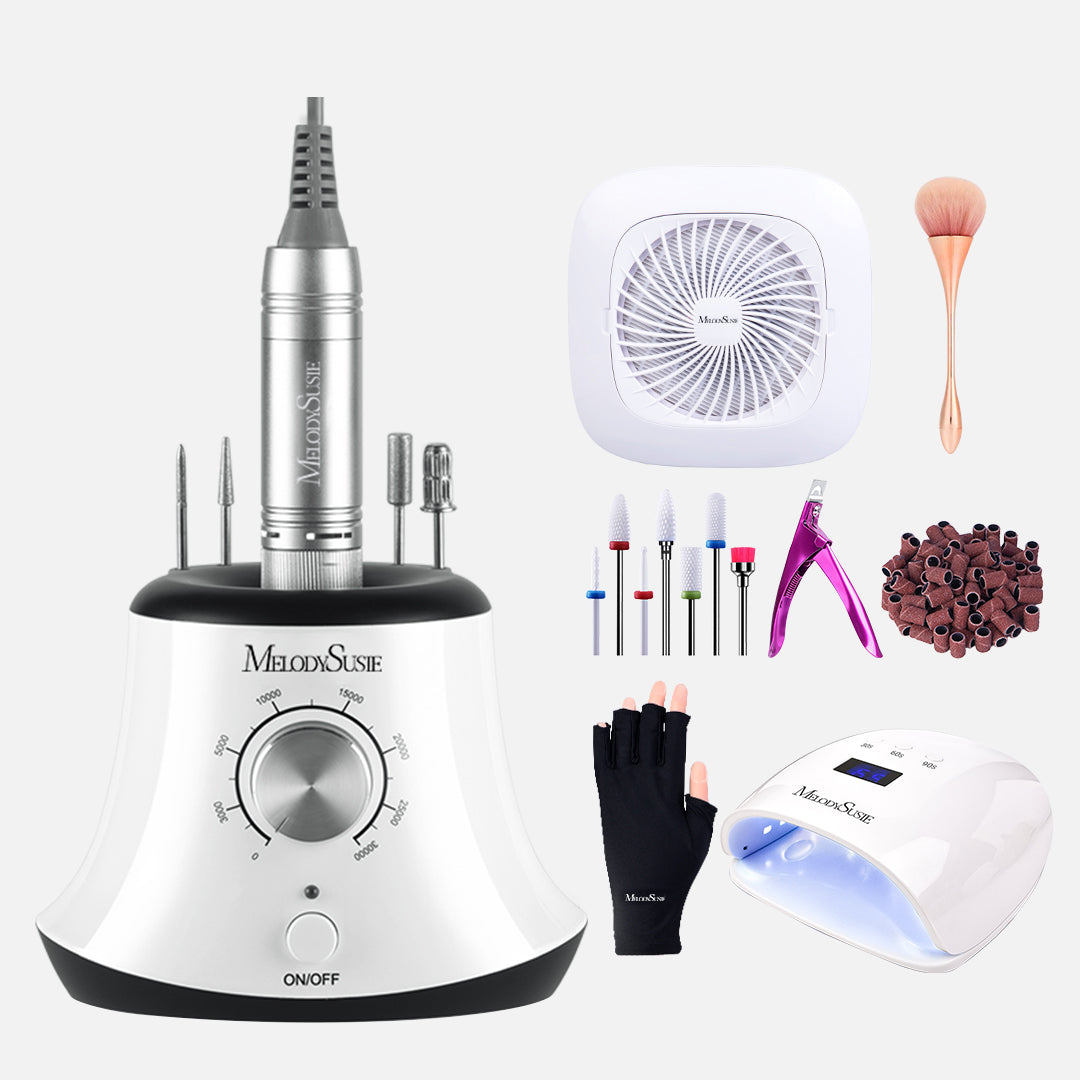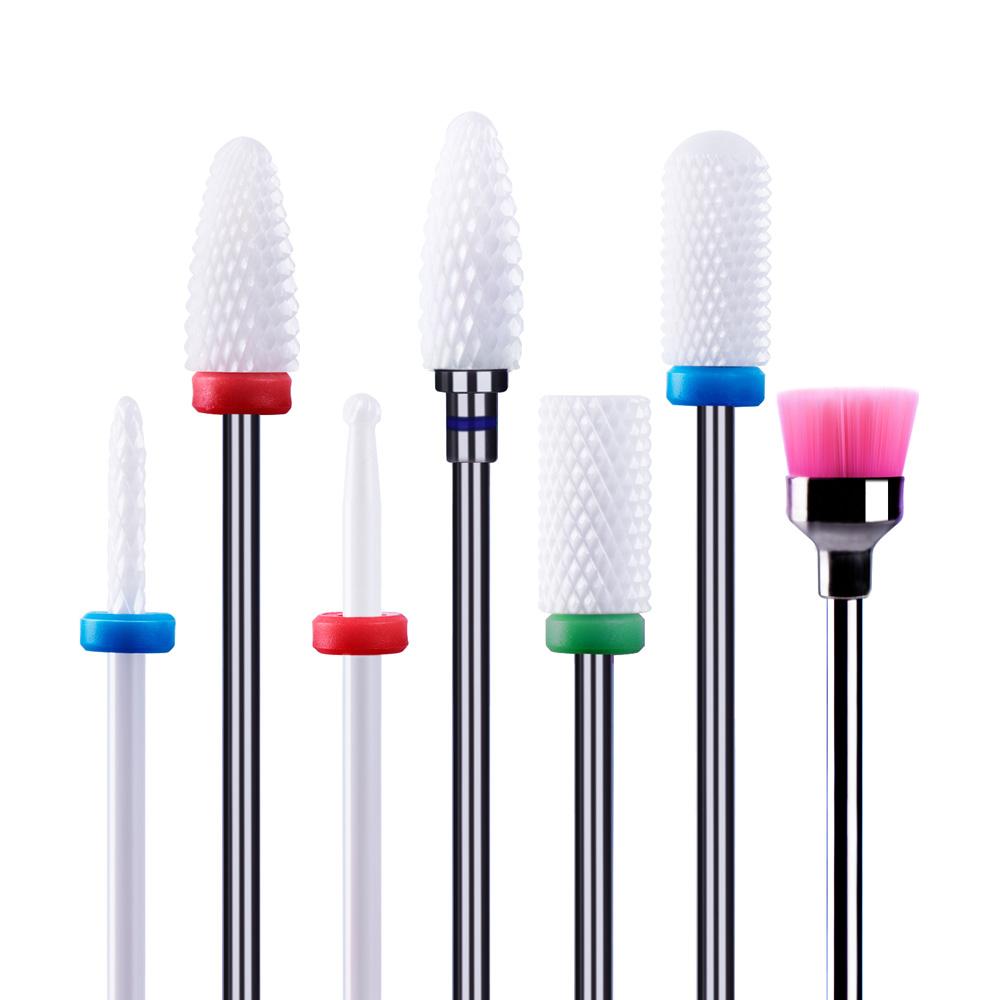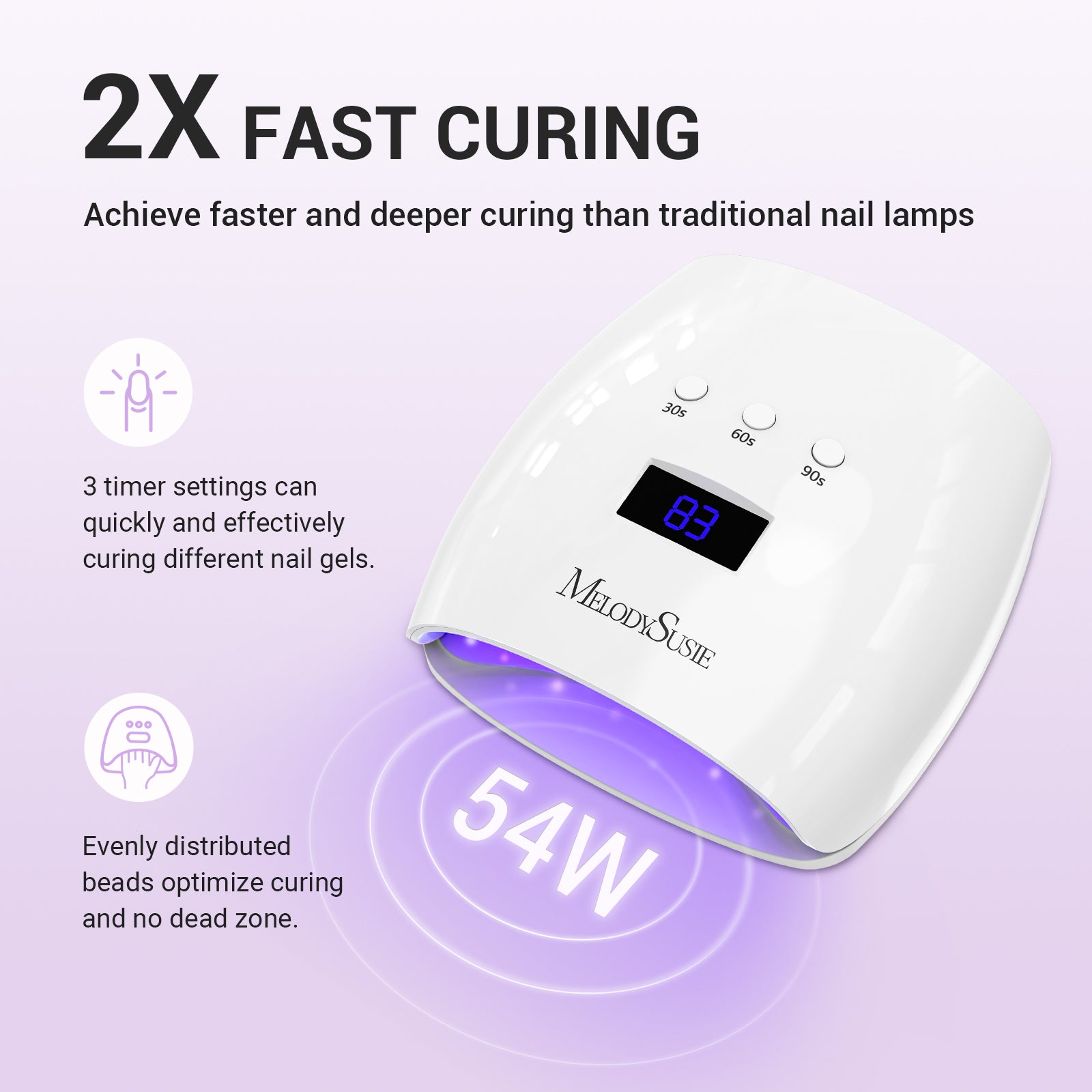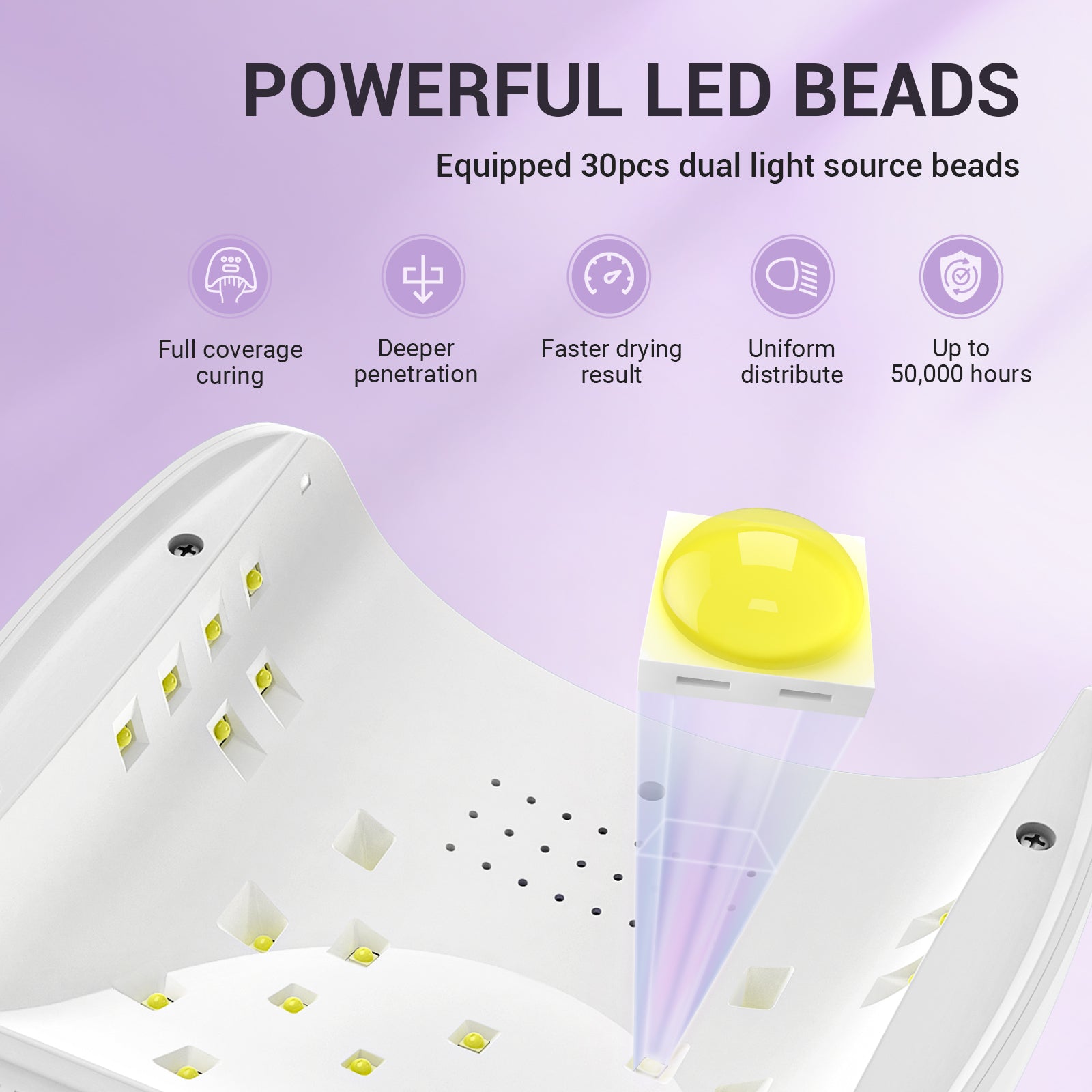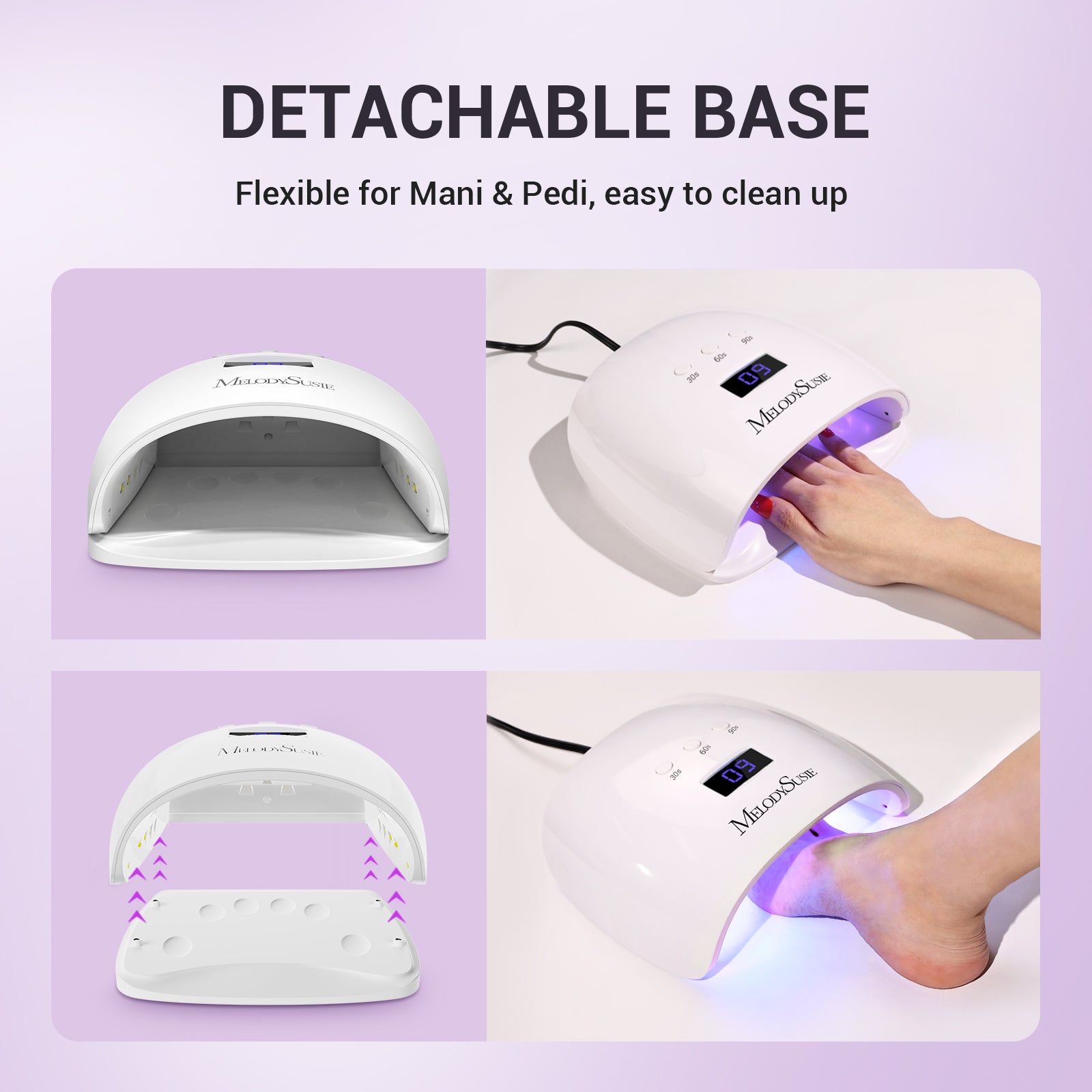 S2-Scarlet Full Set
*Please Note: Due to the update of our brand logo, we will randomly send products in either the old or new packaging, but it will not affect the product quality. Thank you for your understanding during this transition.

This Set Contains:

- Scarlet Electric Nail Drill 30,000RPM
- Nail Dust Collector
- 7pcs Ceramic Nail Drill Bits Set
- EOS 9 LED/UV Nail Lamp

Note: According to the receiving address, the package includes a national standard plug or a conversion plug.

*Please note: This set will not be provided the gift box.

Scarlet Electric Nail Drill 30,000RPM:

LOW VIBRATION AND QUIET: You can hold it steadily and barely feel the vibration during use.

VARIABLE SPEED CONTROL: High-speed, and smooth operation with 0 - 30000RPM.

CE CERTIFICATE: Good quality adapter meets UL standard, safer and more durable.

ERGONOMIC DESIGN: F-Forward and R-Reverse buttons to change direction. Perfect for left-handed and right-handed people, plus the foot working mode makes effortless operation.

HIGH-QUALITY HANDPIECE DESIGN: Lightweight and low heat for handling, suitable for both professional use in salon and beginner use at home.

FASHION APPEARANCE AND VERTICAL DESIGN: adorable skirt-like base and the vertical design is convenient for finding the right bits and resting the handpiece.

Nail Dust Collector:

POWERFUL NAIL DUST COLLECTOR: 100% vacuum effect, prevent dust fly ash from being scattered and inhaled into the air, while other nail dust collector just has 70-80% vacuum effect, dust will fly out, the powerful Nail Dust collector is equipped with strong fans to collect dust created while filing or polishing nails.

ADJUSTABLE SUCTION: Adjusting the power bases your preference, it can give a dust-free clean manicure workplace, saving your cleaning time. No dirt of nail is left, the soft and smooth surface providing you a luxury manicure experience. Suitable for grinding nails and foot, make your hands and foot feel comfortable.

NEAT AND PORTABLE: Compact size, easy to install and remove. It is ideal for both professional use in salon and beginner use at home or salon, giving you an enjoyable manicure experience.

EASY TO OPERATE: The nail dust collector is equipped with a touch control induction operation panel, which is easy to set up any operation with just a touch.

7pcs Ceramic Nail Drill Bits Set:

PREMIUM CERAMIC MATERIAL: Made of superior ceramic material, these nail art tools are hard-wearing and durable to use, with excellent heat dissipation, the bits won't be burning hot during long-time use.

SHARP AND EASY TO USE: This nail drill bits set includes 7 different tools – one coarse ceramic bit, two fine grit ceramic bit, three medium-size ceramic bits, you can sharpen, grind, neaten, carve, smoothen, polish and reshape gel and acrylic nails, and stimulate nail growth and keep your nails healthy.

PERSONAL USE AND CLEAN: The ceramic material is corrosion and rust-resistant, as well as no clogging for your nails, the smooth surface is easy to be cleaned by water, extremely safe for your nails.

UNIVERSAL SIZE: Professional 3/32" stainless steel shank diameter fits for most electric manicure nail file machine on the market.

FUNCTION: It is ideal for nail beautify, nail polishing, nail clear and care, peeling, etc., suitable for the manicure, pedicure use, etc.

EOS 9 LED/UV Nail Lamp:

AMAZING CURING: 30 pcs dual LED UV beads with 54 watts high power, low heat, no harm, comfortable, dry your gels fast and efficiently. Well compatible with UV gel, UV resin, poly gel, builder/extension gel, nail sculpture gel, rhinestone gems glue.

ADVANCED TECHNOLOGY, FASTER, SAFER: Professional Salon Edge nail lamp shortens your curing time by 50% than other nail lamps. It takes only 30s to dry nail UV glue and 60s to dry rhinestone gem glue. Enjoy a beautiful, long-lasting gel color!

POWER SAVING, AUTO SENSOR, 3 TIMER SETTING: Hands in, light on; hands out, light off. Without any operation for 5 minutes, the lamp will begin power-saving mode. The 30s, 60s, 90s timers make you control the curing time easily. No need to worry about over-drying.

LCD DISPLAY, DETACHABLE MAGNETIC TRAY, LARGE SPACE: LCD display screen can see the working time clearly, controlling your time as needed. Detachable Magnetic Tray avoids staining the desktop. Suitable for both hands and feet. Large space ensures 2 hands at the same time.

PREMIUM MATERIALS: MelodySusie Eos 9 Gel Nail Lamp is made of premium Engineering ABS plastic, which is lightweight, sturdy and healthy. It is an ideal choice for salon and home!
Use code MSOFF15 to get 15% off on orders over $149.99 (gift boxes are not included)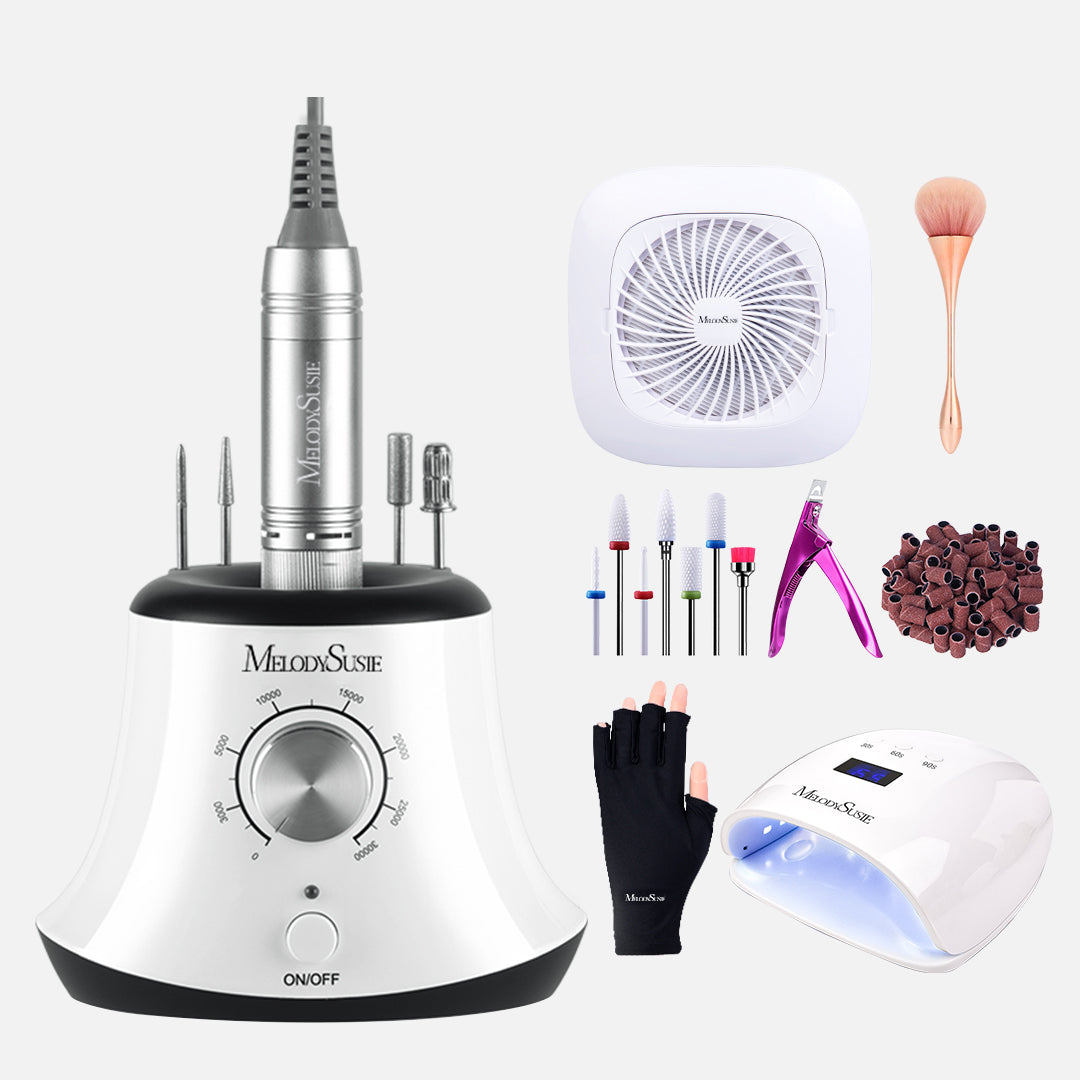 This product is rated 5.0 of 5.0 stars.
It has received 104 reviews.