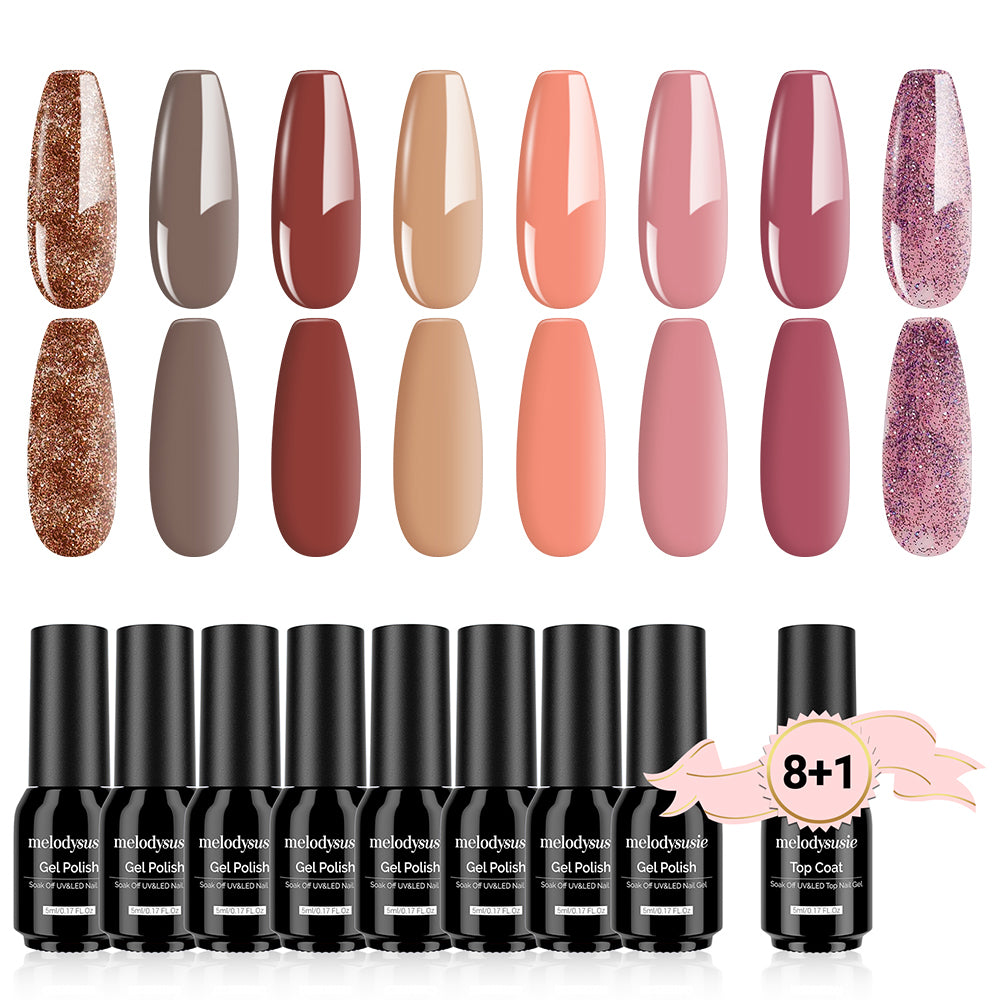 Nude Revolution 8+1 Gel Nail Polish Kit
8 classic and popular colors including 2 charming glitter colors for all season and daily life nail wearing, gift box for salon quality finishes for beginners and techs. This set includes 1 top coat.                                                                                                                                                                                   

Features:

Environmental-friendly & Healthy - The gel polish colors are made from non-toxic ingredients which makes it safe and has low odor. No harsh ingredients or adhesives that lead to damaged nails.
Suitable for both salon and home use - Melodysusie meets the needs of professionals, beauty technicians and students, manicure enthusiasts and beginners alike.
Long-lasting high gloss wear - expect no chips and dents. Suitable for use on natural nails, acrylic nails, false nails and tips. This series of gel nail polish set is long-lasting for 21+ days with perfect shine under proper application.
Soak off LED gel nail polish - The gel polish needs to be cured under an LED nail dryer. Base and Topcoat required. Average for LED nail lamp 90-120 secs.
Buy from a trusted brand – With over 11 years in the nail industry, Melodysusie is a name you can trust and buy from with confidence.

Note: Our gels are not HEMA FREE. Only used for nail and Non-direct contact with the skin. Wash immediately if contact occurs. May cause an allergic reaction by skin contact. Read directions for use carefully. Only used for nails. Avoid contact with eyes, mouth, and skin. Rinse them immediately should the product comes into contact with them. If there is any incident, contact the doctor immediately. Stop using the product if redness and itching develop. If the symptom persists, consult a doctor. Keep the products away from children.
Use code MSOFF15 to get 15% off on orders over $149.99 (gift boxes are not included)
This product has no reviews yet.